Experience the Spirit of Hawaiʻi at Maui's Annual Celebration of the Arts
Known as a grand celebration of Hawaiian arts and culture, the 30th annual festival returns in-person from April 15-16.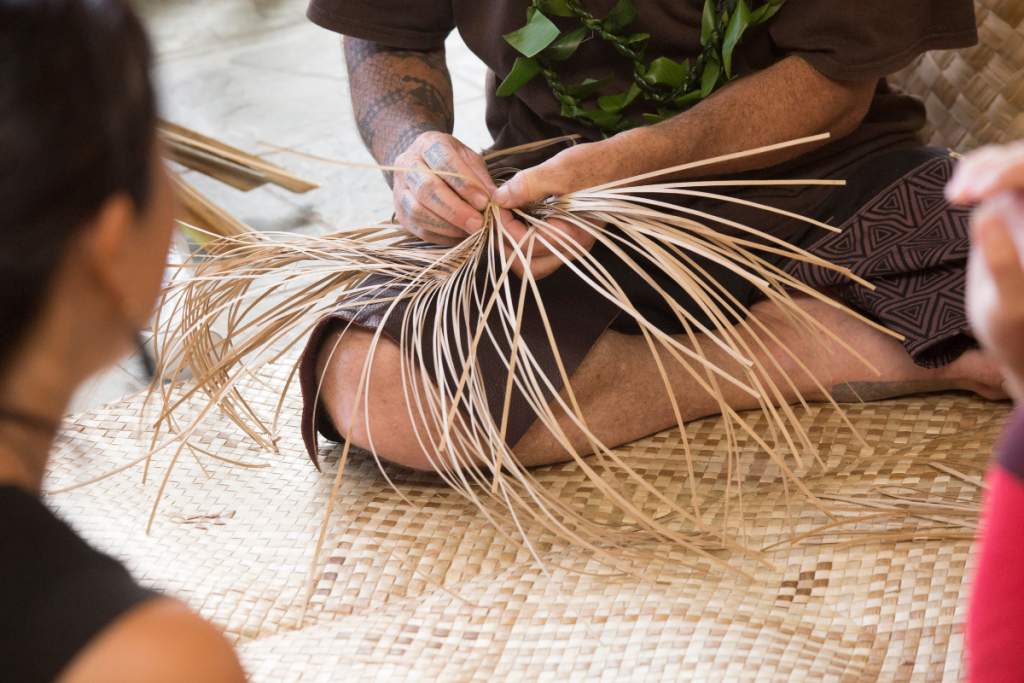 As the sun begins to peak over Haleakalā, silence breaks on Maui's west side with chants to the sun. Dozens of people, including kumu (teachers), kamaʻaina (locals and long-time residents) and visitors, stand in gentle surf at Honokahua Beach (D.T. Fleming Beach). Every year, the emotional and enriching e ala e and hiʻuwai ceremonies commence the Celebration of the Arts. All are invited to attend the invigorating experience along with educational classes and hands-on workshops running from April 15 to 16.
"The best way to experience Hawai'i and understand our culture is through the eyes of our people," says Clifford Nae'ole, Hawaiian cultural advisor at the Ritz-Carlton Maui, Kapalua. For 30 years, Nae'ole has served as the event chair and says, "After producing virtual events last year, we are excited to welcome Hawaiian cultural experts and craftspeople back to Kapalua to create enriching, emotional experiences that will last a lifetime. I have no doubt that the 30th annual Celebration of the Arts will be the best one yet."
Hosted by the Ritz-Carlton Kapalua, the two-day event is Maui's premier festival honoring Hawaiian culture and the spirit of aloha. More than 60 artisans, educators, cultural practitioners, speakers and entertainers from around the state will be in attendance to lead hands-on activities, demonstrations and discussion panels.
This year, the theme is "Mauka to Makai–Everything is Connected." By recognizing critical and threatened ecosystems in Hawaiʻi, the event intends to shed light on the interconnectedness between mountain to sea and land to people.
Guided hikes and native planting tours will be offered at Pu'u Kukui Watershed, Hawai'i's largest private nature preserve and home to rare and endangered flora and fauna. Tours of Maui's voyaging canoe, Mo'okiha O Pi'ilani, will also be offered by Hui O Wa'a Kaulua, Maui's voyaging canoe society.
Open to the public, the free festival gives residents and visitors a rare opportunity to engage with top educators, world-class resources and exciting activities. From introductions in hula and ʻōlelo Hawaiʻi (Hawaiian language) to lessons on Hawaiian Chiropractics and Hawaiʻi's precious ocean resource, limu (seaweed), the Celebration of Arts provides unique offerings to partake in Hawaiian culture through fascinating topics.
This year, the festival is also debuting a fashion show featuring Maui's top designers. Guests will witness the influence of traditional Hawaiian art and hula in modern apparel. And for the first time in Hawaiʻi, a female falsetto competition will be held. Hosted by Carmen Hulu Lindsey, the competition is paired with the popular Celebration of Island Tastes on Saturday, April 16. This is the only event that purchased tickets are required.
And like in years past, the festival's highlights includes the Celebration After-Hours Party and a Celebration Easter brunch on Sunday to conclude the weekend.
For more information and the full schedule of events, visit the festival's website.