Experience What It's Like Paddling to Oahu's Mokulua Islands
You get more than a workout on this 5-hour kayak adventure to the Mokulua Islands.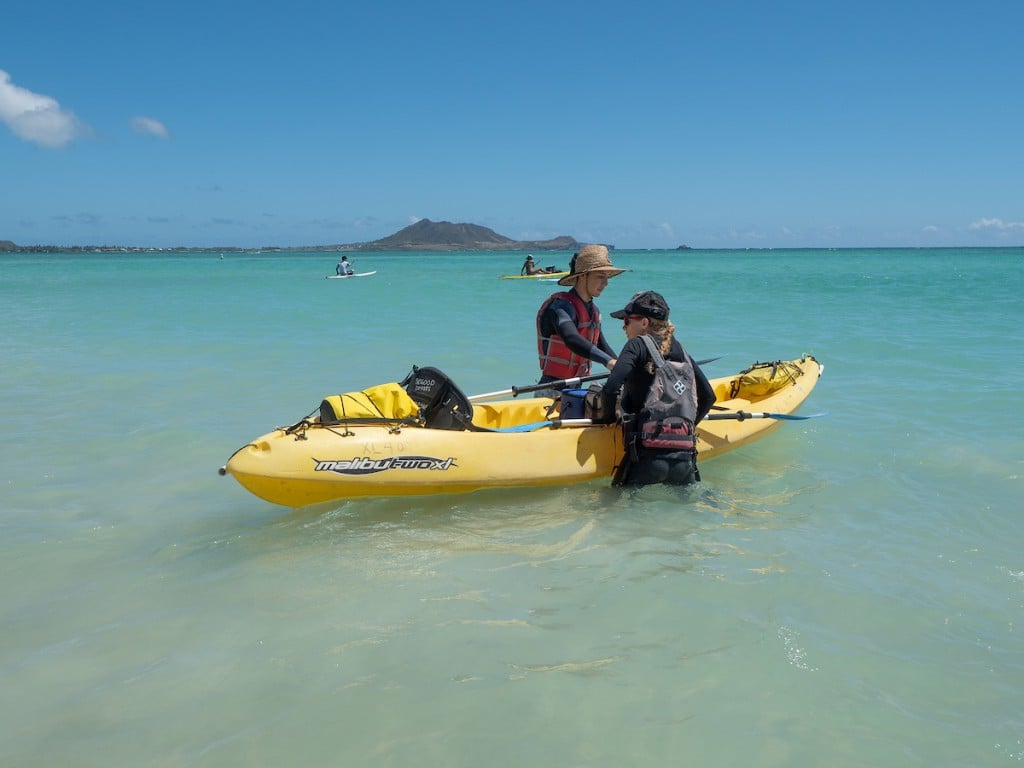 I like to think that I'm in pretty good physical shape. I surf daily, go to yoga a few times a week and watch what I eat. But as I'm about 20 minutes into my kayaking journey to Na Mokulua, the two picturesque islands off the coast of Lanikai, I've come to realize that paddling a kayak in the open ocean is infinitely harder than I initially thought it would be. Fortunately, I've got Maggy sitting in back of me, steering our vessel over and through the tiny waves caused by the gusty afternoon winds on Oahu's east side. She's a trained naturalist and tour guide at Twogood Kayaks, which offers guided adventures to the Mokulua Islands, often referred to as the Mokes, and when she's not giving me paddling advice, she's helping and correcting kayaks that are falling behind or straying off course from our small, eight-man group.
Even though the paddle out to the Mokes is a workout and a half—but they look so close from shore!—the trip out offers unique views I'd never get if I were standing on the beach. Since our group sets off from Kailua Beach Park, we get to admire world-famous Lanikai Beach after making our way around the Lanikai Monument. We pass over a garden of reef hiding right below the ocean's surface. It's thriving with life, and fish mingle just under our kayaks. The cry of "turtle!" is heard more than once from my kayaking compadres.
Now nearing the shores of Moku Nui, the only island of the two that allows nonfeathered visitors (both Moku Nui and Moku Iki are Hawaii state seabird sanctuaries), I'm glad I'm lathered in sunscreen since there's absolutely no shade on the island. With my straw hat fastened tightly to my head, I guide the kayak onto Moku Nui's beach. Cooling off in the pristine, light-blue waters surrounding the island, I look toward Oʻahu and, for a moment, the island looks wholly unfamiliar. I've lived there my entire life, but I've never seen it from this perspective, so far out at sea and resting on another island's beach.
A few minutes later, Maggy's leading our adventurous band to what she calls "The Cove." Normally, Twogood Kayaks will take its groups to Queen's Bath after landing on Moku Nui, a small tide pool protected from the ocean by lava rock. However, we're lucky, and the ideal conditions—small waves and little-to-no wind around the island—mean we get to hike farther back behind the island to a cove that boasts raw, natural beauty, with towering rock formations and crystal clear waters. It's here that we don our snorkel masks and fins, supplied to us by Twogood Kayaks, to explore The Cove underwater.
Two hours and a lot of paddling later, I'm sitting in my car at the Kailua Beach Park parking lot, too tired to lift my arms to the steering wheel. My legs are turning bright red and I promise to myself that next time I'll put sunscreen on my lower limbs. Blasting the air conditioning and checking Instagram before driving back home, I see a perfectly framed drone photograph of the Mokes pop up in my feed. And as beautiful as the photo is, all I can think about is how much better the view is from the ground.
Twogood Kayaks offers one five-hour guided tour to the Mokulua Islands daily; private tours to the islands are also available. For more information, call (808) 262-5656 or visit twogoodkayaks.com.