Explore Manulele Distillers' Local Rum in New Factory Tour
Learn how this Oʻahu distillery is making agricole rum from ancient Hawaiian sugar cane varieties.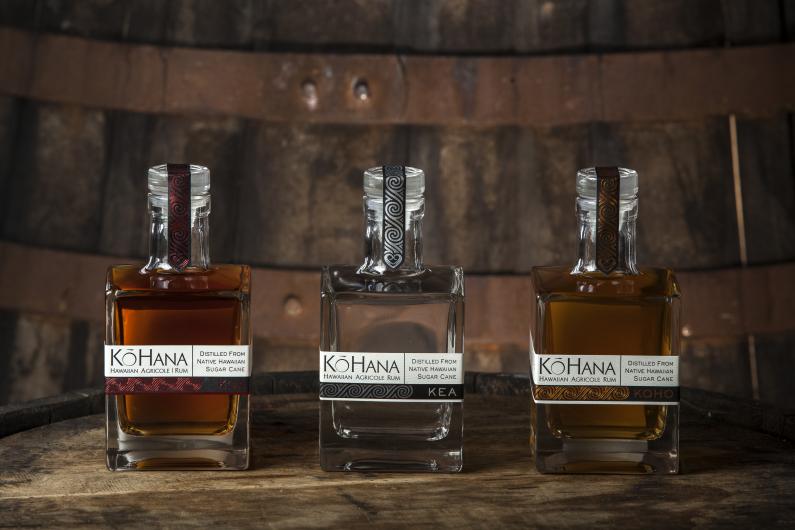 Cocktail menus across the Islands are abundant with rum: lava flows, Blue Hawaiis and the iconic mai tai. If you want to try top notch, locally made rum and learn how it's made in an intimate setting, visit Manulele Distillers.
It's situated in the central plains of Oahu in Kunia, which was once a thriving farming region. It's also where Robert Dawson and Jason Brand were looking for a new business agriculture venture. The two entrepreneurs shared a mutual interest in sugarcane as a renewable energy source. But the allure of local rum production sparked a new business idea. So they founded Manulele Distillers and, in 2014, produced the first batch of Ko Hana Hawaiian Agricole Rum.
The name, Ko Hana, is derived from the Hawaiian words "ko" (sugarcane) and "hana" (work)—fitting since they're putting the sugarcane to work. The distillery, and the swaying plot of canes growing nearby, sit on land formerly owned by ag giant Del Monte, which, before 2008, had grown pineapple in the Islands for 90 years.
There are a few things that set Ko Hana apart, even from other locally produced rums. Thanks to DNA testing and Bishop Museum experts, Ko Hana is cultivating roughly 900-year-old "canoe plants" originally from Polynesia. Each small batch of Ko Hana is made of one of these 36 varieties of ancient Hawaiian sugarcane. Plus, it's a sipping, agricole rum. (Many rums are made by fermenting molasses, a by-product of producing commercial sugar. Agricole rum is made from fresh-pressed cane juice.)
Even Ko Hana's tasting room is steeped in history. Opening last June, the tasting room occupies the former Del Monte General Store and Post Office. The Quonset hut building retains its original steel roof and its refurbished original terrazzo floor. Tours are available Wednesday through Saturday from 10 a.m. to 3 p.m. The tour beings with a visit to the farm's second-story observation deck, from which you can see Kunia Country Farms, and the cane fields, then you'll walk through the cane fields while learning about their history. Inside the tasting room, you'll taste! The tour includes a tasting of the rums and a fresh pressed sugarcane juice. Tours range from $18 to $25 and you can book online.
Manulele Distillers also has plans to build a sugarcane juice bar, as well as a farm-to-table restaurant—utilizing the vegetables and fish from the next-door aquaponics farm—on site at the Ko Hana tasting room. Brand manager Kyle Reutner says they hope to open the juice bar this summer.
Thanks to this craft distillery, long forgotten strains of sugarcane are once again being revitalized and rum is being taken to whole new heights.
---
On Oahu, find Ko Hona rum on the cocktail menus at the following restaurants and bars: Roy's, Alan Wong's, Morimoto Waikiki, Bar Leather Apron, Tchin Tchin, The Pig and the Lady, Livestock Tavern, Lucky Belly, Monkeypod Kitchen, Pint and Jigger and Tiki's Grill and Bar. Or, buy rum at the distillery or online. 92-1770 Kunia Dr., Kunia, Oahu, kohanarum.com.