Exploring the Pacific Aviation Museum at Pearl Harbor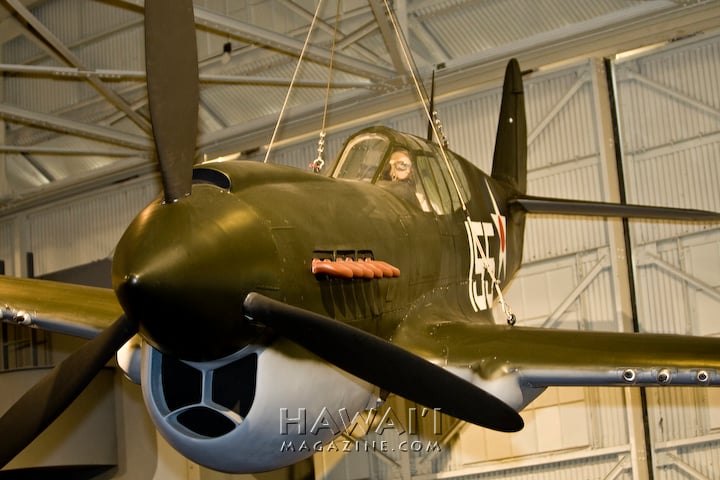 For our September/October 2008 issue of HAWAII, photographer David Croxford and I visited the Pacific Aviation Museum on Pearl Harbor's Ford Island.
The museum is the only Pearl Harbor historic site to focus exclusively on the American military's air conflicts.
Being on Ford Island was bit of a surreal experience. You can't just casually drive onto the island. You're taken by a museum bus. Clouds of dust stirred up furiously in the wind as we were taken across the island. Bikers rode along the defunct landing strips. Bullet holes from the Dec. 7, 1941, harbor attack pockmarked the ground.
It's hard not to be taken aback by the museum. There are currently seven full-scale planes on display, many of them the genuine articles. Rather than merely showcasing them, the museum employs interactive dioramas to recreate the people, the events and the emotions surrounding each aircraft.
Even more impressively, the 42,000 square-foot Hangar 37 is devoted only to the first year of World War II. Hanger 37 is the first of three hangars to be restored. The others will take visitors through the aviation history of Korea, Vietnam, the Cold War and beyond.
Check out the September/October 2008 issue of HAWAII Magazine for a feature on my Pacific Aviation Museum visit. It's available at most national bookstores and newsstands, by print subscription and in a digital format you can download on your computer.
Croxford was stoked by our visit as well. Whether lying directly under the aircraft on his back or climbing benches to get a dramatic shot, he took more terrific photos of the museum than we could ever run in the magazine.
So here they are in a slideshow travelogue (click center of the frame to enlarge).