Exploring the Wailua River on Kauaʻi is Full of Surprises
This river is Hawai'i's only navigable waterway (by boats larger than kayaks).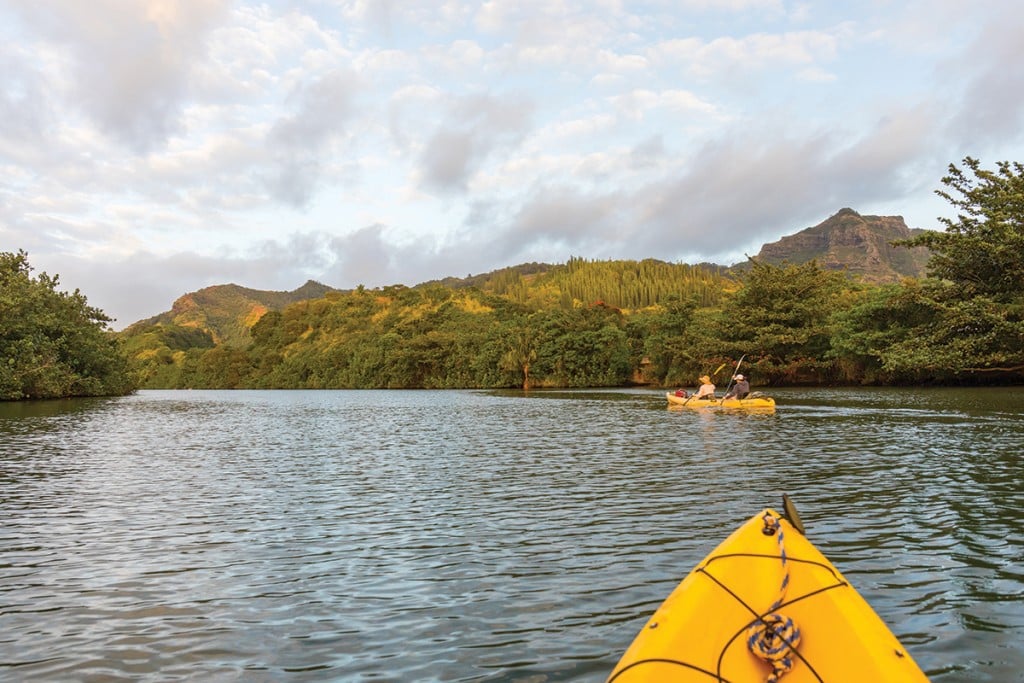 Most mornings around dawn, Tommy gets his workout by cruising Kaua'i's Wailua River on water skis.
Pulled behind a speedboat, he maneuvers its wake as expertly as a veteran surfer at his home break. It's an unusually clear day in one of the rainiest places on the planet—the seemingly ever-present clouds over Kaua'i's central Mount Wai'ale'ale have vanished, revealing a rare glimpse of the mountain's undulating wall. And I'm in the back of a two-person kayak, inexpertly guiding it to the right side of the dreamy-calm North Fork of the Wailua River. And then along comes Tommy. The speedboat's wake gives our craft the final push needed to send us straight into the bramble along the riverbank.
I am here with Wailua Kayak Adventures. Started 36 years ago, the company is among the oldest of a dozen permitted to offer small-group tours down this stretch of river to an inland jungle waterfall. And we are in good hands. Our guide is Cole Cleveland, the owners' son. He's tanned with graying dreadlocks and seems so content to be on the water that even after 16 years of navigating the same 4.4-mile kayak and 2-mile hiking route, he still smiles as he answers what must be the same questions everyone else asks on these tours.
A self-described history buff, Cleveland is also an expert storyteller. He launches into a treatise on the freewheeling ways of Hawai'i's King David Kalākaua, the Merrie Monarch, and how he sailed his yacht around the world—the first sitting monarch to circumnavigate the globe—as we struggle to keep pace in our kayak, hanging on his every word.
The Wailua River, besides being Hawai'i's only navigable inland waterway for boats larger than kayaks, it turns out, is one of the most sacred spaces on Kaua'i. And it has a long history with royalty, serving as a respite and bathing area. With its freshwater and fertile agricultural grounds, the river region bore the name Wailuanuiaho'āno, or the "Great Sacred Wailua of the chief, Ho'ano." Wailua itself means two waters, a reference to the Wailua River and the smaller 'Ōpaeka'a Stream.
Before long, we come to a bend in the river, within view of Nounou Mountain, commonly referred to as Sleeping Giant, and Cleveland's tales take an unexpected twist. To further solidify Kaua'i's union with the rest of the Hawaiian Islands, not only was the last king of Kaua'i, Kaumuali'i, kidnapped and forced to marry Ka'ahumanu, the favorite wife of King Kamehameha, but Kalākaua, the Merrie Monarch himself, married Kaumuali'i's granddaughter, Kapi'olani. After the kingdom was taken from Kalākaua's sister, Queen Lili'uokalani in the infamous bayonet rebellion on O'ahu, Cleveland explains, she fought the action in American courts and found an ally in American President Grover Cleveland.
"You know Mount Rushmore?" asks Cleveland (no relation to the president) as we approach a tall rock face. "Imagine President Grover Cleveland's head right here overlooking the river."
According to some, a sculptural homage to the sympathetic president was briefly situated right along these banks. That little tidbit has not been substantiated in modern times and whether there is any truth to it remains to be seen, but I have great fun imagining it.
Before long, we haul our kayaks onto the muddy banks and are passed wooden walking sticks for our hike to Wailua Falls. As we wander through head-high elephant grass, past red Chinese firecracker flowers, orange tropical sea hibiscuses and edible purple vervain flowers, the stories travel with us.
"There's a banana plant coming up on the scene," Cleveland points out.
Deeper into the jungle, the tales, told to the "thwack" of shoes escaping the suction of mud, seem more grounded. This area was a historic taro farming region. And, even earlier, it was the site of several sacred heiau (Hawaiian temples), though we don't visit them. Carbon dating places humans in the Wailua River Valley from around A.D. 400. For decades in the late 1800s and early 1900s, the region was owned by a wealthy Chinese rice farmer who built up berms and a complex irrigation system, traces of which—including a 1950s-era cement tower water gauge by the river—are still visible as we navigate deeper into the steamy greenery. After an unlucky series of floods took out the irrigation systems, the land was abandoned and then gifted to the government in 1954. In 1961 it became Wailua River State Park, one of Hawai'i's first state parks following statehood.
We ford a large stream with the aid of a rope, and then another. In the wider of the two, I stub my toe on the sunken remains of an old bridge. We pause to let other groups trekking the same route pass.
The experience is hardly one of untouched beauty, though it certainly is beautiful. This is a heavily trafficked route and the area likely looks much different than it did centuries ago. As if to underscore this point, we are cautiously approached by a black-and-white duck. Then another, and another. Cleveland, it turns out, is somewhat of a Muscovy duck whisperer. He pulls out a bag of gourmet Himalayan sea salt popcorn and indulges them—he has nicknames for some and knows the personalities of others. He coos at them as though they are long-lost pets; they seem to know him. He tells us about how the flock started with just two ducks and how he's watched its population grow. The Muscovy ducks, along with the river's Tahitian prawns and the forest's grasses and flowers, comprise a modern iteration of this place. Another tour group passes and Cleveland converses with the guide about the ducks' favorite foods as the guide pulls a small brick of bird seed from her bag.
At last we reach the edge of the 120-foot waterfall, which descends into a minnow-flecked green pool. Groups are laughing and splashing and rinsing off the sweat from the hike. I sit on a rock and observe, content to just be part of this beautiful scene. Oral histories from this place say that this land—including the waterfall—was reserved for royalty; no commoner was allowed back here without permission. I feel lucky to be here now.
Cleveland wanders over with a laminated image of the waterfall taken a few seasons ago, after the deluge had subsided and the rock face had dried up. "There's a man there," he says, pointing to a faint image of what appears to be a beard, eyes, nose and lips. It takes some creativity to make out the features—like finding forms in clouds. Could it be a trick of shadow and rock curves? Cleveland offers no further explanation, allowing our minds to fill in the details.
Before long we're back in the kayaks with the sun almost directly overhead. Many more watercraft fill the banks as we push off. Water skiing Tommy has long since finished his workout as we head back, rimming the far-right edges of the river. Cleveland drifts out of earshot for a time, but we manage to evade several collisions to catch up and paddle alongside him. He's talking about mysterious ghost islands. Sometimes at dawn—around the time we started our adventure—when the clouds are just right, he says, Hawaiians would spot the outline of an island on the horizon where there wasn't one before. In some places the outline would be so vivid, explains Cleveland, "that canoes were sat at the ready each morning in case the island appeared." And when it did, the Hawaiians would paddle furiously out to sea in hopes of reaching its mythical shores. Some never returned.
I feel contemplative as we haul out on the cement boat ramp near the river mouth, stepping with muddy shoes onto the shore. I'm thankful the place has duck stewards and storytellers like Cleveland who add a little mystery to what could otherwise be just another beautiful but heavily trafficked Hawai'i hideaway.
Wailua Kayak Adventures
Twice daily small-group tours, 7 a.m. and 1 p.m. Cost is $60 adults, $40 children. (808) 639-6332, wailuakayakadventure.com