Farmers on Kauai Recuperate from April 2018 Flooding
A year after floodwaters demolished crops and drowned livestock, farmers on Kauai's north shore work diligently to restore their beloved industry.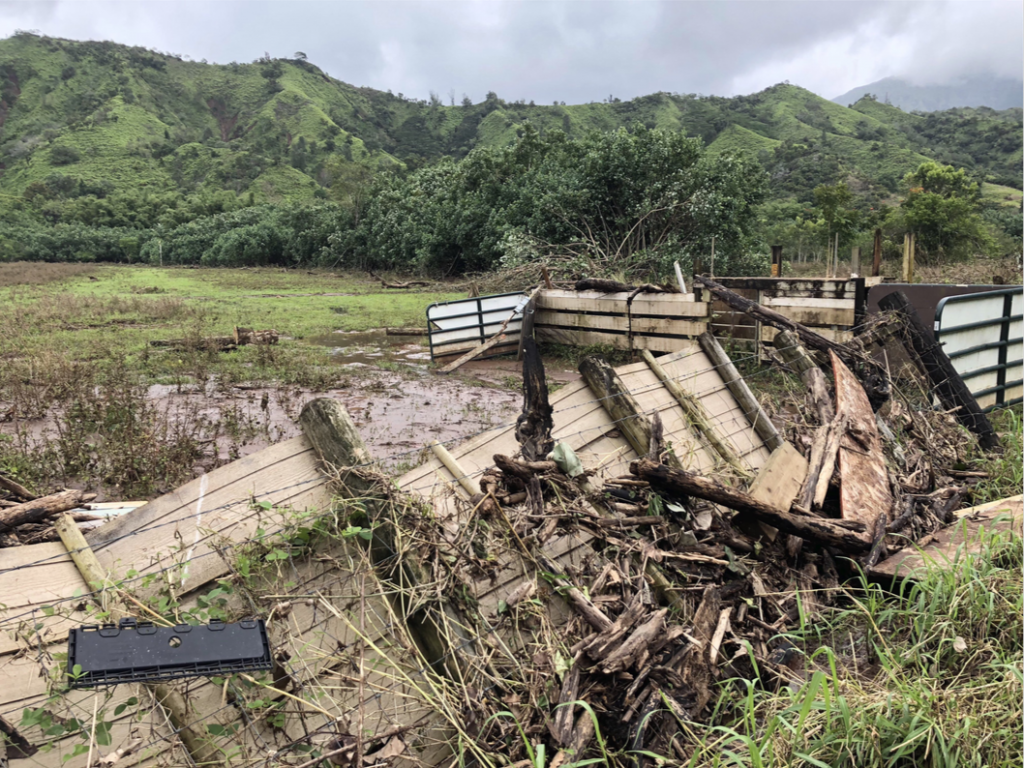 It's been over a year since the north shore of Kauai faced record-breaking rainfall and torrential flooding, which inundated farms, destroyed homes and disrupted many local businesses. While some community members are still reeling from the floods' effects, others eagerly await the reopening of the western end of Kuhio Highway and the renewal they hope will come with it.
This is part two of a three-part series. Read part one here.
When you look at current satellite photos of northern Kauai, everything is green as far as the eye can see, until the land meets the foamy sea.
With the nickname, the Garden Isle, it makes sense.
However, the closer you zoom in and the longer you look, you begin to notice what you couldn't distinguish from afar—slight divisions in the greenery, expanses of rectangles made up of an array of greens.
These parcels of land, which border the town of Hanalei and surrounding north shore communities, are the olive and emerald green farms that play a vital role in the small-town culture of the island.
They're the farms that were swamped in the 2018 flooding of this part of Kauai, which destroyed equipment, ruined crops and scattered livestock.
But they're also the sources of stories of resilience, diligence and rebirth.
Taro fields
The Hoopulapula Haraguchi Rice Mill & Taro Farm—home to the only historic rice mill left in Hawaii—was hit hard by the rising floodwaters. The 55-acre family farm, which has been around for six generations, faced devastation unlike anything seen before. Its kalo (taro) fields were washed out and its lunch wagon, Hanalei Taro & Juice Co., was ravaged.
In addition to the April rain, the nonprofit also saw flash floods in August—following Tropical Storm Lane—and December.
"The height and velocity of the flash floods were so dangerous, nothing like anything I have seen in my lifetime doing flash flood evacuation on our family farm," Lyndsey Haraguchi-Nakayama, co-owner of Hanalei Taro & Juice Co, says.
[video:https://www.instagram.com/p/Bxgan5rHQTn/ align:center]
The lunch wagon—which serves taro smoothies, kulolo (taro pudding) and other kalo products—has since reopened off Kuhio Highway in Hanalei after extensive repairs, but the farm is still recuperating from the up to 16-foot-high floodwaters. The farmhouse and office may not be able to be repaired and the effects on the farm's taro harvest will be felt for years to come.
"No matter what happens we need to keep moving forward," Haraguchi-Nakayama says.
Although the museum is closed, visitors can register online for its three-hour Taro Farm Flood Recovery Ecotour and learn more about taro farming and how the floods impacted this area. You can pound taro into poi, try farm-made foods, see the loi (terraced taro fields) and hear firsthand accounts of the floods.
Haraguchi-Nakayama's farm wasn't the only one in Hanalei that was damaged.
Started in the 1950s, SBH Taro Farms in Hanalei and Lumahai was left without irrigation when the floods broke the area's water source, a naturally-formed dam within the river. The Lumahai location, west of Hanalei, was especially impacted. With silt covering fields and vital machines rendered unusable, owner Sierra-Lynn Stone has had to work hard to maintain the taro her family has been tending for generations.
It's an uphill battle. The farm's only generating 50% of the taro it produced before April 2018. However, SBH Taro Farms has joined Waioli Valley Taro Farmers, a hui (organization) sponsored by nonprofit Malama Kauai, and hopes to see more donations rolling in to support recovery efforts for these farms.
It's too early for statistics regarding 2019's taro crop. However, data from the U.S. Department of Agriculture show that Hawaii as a whole saw a decrease in production from 2017 to 2018. In 2017 3,686,000 pounds of taro were harvested across 310 acres; that number dropped to 2,985,000 pounds the following year.
There's no way to know the impact the floods had on these numbers, but the smaller harvest certainly had an effect on the industry, which made $610,000 less in 2018.
Farmers Market
As farmers struggled with their crops following the flood, farmers markets dealt with problems of their own. Nonprofit Hale Halawai Ohana O Hanalei's Hanalei Farmers Market, a popular place on the island for local produce, art and other crafts, was put on hold for several weeks after the market's location was submerged by several feet of water.
"When we reopened, the grounds were still boggy and Hanalei was like a ghost town," says market manager Amy Johnson Kolb.
The market's vendors were shaken by the record-breaking storm, which dropped 49.69 inches of rain in just 24 hours over a single weekend. Farmers lost equipment, livestock, family pets and in some cases, their entire crop. The caretaker of the market's property carried his dog through waist-deep water to safety, while others were rescued via Jet Ski.
Pro surfer Laird Hamilton "was just one of many local, brave heroes that risked their own safety to help others in all kinds of treacherous situations," Johnson Kolb says. "Many people have commented that it is amazing that no one died during the flooding but it is widely believed that is true because so many people were courageous and giving of their time and resources to one another."
Farmers weren't the only ones whose livelihood was threatened. An artist from the farmers market lost a great portion of her handmade works when her art gallery was inundated.
Two weeks after the floods, the market reopened. A year later, attendance is steady at the Saturday farmers market, open 9:30 a.m. to noon. Although bridge work following a landslide near Hanalei Bridge has resulted in roadwork and traffic delays, Johnson Kolb wants visitors to know Hanalei is still accessible.
"The crews are doing a great job of overseeing the alternating traffic and the wait time is usually minimal. Hanalei businesses and vendors have suffered a great deal over the past year and are eager to move forward into better times. Hanalei remains a quintessentially charming, beautiful and historically significant town with much to offer," Johnson Kolb affirms.
Bison on Kauai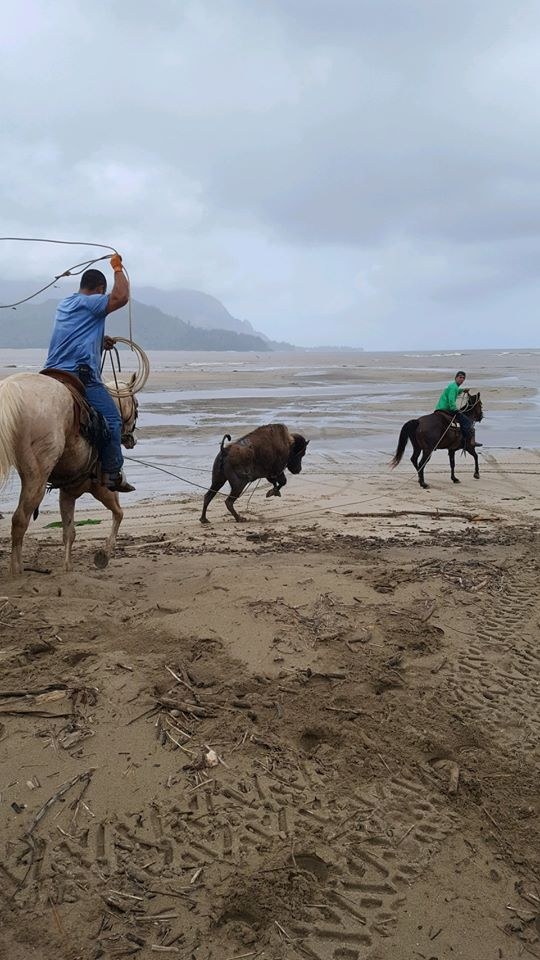 Amid the April floods, it was a shock for many to see bison running along the shore at Hanalei Bay, lingering outside of banks and huddled up in families' backyards.
Where did these massive creatures, seemingly more at home on the Great Plains, come from?
As it turns out, they escaped from the Hanalei Bison Ranch, a little-known spot that has been around since the 1980s.
The ranch functions as a small commercial meat business, distributing bison meat to a handful of regular customers, restaurants and retail markets. You can find the meat at places like Harvest Market in Hanalei and Healthy Hut Market & Café in Kilauea, both on Kauai.
Although the concept of bison in Hawaii may seem bizarre, the animals are built to withstand a range of climates.
"Tropical lowland is not a typical bison habitat. But bison once roamed from the Sierras to Ohio Valley, Canada to South Texas, and are highly adaptable to different types of environments," ranch co-owner Andy Friend says.
In fact, the bison thrive on the ranch's pasture—home to some of the best forage grass in Hawaii, he says.
The 180-acre field was overwhelmed during the floods by over 8 feet of water, carrying bison straight over the fence and into the greater community. Buffalo are not tame like the average dairy cow so co-owners Friend and Stuart Wellington worked fast to chase down the beasts. They followed the many leads and reports sent in by the public and rounded them up, beginning with the ones deemed most at risk to themselves or those around them.
You can find videos online of paniolo, or cowboys, lassoing these bison from Jet Skis and boats, pulling them from rivers and bringing them home. Many of these clips went viral and caught national attention, underlining the gravity of the situation on Kauai's north shore and compelling the ranch to create a Facebook page to communicate with the public.
Sadly, the herd didn't come out of the floods unscathed. Between the April and August floods, the ranch lost 20 bison, leaving it with around 70 animals, not including calves.
In an effort to bolster the herd, Friend and Wellington imported four young bison from South Dakota in mid-March. Although they are in quarantine now, they hope the additions to the ranch will counteract some of the residual effects from the flood. They've also repaired their fencing to protect against any future losses.
While the ranch continues to mend itself from the flood, it's also focusing on new beginnings. It's calving season, so the ranch is expecting a few new members to its burgeoning herd soon.
"We're anxious to see how this year's calf crop goes, after the changeover and residual stress," Friend says.
Catherine Toth Fox contributed to this story.