February volunteer opportunities in Hawaii's national parks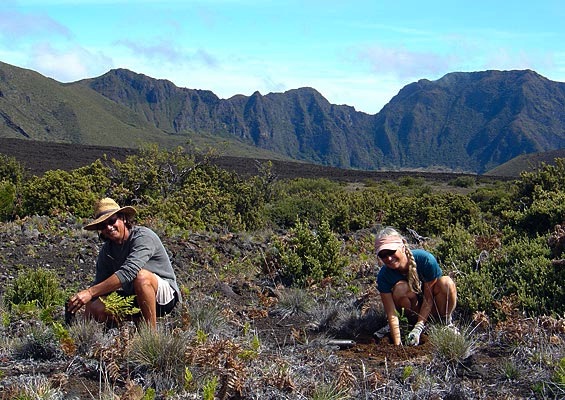 Both Haleakala National Park on Maui and Hawaii Volcanoes National Park on Hawaii Island receive thousands of visitors each year, but only a few of those really get dirty to help preserve the land. This month, both parks are seeking volunteers to help restore native park habitat in exchange for the chance to experience Hawaii's natural wonders in a different way.

Haleakala National Park, Maui
After dwindling funding cut the park's interpretive learning trips a few years back, the non-profit Friends of Haleakala National Park (FHNP) stepped up to provide educational and service programs to park visitors. The organization will lead a multi-day service trip within the massive shield volcano's crater from Sat., Feb. 14 to Mon., Feb. 16. Volunteers on the trip will learn about back-country best practices while observing rare and endemic Haleakala silverswords on the four-mile hike to the work site along the Halemauu Trail. Participants will then stay for free in the Holua cabin, reportedly one of the best places in the state to hear the call (and possibly see) an endangered Hawaiian petrel—a mated pair of the rare seabird lives in the cliff behind the cabin. All they ask in return? For about 10 hours of the three-day trip, volunteers will help by pulling invasive weeds like rabbit's foot clover and heterotheca.
If you can't make it this month, the organization runs similar multi-day service trips every month to various locations throughout the park. To register for any of FHNP's volunteer programs or for more information, click here.
Hawaii Volcanoes National Park, Hawaii Island
The National Park Service offers morning-only volunteer opportunities to restore native plant communities on the summit of Kilauea Volcano within Hawaii Volcanoes National Park. Volunteers through the park's Stewardship at the Summit Program will help by pulling Himalayan ginger, faya, strawberry guava and other invasive plants to make way for native plants like amau and hapuu tree ferns. The experience involves a guided mile-long hike from the Kilauea Visitor Center into the volcano's caldera via the Halemaumau Trail. The park's volunteer programs are free, but you will need to pay park entrance fees to participate. There is no need to register in advance, just meet at the Kilauea Visitor Center at 9 a.m. on your chosen service day and plan to stay til noon. February volunteer dates include Sat., Feb. 7, Wed., Feb. 11, Fri., Feb. 20, and Sat., Feb. 28. For more information about the Stewardship at the Summit Program, click here.
The Friends of Hawaii Volcanoes National Park (FHVNP) also leads hikes and volunteer programs within Hawaii Volcanoes National Park. This month, the non-profit has two opportunities to plant native seedlings in the park's Kahuku unit. Volunteers will learn about the park's native forest recovery program in the area and see the progress previous volunteers have helped encourage. There are two Volunteer Forest Restoration Project dates currently scheduled: Fri., Feb. 6 and Sat., Feb. 21. The program runs from 9 a.m. til 3 p.m and advance registration is required. For more information about FHVNP's volunteer programs and their other events like guided hikes, click here.