Feed Goats and Get Artisan Cheese, Too, at This Oʻahu Farm
Sweet Land Farms produces artisan goat cheese—even lemon bars and ice cream—in Waialua.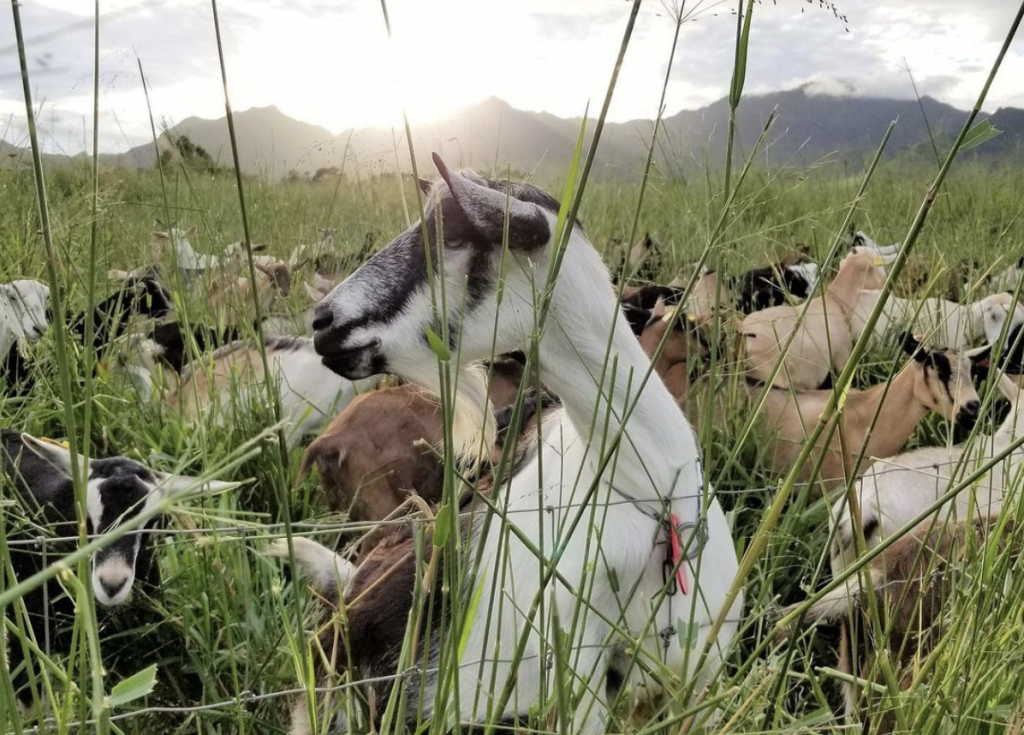 Driving up to Sweet Land Farm in the sleepy community of Waialua, with shining blue skies overhead, my 4-year-old son was glued to his Kindle.
It was the only way I could keep him occupied during the 45-minute drive from our home in Honolulu to the farm, tucked away between a massive, Mainland-owned egg farm and the state's largest producer of compost.
We parked in front of one of the dozen or so single-story structures on the 86-acre farm and was greeted by the owner, Emma Bello. Her family purchased the land in 2011 and Bello, a culinary school graduate, started raising goats a few years later. When I first visited in 2016, she had 60 goats of various breeds, including Alpine, La Mancha, Kiko and Nubian. Today, she has more than 400—more than half of which she knows by name: Blossom, Anna, Jive, Chanel, Olive and, of course, Penny, the 10-year-old a Saanen-Nubian she's had since the beginning. Her striped face is on the farm's labels.
A few months before the COVID-19 pandemic, Bello opened a charming farm store—on Saturdays from 9 a.m. to 2 p.m.—where people could pick up her handmade farmstead goat cheese—called chèvre—aged feta, tomme and gouda, and other goat-milk products like soaps and caramel. She's launching goat milk gelato soon. (We sampled the vanilla flavor with caramel made from goat milk—divine!—though she's already experimented with other flavors including chocolate, matcha, mango and banana. "It tastes like banana bread batter," she says. "It's so good.") And her lemon bars—made with goat milk, the recipe of which is a closely guarded secret—are simply amazing.
The farm lures about 100 people every Saturday—and most of them come to feed the kids (baby goats) in the barn just outside the shop. You can get a bag of alfalfa—grown on the farm—for $6.
"It's our best seller," Bello says.
I'm not surprised. I'm a sucker for goats in general—I cared for a newborn Nubian for about a week before finding a forever home for him—but these goats are happy and adorable. Why wouldn't you want to feed them?
COVID hit Sweet Land Farm the way it did many local businesses: Bello lost a few restaurant accounts and finding workers has been challenging. And she had to stop giving farm tours (which she hopes to revive soon).
But since the state has slowly reopened, she has seen store sales improve, which makes her hopeful.
"We're still pretty unknown to the public," she says.
My son quickly forgot about his Kindle when he saw the goats, picking up handfuls of alfalfa to feed to the cute kids. He chatted incessantly with them, like they were old friends (or could understand him), and he loved it. He had already picked out which goat we were taking home as a pet.
I went a little goat crazy, too, buying chèvre, tomme, gouda and feta—oh, and a few soaps for gifts, too.
On the car ride home, my son asked me dozens of questions about goats—"Why didn't you ask Auntie Emma these questions?"—about what they eat, how we get milk from them, what they use their horns for. I was happy he had so many questions—and even happier he didn't touch his Kindle once.
Sweet Land Farm, 65-1031 A Kaukonahua Road, Waialua, @sweetlandfarmhawaii