Fête celebrates a year of food, family and friends
A culinary couple's dream comes true with opening this hit restaurant.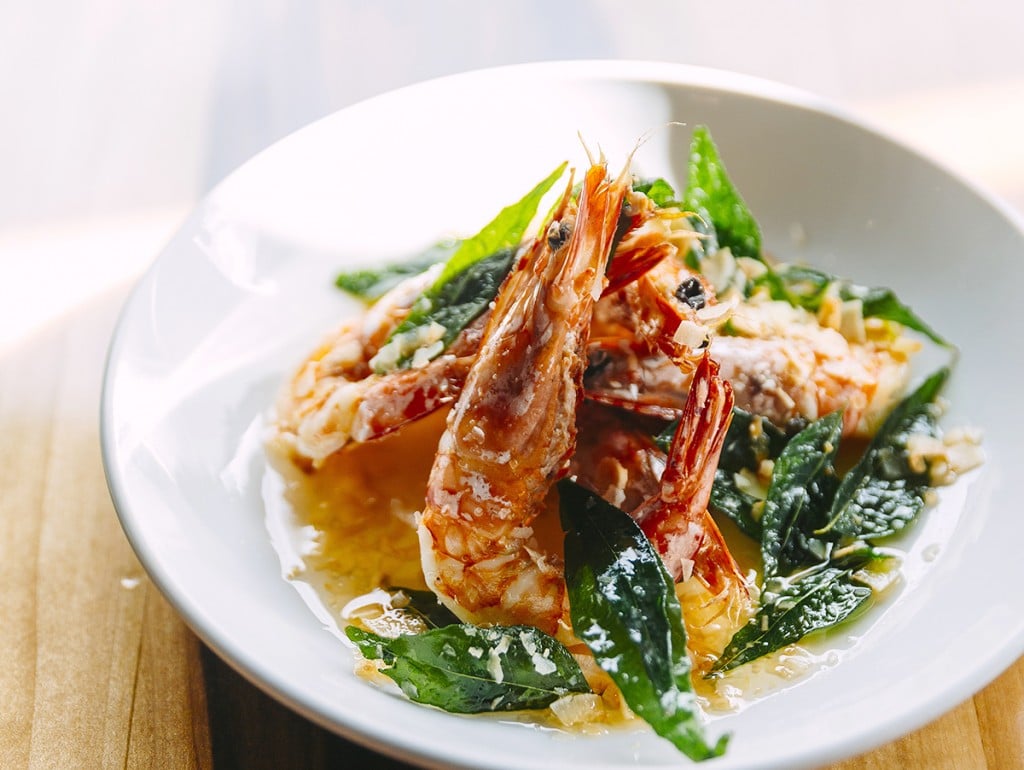 It's 8 p.m. in downtown Honolulu on a Saturday night. The restaurant Fête is packed. The owner, Chuck Bussler, is the calm among a perfect storm of tables and plates, meeting and greeting customers with a warm handshake and hug. His wife Robynn Mai'i is seen in glimpses only, emerging from the kitchen wearing in a chef's white apron and a ​wide smile. The brick-walled room is brimming with the sounds of wine glasses connecting and forks scraping plates, accentuated by the natural ebb and flow of easy conversation between bites.
And what bites! Grilled pulpo, or octopus, braised in red wine and colorfully seasoned with exotic spices. Humble Japanese gyoza elevated by a foie gras filling and a sweet poha berry jam. Twice-fried chicken, doubly crisp and perfectly complimented by spicy tomato jam and creamy grits. One of tonight's specials is two generous pieces of salty uni, or sea urchin, resting on soft, house made brioche.
Fête (pronounced 'fett') has only been open for a year, but has been a whirlwind success since the day its doors opened. Many factors play in its favor: Mai'i's culinary arts education from Kapi'olani Community College and Bussler's front-of-house experience, opening restaurants in New York City and Athens, GA, and his freelance graphic design and advertising skills. This culinary couple have been married 11 years, bonding over their love for eating, making and serving good food, and their shared ideas on the art of dining out.
"People think the center point of dining is the food, with wine and cocktails as the accent, but we felt the center point should actually be the reason why people are here. They are hanging out with friends or family, they are having a celebration, sharing time with loved ones. Food is just an accent to that—it's not necessarily the center point. That's why we want to make sure that their experience is as best they can possibly have," says Bussler.
Fête is the French word for a celebration, and Bussler and Mai'i modeled the restaurant to dinner parties they held at home. "We wanted people to feel that our 'home' was warm and inviting, and that they can relax and have a great glass of wine or cocktail, with this fantastic food," says Bussler.
Of course, there were challenges too. Working in downtown meant limited parking and plenty of homeless issues. Prior to opening, the kitchen's hood—the most expensive equipment in the kitchen—fell during construction and crushed the fryer. Bussler had to trust his instincts when it came to designing Fête's interior, everything from paint color to the modern chic plant wall decorating the back of the restaurant. Finding good line cooks was hard, and so was working more than 100 hours a week for months on end.
But it's all come together, and people love Mai'i's culinary mastery and creative takes on simple, familiar dishes. Bussler calls it "New American," or "the culmination of different cultures put together on a menu to create a cohesive cuisine." Peruse the well-balanced menu crafted by Mai'i, who is part Hawaiian, Spanish and Korean, and you'll see signature ingredients and cooking styles from Mexico (tortillas), Japan (gyoza), Korea (kalbi) and Italy (pasta).
The coconut-lime prawns are a good example. "It has a South Indian style to it, so even though it says coconut shrimp, it's not fried—it's sautéed in coconut oil. It has a very bright, lime tropical thing going on with it," says Bussler. There are also locally grown ingredients, including produce, meats and fish. Take the grilled kampachi, pan-seared and doused in a chile lime butter sauce and paired with ginger Okinawan potatoes and pohā starfruit lomi. There is dedication to from-scratch cooking, as everything is house made, from the rocky road to Hāna ice cream to the lamb cavatelli's lamb sausage and ricotta cavatelli.
As Fête launches into its second year, Bussler says plans have already started with the launch of a catering division, where they'll be able to serve up to 1,000 people. The additional revenue will eventually be used to provide competitive salaries for staff, along with benefits like a 401(k) retirement plan and paid vacation. Another goal for Fête's new year includes culinary expansion, where the menu will continue to evolve and change as new sous chef Emily Iguchi lends her expertise.
Bussler says, "We strive to do better every day, and we just love what we do. We put our heart and soul into taking care of people, and that's what keeps us going."