Fields of Gold: A morning on the Maui Gold Pineapple Co. tour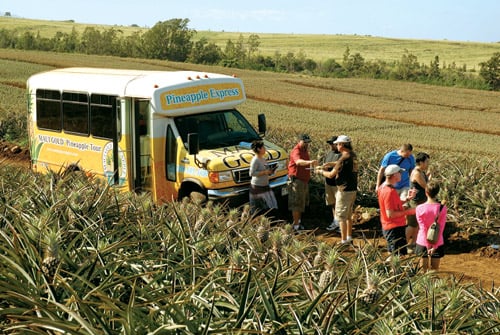 I'm standing in the middle of Maui Gold Pineapple Co.'s 1,500-acre plantation near tiny, rustic Haliimaile town, savoring a just-picked, golden spear of the company's world-famous namesake fruit. The midday Maui sun is intense. There's no shade in sight. Still, sweet pineapple juice dribbling down my chin and hands, I'm in heaven.
An hour into one of Maui Gold's weekday 90-minute tours of its pineapple acreage on the 1,100-foot elevation of Haleakala volcano's west side, I'm enjoying pineapple and a bit of Valley Isle pineapple history. Founded in 1912 as Maui Pineapple Co., it once claimed vast fields, more than double its current acreage, in the Kapalua area of west Maui and the Haliimaile-neighboring area of Haiku.
The story of the century-old company, and how it and Maui-grown pineapple was saved from the brink of extinction nearly five years ago, is explained with entertaining and informative gusto, and a good amount of pineapple tasting, on what Maui Gold claims is the only tour of a working pineapple plantation in the United States.
In its heyday, Maui Pineapple Co. employed upward of 2,000 workers and harvested 250,000 tons of pineapple annually, all of it packed on-island and shipped worldwide under the Maui Gold brand. However, by November 2009, faced with harvests down to 92,000 tons annually and 285 employees, parent company, Maui Land & Pineapple Inc., decided to shut down all of its pineapple operations.
Guide Steve Potter cuts some fruit for the tour group to taste. Photo: Aubrey Hord/Maui Gold Pineapple Co.
Founded on Maui Pineapple Co.'s final day of business, Dec. 31, 2009, by a cadre of in-house executives determined not to allow the end of Maui pineapple production, the company reopened as Haliimaile Pineapple Co. on Jan. 2, 2010, with a brand-new business plan and lease on life for the Maui Gold brand. (HAWAII Magazine documented the team's heroic efforts in the November/December 2010 feature, "Saving Maui Pineapple.")
Recently renamed Maui Gold Pineapple Co. after its signature fruit, the company's pineapple receives consumer raves for its incomparable sweetness, low acidity and juicy flesh. Developed over a half-century of selective crossbreeding, the Maui Gold succulent variety is cultivated year-round, utilizing sustainable agricultural practices such as composting, field rotation and water conservation.
"We inherited the world's premier pineapple," says Darren Strand, one of the Maui Pineapple Co. executives who helped save Maui Gold, and is the new company's president and CEO. "We're passionate about it. On our tour, people gain a deep appreciation for the hard work farming requires and the care given to every pineapple that we grow."
Maui Gold pineapple is packed in a Haliimaile production facility neighboring the fields. Photo: Steve Brinkmann/Maui Gold Pineapple Co.
The tour begins in Maui Gold's Haliimaile town processing plant—a maze of monster machines and conveyor belts that roar and rumble when they 're in full swing and loaded with fresh-picked pineapple. On the day of our visit, though, the plant is quiet and empty. Our guide, Steve Potter explains that the plant workers are harvesting pineapple in the fields above Haliimaile town for next-day processing.
"Just about everything that's picked is sold," says Potter, a genial, laid-back guide, whose knowledge of all things pineapple is impressive throughout the tour. "We've even found buyers for undersize pineapples and pineapples that don't have a shelf life because they've ripened too much in the fields. Only about 3 to 5 percent of the crops go to waste."
On the five-minute drive from Maui Gold's processing plant to its nearby fields in an air-conditioned shuttle bus, rows of pineapple in various stages of growth stretch as far as the eye can see. An experienced field worker can plant 7,000 pineapples per shift, all of it by hand, says Potter. He explains that Hawaii provides just about everything a pineapple plant needs to thrive and produce rich fruit: abundant sunshine; well-drained, nutrient-rich soil; temperatures ranging from 70 to 90 degrees by day and above 50 degrees at night; and a geographical location within 1,500 miles of the equator.
Potter explains that yellow rind doesn't necessarily indicate a pineapple is ripe and ready for eating.
"The best way to determine ripeness is to thump the pineapple," Potter says. "It should emit a hollow sound. Once a pineapple is picked, it doesn't ripen anymore."
Maui Gold Pineapple Co. employees pick all of the fruit by hand. Photo: Steve Brinkmann/Maui Gold Pineapple Co.
We watch the field crew handpick and place pineapples onto a mobile conveyor belt that lifts the fruit into a truck as Potter readies the tasting part of the tour.
Pineapples with mostly green skin have a three-week shelf life and are packed for mainland U.S. markets. Half green, half gold pineapples, which keep for seven to 10 days, are packed for sale in Hawaii.
Blessed with 95 percent sugar content and 5 percent acid, yellow-skin pineapples are the sweetest of the three. But since they're only perfect for eating a day or two after picking, you won't find them in stores.
"They're sold to Tedeschi Vineyards in Upcountry Maui, which makes three types of pineapple wine from them," Potter says.
Surrounded by fields of ripe fruit, we watch Potter pick as much fresh pineapple as we can eat, deftly cutting off the skin with a large machete before handing the golden fruit to us. After tasting all three types of ripe pineapple, our group is divided on which tastes best. Some like the palate kick of green-skin pineapple with 85 percent sugar and 15 percent acid, which is the most tart. Others, myself included, say the sweeter the better, opting for pineapple with more yellowish skin.
After we've had our fill, Potter wraps up the tour with some tips for our home pineapple enjoyment.
"Don't cut off the crown, twist it off so none of the juice is lost," he advises. "Turn the fruit upside-down and refrigerate it overnight. That'll distribute its sweetness evenly."
Maui Gold Pineapple Co. grows its namesake fruit on a 1,500-acre plantation on the slopes of Haleakala volcano. Photo: Steve Brinkmann/Maui Gold Pineapple Co.
Potter then shares a few of his favorite ways to eat it.
"I love pineapple on shish kebabs. It goes well with any kind of meat and vegetables. And my wife and I always take frozen pineapple chunks on picnics. They're so ono (delicious) and refreshing!"
It's all good advice for handling the tasty treat everyone on the bus receives at the tour's end: a ripe, luscious Maui Gold pineapple, packed in a box for travel.
Sweet!