Filipino "Jumping Salad" Shrimp Poke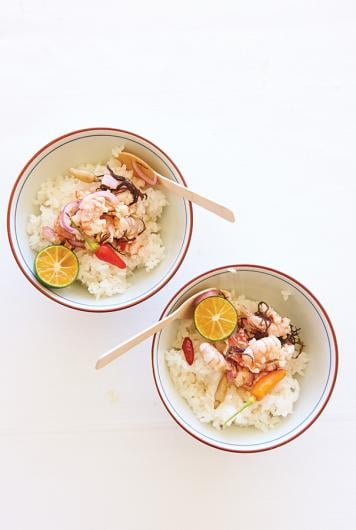 The sweet, tiny freshwater river-caught shrimp served still alive and leaping in the popular Filipino dish jumping salad was Halekulani's sous chef Robin Abad's poke inspiration here. "The shrimp was dumped on the table. We'd have a bowl of spicy vinegar, calamansi and salt. We would catch the shrimp, dip it in the seasonings, scoop it with rice and eat," says Abad. His recipe uses cooked, non-jumping shrimp, but stays true to the dish's flavor, mixing in other jumping salad ingredients. "The amazing thing for me about poke is the simplicity of the dish's roots and how complex it can get while always reverting back to that simplicity," says Abad. His favorite poke ingredient? "I like good salt. When I'm eating poke and I get these crunches of salt, I just want to dive right into the ocean. If you have great salt, everything will fall into place."
Filipino "Jumping Salad" Shrimp Poke
(By Robin Abad)
8 oz. fresh amaebi (sweet shrimp), blanched, peeled, cubed
1 oz. Pickled Ogo*
¼ oz. fresh ginger, grated
2 oz. Filipino Chili Vinegar*
2 oz. fresh calamansi (Filipino lime) juice
kosher salt, to taste
chicharrón (pork skins), for garnish
Tear ogo by hand into bite-size pieces. Mix all ingredients together well and serve with chicharróns for dipping or broken up as garnish.
Eating tip: Serve with hot rice and nori (dried seaweed) sheets. Spoon hot rice onto a small sheet of nori seasweed. Place one or two pieces of shrimp poke and crumbled chicharrón on rice. Close nori to surround poke and rice, like a sushi handroll. Eat.
*Recipes for Pickled Ogo and Filipino Chili Vinegar posted on HawaiiMagazine.com.