Finally! Hawaiian macadamia nut milk has arrived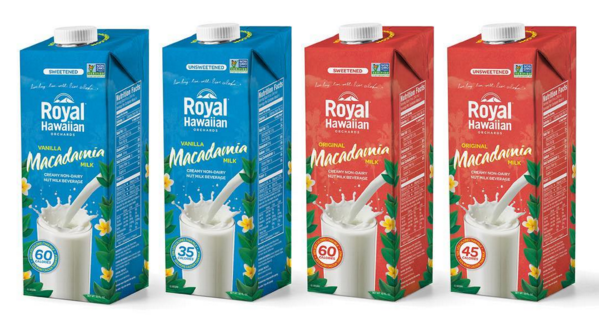 The rich, buttery taste of Hawaii-grown macadamia nuts already invigorates cookies, chocolates and other confections with tastes of the Islands, but now the nut is being pressed into a different kind of service.
Hilo-based Royal Hawaiian Orchards is in the process of producing macadamia nut milk and is currently selling it to retailers nationwide. Though the company is not yet releasing exactly which regions and stores might carry the new product, they claim it will be available in groceries and natural food store shelves on the Mainland and locally in Hawaii starting this June.
Coffee giant Starbucks helped pave the way for nut milks to become mainstream—it began offering soy as an alternative more than five years ago and added coconut milk as an option early last year. These plant-based concoctions don't contain lactose and generally have fewer calories than their dairy counterparts, which also makes them popular with the health-conscious.
Royal Hawaiian Orchard's diversification to sell their version of the creamy dairy substitute was "inspired by consumer acceptance of almond milk," according to President and CEO Scott Wallace. And, indeed it appears to be the latest addition in a growing trend of traditional dairy milk alternatives.
Though Royal Hawaiian Orchard's precise process is proprietary, macadamia nut milk, like other nut milks, is created by soaking the nut meats in water, mashing them and then straining off the resulting silky liquid through a fine filtered cloth. The milk can be enjoyed as a stand-alone beverage or used anywhere traditional cow's milk is used: in cereal, coffee and in baking (sometimes with the addition of extra fats to maintain recipe consistency).
Royal Hawaiian Orchard's shelf-stable macadamia nut milk will be offered in four flavors—sweetened and unsweetened varieties of both the original flavor and vanilla, each for around $3.49 per gallon. Their sweetened varieties each have 60 calories per 8 ounce serving, compared to the 79 calories of the same sized serving of skim milk. Their unsweetened original has 45 calories and unsweetened vanilla has 35 calories for an 8 ounce serving. The company also says its macadamia nut milk has 50 percent more calcium than dairy milk.
All of the macadamias used in the creation of Royal Hawaiian Orchard's new nut milk are grown at their 523,000 tree orchard on 5,000 acres outside of Hilo. Among the world's largest producers of the crop, the company also produces popular roasted, flavored and chocolate-covered macadamia nuts.
More info about Royal Hawaiian Orchards here.