Visit a Monk Seal Hospital at Keāhole Point
Experience Ke Kai Ola, a hospital for Hawaiian monk seals, on its 2.5 hour walking tour.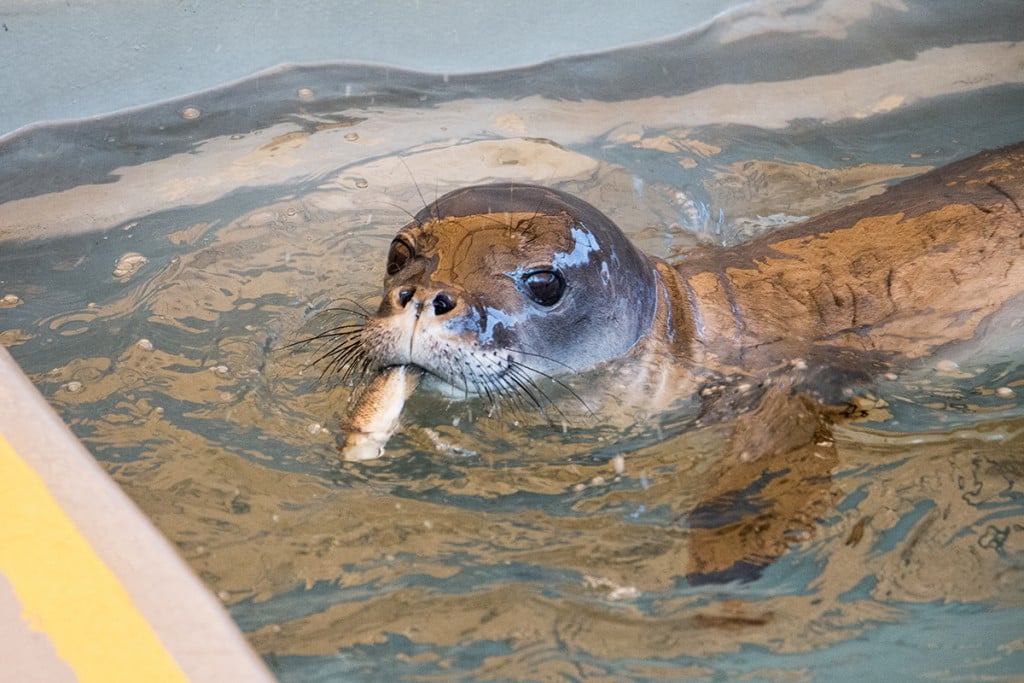 There's a dry-erase board at Ke Kai Ola, a monk seal hospital at Keāhole Point, with the names of its Hawaiian monk seal patients, where they're from, when they arrived and their weights, both on arrival and now.
One look at this chart and you can see the impact this hospital, built by the California-based Marine Mammal Center, has had since it opened in 2014.
Hilina'i, an emaciated monk seal pup rescued in September 2019 from the Pearl and Hermes Atoll in the Northwestern Hawaiian Islands, arrived weighing 57 pounds. Six months later, she's 162 pounds. (Monk seals can weigh 200 pounds at 6 weeks old; adults weigh between 400 and 600 pounds.) Since 2014, the hospital has released nearly 30 healthy monk seals back into the wild.
"We haven't lost one yet," says Jeff Reiner, a retired biologist who volunteers at Ke Kai Ola and leads tours of the multimillion-dollar facility.
The 2.5-hour tours are offered by the nonprofit Keāhole Center for Sustainability, formerly the Friends of NELHA, the National Energy Laboratory of Hawai'i Authority that administers the 900-acre technology park at Keāhole Point, a 10-minute drive from the Ellison Onizuka Kona International Airport. The tours include stops at the various businesses and organizations on the campus, from an abalone farm to an innovative charter school where kids learn entirely outdoors.
At this hospital, though, you'll learn everything you ever wanted to know about Hawaiian monk seals, one of the most endangered marine animals in the world. There are fewer than 1,400 of them left in the wild, mostly in waters around the remote Northwestern Hawaiian Islands. The work done at this hospital, though, is helping with their recovery.
On the tour, you'll see what the monk seals are fed—frozen herring—and where surgeries are done. You won't be able to peek into the facility where the monk seals live—even the volunteers aren't allowed to touch the animals or talk too much while working with them—but you can view them via live feeds on monitors.
73-4460 Queen Ka'ahumanu Highway, Suite 112, Kailua-Kona, marinemammalcenter.org/what-we-do/ke-kai-ola.