Find Handcrafted Japanese Shochu in Oʻahu's Surfing Town of Haleʻiwa
Hawaiian Shochu Co. uses Hawaiian sweet potatoes to make the beloved distilled spirit.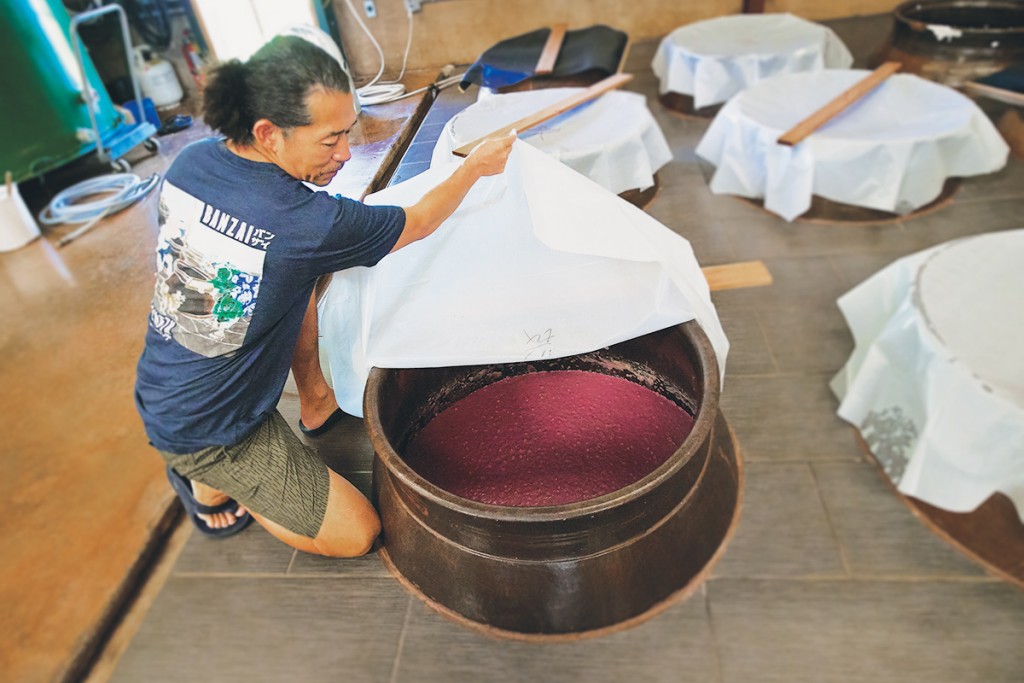 When Ken Hirata vacationed in Hawai'i more than 20 years ago, he tried poi, a traditional Hawaiian staple made from mashed taro. Realizing that fermentation was a key process in making both poi and shochu, a beloved distilled spirit made in his home country, Japan, Hirata wondered if he could craft good shochu with Hawai'i-grown ingredients.
But life went on and another decade passed before the idea of making shochu in the Islands came back to him. At 40, Hirata and his wife, Yumiko, packed up their life in Australia and moved to Kagoshima on Japan's Kyushu Island, where Hirata sought out Toshihiro Manzen, whose family had been producing handcrafted, small-batch sweet potato shochu, or imo shochu, at its distillery for several generations.
Hirata asked Manzen to take him on as an apprentice, and after much consideration—Hirata had persisted for a month to no avail—Manzen finally agreed to pass on his family's craft to Hirata.
Then in 2013, after eight years of learning under Manzen, Hirata established the Hawaiian Shochu Co. in Hale'iwa and released its first batch of shochu, named NamiHana ("Wave Flower"). Each batch takes six months to process and yields 3,000 to 3,500 bottles. Now on his 13th batch, Hirata credits his success to overwhelming support from the local community.
Shochu is arguably more popular than sake (rice wine) in Japan and has gained a loyal following in Hawai'i as well. To put it simply, shochu is comprised of a starch—most often barley, rice, buckwheat or sweet potatoes—and koji, a Japanese mold found in myriad Japanese food products, such as shoyu (soy sauce) and miso (fermented soybean paste). Hirata buys koji spores from Japan and sweet potatoes from Hawai'i growers. In Japan, big shochu makers often use sweet potatoes specially developed for shochu-making. But Hirata prefers to use the stuff we eat: The balance of the potatoes' sweetness and starchiness, he says, is the key to making great-tasting shochu.
During production months, the Hiratas' days start at 5 a.m. Koji spores are added to 200 pounds of steamed rice, grown on a family farm in California, to make koji rice. The koji rice and approximately 12,000 pounds of Hawaiian sweet potatoes are mixed together in 150-year-old ceramic vats that Hirata got from Manzen; the mixture undergoes fermentation for 10 to 12 days, turning into a mash. The mash is then transported to a wooden still made of Japanese cedar, where it becomes the clear, sweet and smooth alcohol that is shochu.
Due to the year-round availability of Hawai'i sweet potatoes, Hirata can make two batches of shochu, or roughly 6,000 bottles, per year—one batch in April and one batch in October. Japan's climate usually allows for just one batch annually.
Like his master, Hirata, who says he loves O'ahu's relaxed pace, doesn't have plans to increase production; he happily runs operations with just his wife. In between batches, Hirata works on building a house on his Hale'iwa property, a project three years in the making, and is learning how to kitesurf.
Bottles of NamiHana (30% alcohol) and a limited number of the stronger Banzai Strength NamiHana (41.5% alcohol) are available for purchase at the Hiratas' production site by appointment. Free tours—with a tasting included—can also be booked; just email Hirata at kaloimo@gmail.com. Hawaiian Shochu Co., 66-542 Hale'iwa Road, Hale'iwa, O'ahu.