Find out How This Popular Soap is Made on Oahu's North Shore
The North Shore Soap Factory offers 30-minute tours of its factory and shop in Waialua.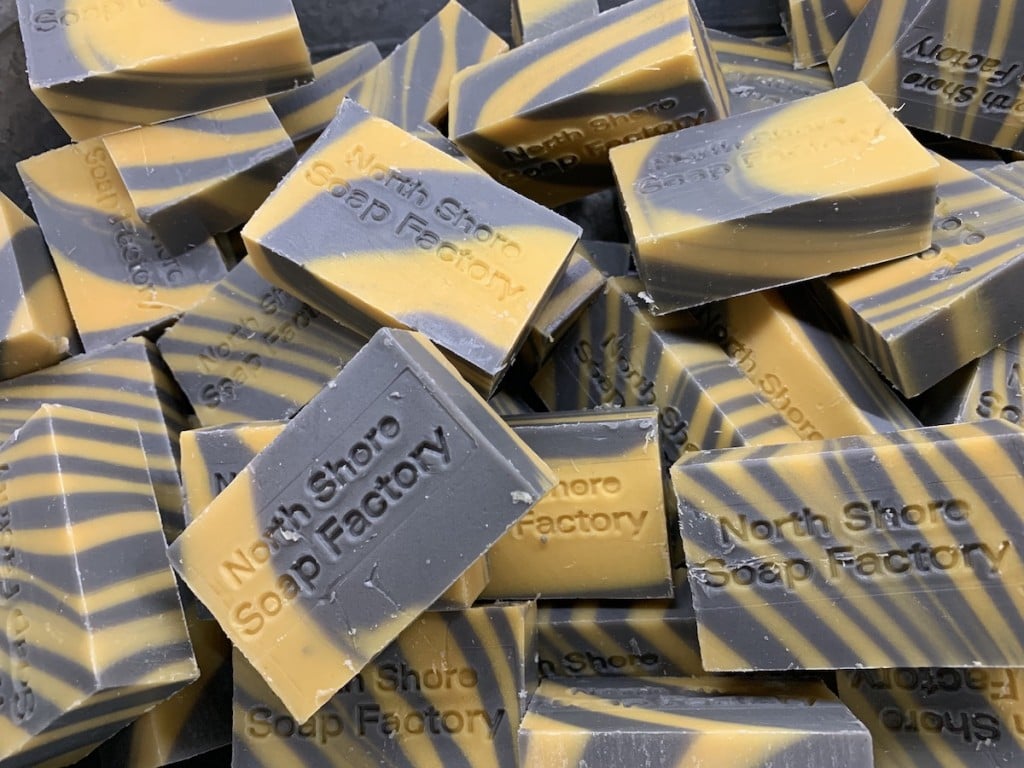 Debora Driscoll hadn't set out to become a soap-maker. But after receiving a holiday basket containing handcrafted soaps nearly 20 years ago, Driscoll and her business partner—and then-husband—Jerry altered course. They decided to make soap. But not just any kind. Their soap would be good for the skin and safe for the environment, too. In 2001, the pair developed Hawaiian Bath & Body all-natural soaps in their home on Oahu's North Shore and started selling their products at craft fairs and farmers markets around the island. Nineteen years and almost 2 million bars of soap later, Debora, Jerry and the North Shore Soap Factory ohana (family) continue to make all-natural products from their factory in Waialua town.
The North Shore Soap Factory offers 30-minute behind-the-scenes tours, Tuesdays through Fridays from 10 a.m. to 3 p.m. The tours begin with a quick explanation of the factory's historic location: In 2001, the three-story bagasse bin in the historic Waialua Sugar Mill became available for purchase. During the sugar mill's heyday, bagasse, the residual fibers left over after extracting juice from sugar cane, was burned in the cone-shaped bin to generate electricity. Debora and Jerry transformed the bin into the factory that stands today.
The next stop on the tour is the soap room, where master soapmaker Jonathan Isenberg works his magic, surrounded by mixers, drill presses and towering shelves of colorful soap blocks. Isenberg learned how to make soap on the job after joining the team a decade ago, and enjoys experimenting with fun designs and scent combinations. All Hawaiian Bath & Body products are made with natural oils—such as Hawaii-grown kukui nut, coconut and macadamia nut oils—that support healthy skin and hair. Each soap bars takes five to six weeks to make from start to finish. Custom soaps for weddings, corporate events and special occasions can be ordered in advance.
The tour's last stop is in the packaging and bottling room, where all Hawaiian Bath & Body products are prepared for sale in the gift store or for online orders. Every product, down to each tube of lip balm, is handmade and packaged in the factory. The lip balms ($3.50) use organic beeswax from Hawaiʻi Island and are made in batches of 5,000.
The gift shop is a paradise for soap fanatics. Choose from a range of soap bars ($6.25), from classic kukui nut and plumeria to fruity scents such as pineapple and mango. Unboxed bar soaps go for $5.25 a piece and boast fun scents such as Hawaiian coffee and mint chocolate chip. The company's line of body wash ($12.95) is another customer favorite, with eight scents to choose from, including lavender, mango and pikake (Hawaiian jasmine). Perhaps one of the most interesting products is the Hawaiian Bath & Body sugar scrubs, which use sugar from Hawaii's last working sugar mill.
Hours: 10 a.m. to 4 p.m. Mondays through Fridays, 8:30 a.m. to 4 p.m. Saturdays. Tours available Tuesdays through Fridays, $20 per person, free for children 4 and under. Tour reservations must be booked 24 hours in advance. North Shore Soap Factory, 67-106 Kealohanui St., Waialua, (808) 637-8400, northshoresoapfactory.com.