Find Solitude and Serenity at the Waipiʻo Wayside Bed and Breakfast
At the very least, come to this quaint Hawaiʻi Island B&B for the buttermilk banana pancakes.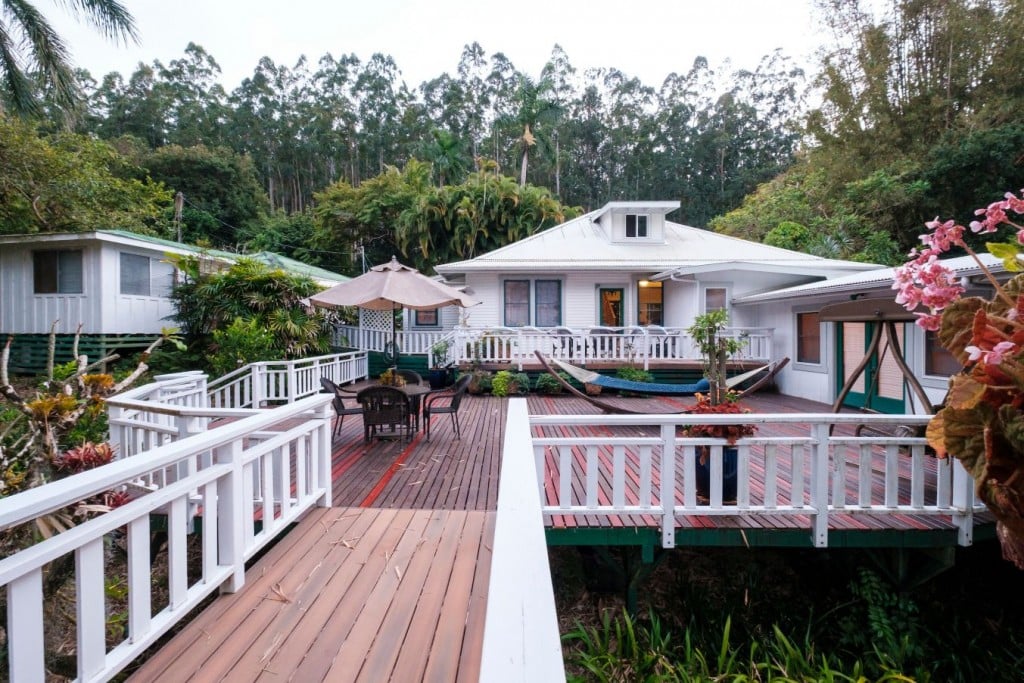 If you're not looking for Waipiʻo Wayside Bed and Breakfast, you'll probably miss it.
That's the kind of place this reclusive accommodation is. Tucked away amid the neverending flora of Hawaiʻi Island's northern coast, this quaint five-bedroom house opened in 1988 and, at the time, was the second legal bed and breakfast on the island. Over 30 years later, the B&B is still in operation, run by the same owner. And is it's a true bed and breakfast.
Jacqueline Horne bought the property in 1987, the same year she moved to Hawaiʻi Island. The historic home was originally built in 1932 for a recently married sugar mill superintendent who was looking to settle down. After Horne purchased the house, she quickly got to work, furnishing it into a bed and breakfast with five distinctly themed bedrooms: the Library Room, Chinese Room, Plantation Room, Birds Eye Room and Moon Room.
The B&B's outside lounge area overlooks the ocean. The toughest choice here is trying to decide whether or not you want to snuggle with Princess, the 18-year-old cat who has been living here rent-free her entire life, on the deck's patio chairs, or to put your feet up in the hammock of your dreams. Either way, you'll feel miles away from the nearest town, Honokaʻa, in a place so remote cellular coverage is non-existent. (Don't worry, there's WiFi.)
SEE ALSO: Your Guide to Honokaʻi
The plantation-style home's interior and patio area is only half of the story. Surrounded by the lush greenery of Hawaiʻi Island, Horne, who lives on property in a side-residence not connected to the main house, grows enough produce to start her own farmers market, and you'll often smell the fragrances of lilikoʻi (passion fruit), oranges, lemons, avocado, lychee, papaya, white pineapples and more while spending time on her acre-and-a-half property.
Instead of selling what she grows, Horne uses the fruits and veggies as ingredients for her homemade breakfasts, which are served in the house's communal dining room area every morning. The meals range from buttermilk banana pancakes to roasted pepper baked eggs. The food is so good, guests request recipes—so often that Horne has posted the recipes online. (See them here.)
But more than just great food and a place to rest your head, Horne provides a certain level of hospitality that perfectly matches the levels of aloha found on Hawaiʻi Island. She talks story with guests over breakfast, gives recommendations on where to go and what to eat, and, most importantly, does it all with a genuine smile. Maybe it's because of this place that she calls home.
For more information, visit Waipiʻo Wayside Bed and Breakfast's website or call (808) 775-0275.