Find the perfect Hawaiian Christmas tree at Helemano Farms
In the central town of Wahiawa is Oahu's only locally owned and operated Christmas tree farm.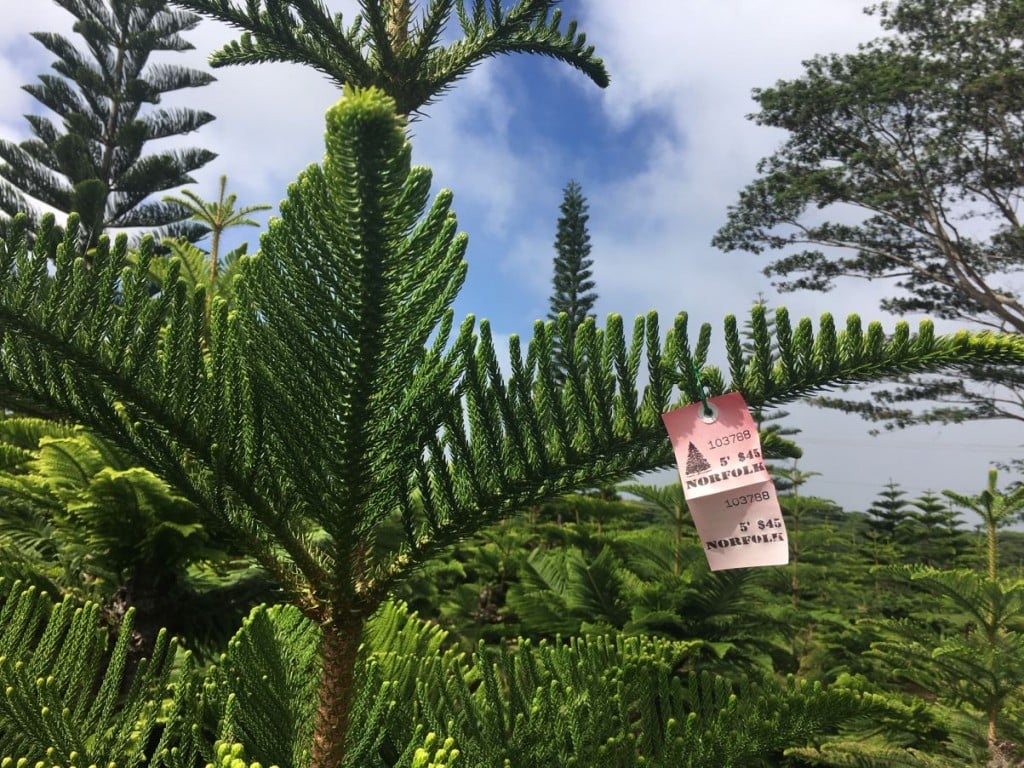 There's nothing better than picking out your own Christmas tree, and at Helemano Farms in Wahiawa, Oahu's only Christmas tree farm, it's easy.
"We have the full service here," says Carol, a longtime worker at Helemano Farms. "We greet our customers, we take them out for a walk, they select their tree and then we cut it down for them, net it and help them put it on their car."
And I can attest to this. After pulling into the Helemano Farms dirt parking lot, Carol called out to me the moment I got out of my car. The farm's known for its great service—and, of course, its large assembly of Norfolk pines.
Not your typical Christmas tree, Norfolk pines, which were originally grown in the Norfolk Islands, are less bushy than the average Christmas tree and feature long branches covered in soft, delicate green pines. And although they don't have that Christmas-y pine smell, Carol tells me there are quite a few perks to taking home a Norfolk, which has been dubbed the Hawaiian Christmas tree. "These trees don't disperse needles," says Carol, "so that's a big plus."
Another feature of the tree is that it will stay healthy and green for three to four months, which can last families straight through the holidays, "and if you're lucky, into Easter," adds Carol.
The farm itself is also worth checking out, even if you're not in the market to buy a tree. Helemano Farms is located on an unassuming plot of land at the end of the mauka (mountain) side of Whitmore Avenue, about a 40 minute drive away from the North Shore's Turtle Bay Resort. Once you enter the farm, you'll see rows and rows of towering Norfolk trees. Each of these Hawaiian Christmas trees is all different in its own ways; some have lighter green needles while others are highlighted by their long, sturdy branches, just waiting to be decorated with ornaments and lights. Cypress trees are also grown and sold here, but they sell out quickly and are located elsewhere on the farm.
While I was there, a semi-constant mist of rain left me a bit wet. I recommend bringing an umbrella or a poncho if you're planning to walk the farm. Throughout my leisurely stroll, I often heard excited families calling out to one another, shouting that they've found "a full one" and asking each other how big they want to go. Straining my neck to look up at the trees, I assumed that you could go pretty big, as the price chart at the farm's entrance listed trees up to 12 feet, with a charge of $50 for each additional foot.
Heading back to my car, I spot Carol ringing up an older couple. Another one of the farm's employees is tying a little tree, which couldn't have been more than 4 feet tall, onto the top of their car. The pair's also buying a beautifully crafted wreath, sold at the farm for $30. Carol jokes about her own tree, which she describes as a "Charlie Brown tree," and as the couple ends their transaction, I hear Carol utter those two magic words, the ones that always fill me with holiday joy: "Merry Christmas."
For more information, hours and prices, visit helemanofarms.com.