Find Your Way to the New Wayfinder Waikīkī
Featuring classic island charm and warm hospitality, the boutique Waikīkī Wayfinder is a private oasis in the heart of Waikīkī.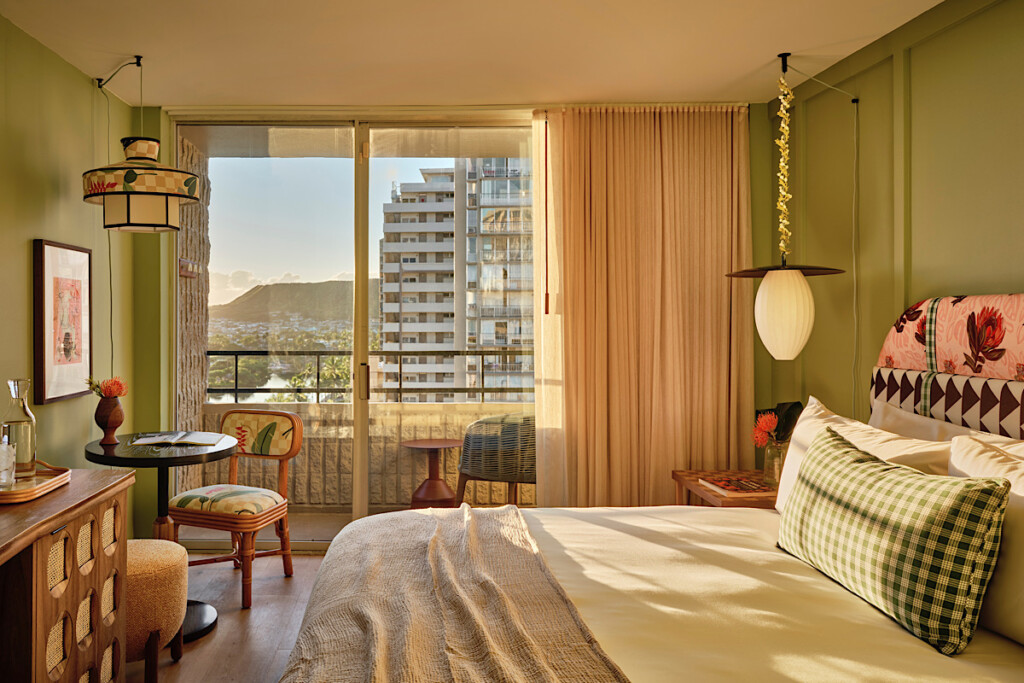 Traveling from far and wide, generations of eager visitors have journeyed to vibrant Waikīkī—known for its picturesque beaches, relaxing daytime atmosphere and bustling nightlife. But what starts as a vacation spot—a place to visit to escape daily routines—can turn into much more: a place of refuge and self-discovery.
Once there, where to stay? Who guides these visitors in their search for self-discovery? Cue the Wayfinder Waikīkī. 
Visitors will feel right at home at the Wayfinder Waikīkī, a new boutique hotel that embodies classic Waikīkī charm and warm hospitality while offering a fresh take on the island experience, from the moment they walk through the stylish entry with the Ala Wai Canal promenade in the background. And it's just a few blocks from world-famous Waikīkī Beach.
Upon stepping inside, wanderers encounter an inspired home base, influenced by the scenery and mix of cultures that make Hawaiʻi so distinct. And the distinctive and dreamy interiors here, with local touches, will make them feel instantly at home. Those in need of a quick, immediate pick-me-up (coffee, tea, snacks) can head straight for the B-Side coffee shop.
Traverse deeper into the private oasis and you'll find a 70-foot saltwater pool with plenty of space to embrace a slower pace of life. Visitors can also dip into the tropical poolside speak-easy known as Lost + Found, for handcrafted cocktails and local cuisine. In the future, those seeking something more substantial will want to stop in to satisfy local cravings at Redfish, which will offer a variety of mouth-watering variety of fresh and authentic poke. 
The rooms are a treat too, with private poolside suites and private lānai. Think custom robes, Grown Alchemist bath products, a fully adorned wet bar and local art around every corner. Vogue magazine chimed in, describing the Wayfinder's launch as "the most beautiful hotel opening in 2023." Other publications, including Conde Nast Traveler, New York Times Style Magazine, National Geographic and Glamour Magazine, had their own positive takes on the place.
Beyond the lobby doors, the team encourages everyone to discover the island with a local compass, from north to south and east to west. To help with that, the hotel provides some of the best deals in Honolulu.
Whether wanderers are there to embrace the ever-evolving multicultural hub that is Waikīkī or to lounge poolside, let the Wayfinder Waikīkī be your guide.