Find Ziplines, ATV Rides and a 3-Story Adventure Tower at This Park in Kapolei
Coral Crater Adventure Park brings exhilarating fun to Central Oahu.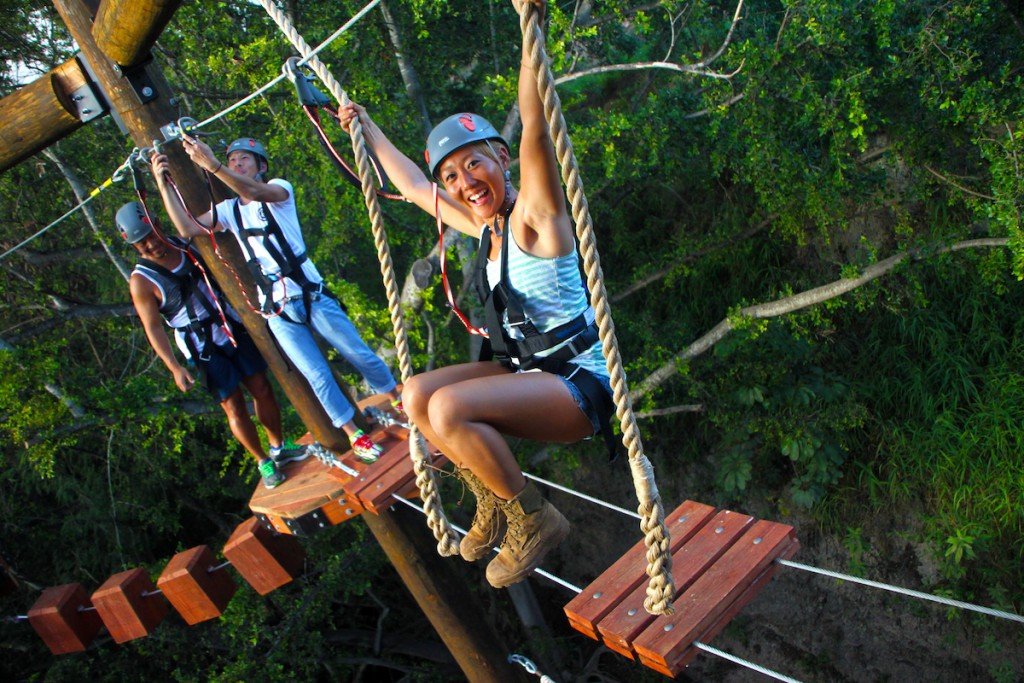 By the time your feet finally touch ground and drag along the gravel, you don't know what's more exhausted—your body or your mind.
It's the exact experience that Coral Crater Adventure Park wants for its guests.
The multi-attraction park gives visitors the challenges they are looking for through a variety of obstacles both close to the ground (ATV rides) and high above it (ziplines). The park, which opened two years ago, is about 25 miles from Waikiki and 5 miles from Ko Olina.
One of Coral Crater's activities involves the Adventure Tower, a three-story structure that features a series of different challenges: two levels of jungle-gym-like challenges, with participants suspended at least 20 feet up; a King Swing that starts 30 feet above the ground; and something called a Freefall, where you don a harness and step off the third story of the tower—about halfway down, the harness kicks in and slowly lowers you to the ground. The experience can be either invigorating or demoralizing.
The property features man-made gulches (created when the area was used as a quarry) that give you the sensation of being dozens of feet above ground while you zip around any of six ziplines, ranging from 300 to 900 feet. The park also includes ATV rides, where parkgoers learn to drive custom-designed and built vehicles over, up and around various obstacles.
It is as much about challenging yourself—physically and mentally—as overcoming fears, some of which you might not know you have until you've willingly catapulted from a 60-foot structure, down along a thick wire cable, traveling at speeds of up to 25 mph.
Trust—in your guides, the equipment and most of all, yourself—is key.
"To me, I find it fascinating, because I don't have a fear of heights," said Jim Owen, CEO of Coral Crater Adventure Park. "Some people can work their way logically out of their fear. "Originally, the intent of the park was all fun. But when people get off of the (Adventure) Tower, and they feel so good about themselves, I didn't realize that was going to be one of the best parts about running this place."
Children as young as 6 are encouraged to participate—and the park is looking to add activities for those even younger.
And the park is prime for expansion and growth—symbolized by the 10-foot tall papaya trees that front the entrance. The trees grew from the discarded seeds of papayas eaten by employees on the property.
"What we've done is plant seeds," Owen said.
Packages range from $89.99 to $349.99. 91-1780 Midway Road, Kapolei, Oahu, coralcrater.com.