Five cool Hawaii souvenirs, for design lovers
Stylist Taylor Okata shares the freshest local items on the market right now.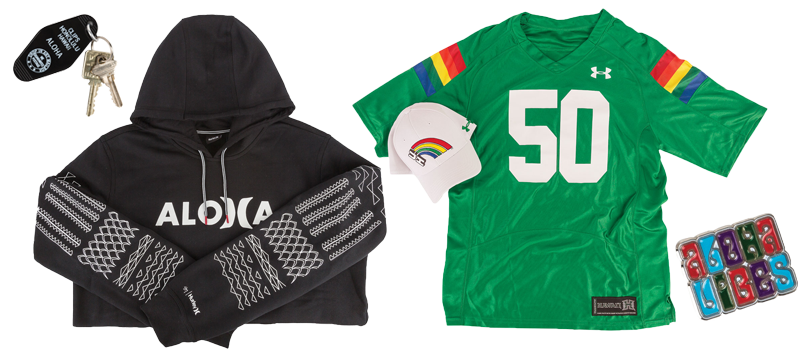 New York-based stylist Taylor Okata (@tayzdayz) has worked on fashion and editorial campaigns for pretty much everything—from Adidas to Apple and Complex to Self Magazine.
When he manages to get away from the city for his home tropics, the tastemakers keeps his eyes peeled for great local design and always maganes to pick up a few new pieces in the process, whether that be clothing or a coffee mug.
During the Oahu-born and bred tastemaker's most recent Hawaii visit, these are goods that caught his eye.
1. Sig Zane x Hurley
"This is so refreshing to see. Incorporating this original Sig Zane print in collaboration with Hurley—a mass brand owned by Nike—and taking something traditional and expanding on it illustrates how they make their designs appeal to the youth, while perpetuating the education of Polynesian culture through their designs."
2. Retro University of Hawaii gear
"University of Hawaii just re-released a line with the original logo. Growing up with this logo, going to games with my dad … this is quintessential nostalgia. That whole '50s, '60s retro vibe is back in general."
3. Local trinkets from No. 808 and Clips
"I love collecting coffee mugs, like this one from No. 808 in Haleiwa, something I can incorporate naturally into my daily routine. I keep this keychain from Clips on my Hawaii set of keys. It looks like a vintage hotel tag, so it always makes me sentimenal about returning home. The pins help me rep my home state—gotta bring the aloha spirit back to New York."
4. Gift shop sweaters
"In New York, people go south to St. Barts to vacation and get this shirt in that version. I didn't know they did all coastal towns. It's just really great design. Typography-wise, it drapes fully over your shoulders."
5. Barrio Vintage aloha wear
"A lot of my clients like this look. In New York these would be $120, but the guys at Barrio Vintage don't upcharge everything. This paisley pattern shirt is so good—not even half the price and the quality is amazing. It even has a French terry hook, a true '60s signature. This is what Prada and Gucci are trying to do right now."