Fly an Actual Helicopter on This Unique Tour by Go Fly Maui
No experience is necessary to take this exhilarating hands-on flight class.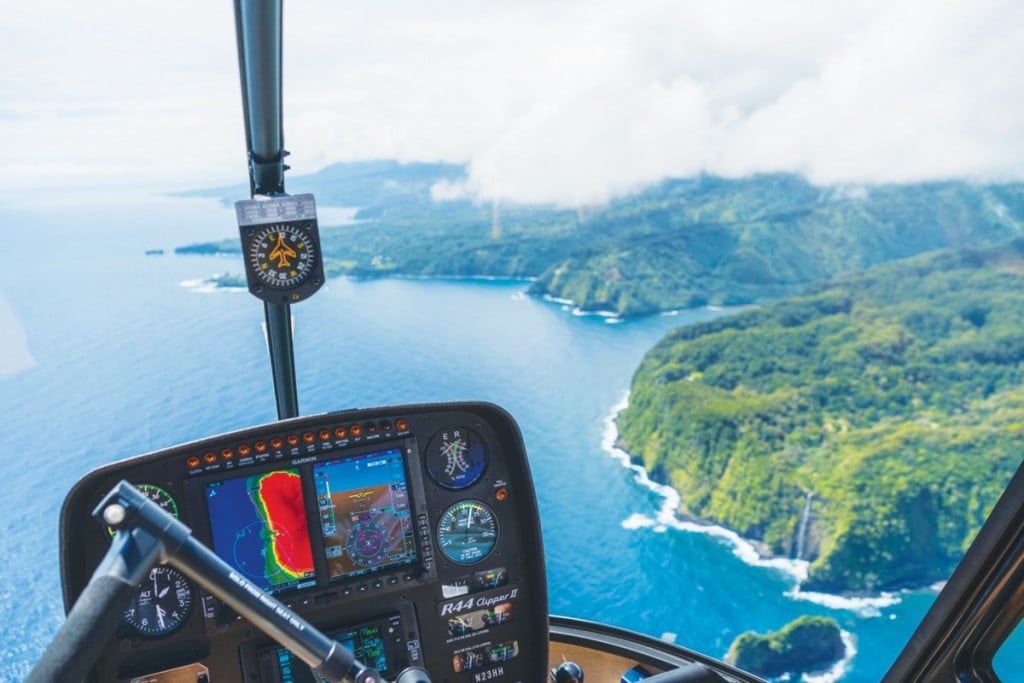 We're half a mile off Maui's northern coastline when Nick Moran says the magic words: "My hands aren't on the controls. You're flying all by yourself." I glance to my left, where Moran is seated in the pilot's chair of the helicopter, and his hands are completely removed from the cyclic, which helps to control the chopper.
"There's no way," I think to myself, "that I'm actually flying this thing."
To see if it's true I grab the cyclic and gently push it forward, and sure enough, just as Moran said it would, the helicopter changes its pitch, and an empowering sense of aerial freedom is now in the palm of my hands.
I've flown in helicopters at least two dozen times, having crossed New Zealand's Southern Alps and flown inside the Grand Canyon, but I've always been looking at what's out the window—not down at the gauges and controls.
Now, thanks to Go Fly Maui, which Moran and his wife, Magen, opened a year ago as Maui's only helicopter flight school, I'm flipping switches, pushing buttons and working the throttle to cruise above waves that crash a thousand feet beneath me. Moran—who's a certified flight instructor—is right by my side and ready to grab the controls at any moment, but for now he tells me "to aim straight ahead—after that, we'll go look for waterfalls."
The lesson started out with training on the ground at a heliport at Kahului Airport, where we spent 30 minutes inside of Moran's hangar on flight theory basics and what to do in the unlikely event that the helicopter suddenly loses power. We thumbed through official Federal Aviation Administration manuals, discussed all the rotors and steering, and went through a preflight safety check to look at the engine, or "guts."
That's a part of the trip you'll never experience when you opt for a flightseeing tour. But here at the flight school, it's hands-on—from searching for oil and fluid splatters to inspecting the tail cone to make sure there aren't any dents or signs of bird strikes.
The R44 Clipper II helicopter has been specifically upgraded for a marine environment and is equipped with floats on the skids, so, as Moran points out while handing me a life jacket, "It's a great bird to have out here." And, even though it might seem dangerous (after all, you're learning to fly a helicopter)—these guys seem to take every precaution to ensure it's a safe activity.
We climb in the chopper, snap on our seat belts, and Moran hands me a lengthy list of all the preflight instructions. We toggle levers controlling the friction and gradually rev up the engine, and a few minutes later, when systems are a go, we don our headsets, get clearance from the tower, and suddenly leave the pavement behind, heading off toward the blue skies above.
So what propelled Moran—who's also a kitesurf instructor—to start a business that takes regular people and teaches them how to fly?
"I really love teaching," he says with a smile, "because when you see someone's face light up when they get something, it's a pretty contagious feeling."
Back in the air, through the crackle of our headsets, Moran explains the movements he's making to help fly the helicopter up toward the back of verdant Honokohau Valley in Kapalua. He's taken the controls back into his own hands—which is fine with me, considering we're navigating a narrow valley and are flying mere feet from the hillside.
I'd taken the reins when we were over the ocean, where Moran instructed me, more than anything else, to keep my eyes in front of me, but when we first catch sight of Honokohau Falls, my gaze is hijacked by the ribbon of water spilling 1,119 feet to a pocket of water below.
Maui's tallest waterfall can only be seen from the air, and considering our aircraft is flying without doors (or a window to alter the view), the falls seem close enough to reach out and touch—but my hands are still on the controls.
Even in the tightest, most technical spots, Moran encourages me to feel the collective—which is the hand-brake look-alike lever to my left—since that's what regulates the collective pitch of the helicopter's two rotor blades.
"Most people," says Moran, "either under-control or over-control in their first couple hours of flying," and I'm not only amazed by his delicate movements, but also his ability to stay hyperfocused, considering how distracting the view is.
We soar above bog lands on top of Mount Eke, where critically endangered silversword plants inhabit the soggy slopes, and slowly descend into Waihee Valley past walls dripping with water. We fly in circles around Honolua Bay and spot humpback whales in the royal blue ocean below. We pass sandy beaches and thundering blowholes, and watch from above as windsurfers and kitesurfers zip in and out of the waves.
At the end of our discovery flight (which lasts 30 to 45 minutes), Moran has one more lesson in store as he tells me to grab the controls one last time and keep the aircraft in a hover. We're only a couple feet off the ground, yet it's much more difficult to stay in one place than it is to fly at 70 knots while a thousand feet in the air. I overcorrect to the left, then right, and ultimately it's Nick who sets down the chopper in the very same spot where we took off.
As I unclick my seat belt at the end of the flight, it's hard to decide which part was more thrilling: soaring above waterfalls, whales and waves in a helicopter without doors, or finally getting to feel what it's like to be the one doing the flying.
"It's kind of like bungee jumping," Moran tells me later, about why people choose to fly with him. "It's on your bucket list. Flying a helicopter. Check. You can cross that one off."
Go Fly Maui Discovery flights from $400, (808) 633-5356, goflymaui.com.