Food Network's Dinner: Impossible meets ABC's Lost for Hawaii episode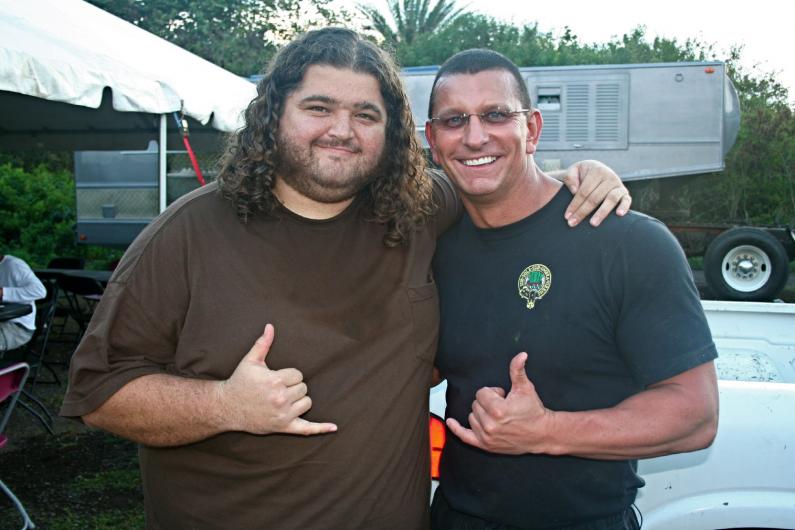 Feeding 90 members of the cast and crew of Lost on a North Shore Oahu beach will be Chef Robert Irvine's next Hawaii-based challenge for his popular Food Network series Dinner: Impossible. The episode premieres May 19.
If you're a devotee of the brawny English celebrity chef's show, you know its modus operandi. Offered no knowledge of a mission beforehand, Irvine is tasked "Mission: Impossible-style" with planning, procuring ingredients, whipping up and serving a full multicourse menu for an event in a matter of hours.
In Dinner: Impossible's "Robert's Lost Mission" episode, Irvine is dropped off on the ABC mystery-adventure series' deserted Papailoa Beach set with scant cooking equipment and some ingredients left for him on the beach. Food Network is, so far, staying mum about the ingredients. But judging by the photo below of Irvine with Lost cast member Nestor Carbonell, the chef's at least got a table stocked with fresh pork, chicken, shrimp, a variety of fish, pineapple, corn, sweet potato, banana and … uh, are those sugar packets in the bamboo steamer? That largish roll of ti leaves likely means lau lau will on the menu.
With assistance from Jon Matsubara, executive chef of the Royal Hawaiian Hotel's Waikiki beachfront Azure Restaurant, and a handful of Lost cast members (like Jorge Garcia, pictured above) dropping by with important mission information, Irvine was set loose on his task. After one very important stop at an Ace Hardware store in nearby Haleiwa town for cooking supplies, chaos and creation in Irvine's makeshift beachside kitchen ensued.
Truth be told, we're a bit surprised that Food Network waited until Lost's final season to cook up what seems like a match-made-in-epicurean-heaven scenario for Dinner: Impossible—stranded chef cooks for cast and crew of series about stranded strangers on an island. Plus, Irvine is no stranger to Hawaii challenges.
In a 2008 Dinner: Impossible episode titled "Late for the Luau," Irvine was tasked with creating a full beachside luau for more than 150 Big Island residents and visitors in just eight hours. He finished, of course—that time, with some lau lau- and lomi salmon-making guidance from Hawaii chef Sam Choy and by putting his ample guns to good use prepping a pig for an imu.
Having sampled Matsubara's inventive skills in the kitchen a few times at Azure, we know Irvine will be in very talented, very capable hands here.
We'll definitely be watching.
Here's the premiere week episode schedule for Dinner: Impossible "Robert's Lost Mission":
• May 19, 10 p.m. (Eastern time, Pacific time), 7 p.m., 10 p.m. (Hawaii time)
• May 20, 1 a.m. (Eastern time, Pacific time)
• May 22, 4 p.m. (Eastern time, Pacific time), 1 p.m. (Hawaii time)