Forest for the Trees: Planting Your Own Koa Tree on Hawaii Island
Hawaiian Legacy Hardwoods on the Big Island is working to restore the native koa forests of Mauna Kea.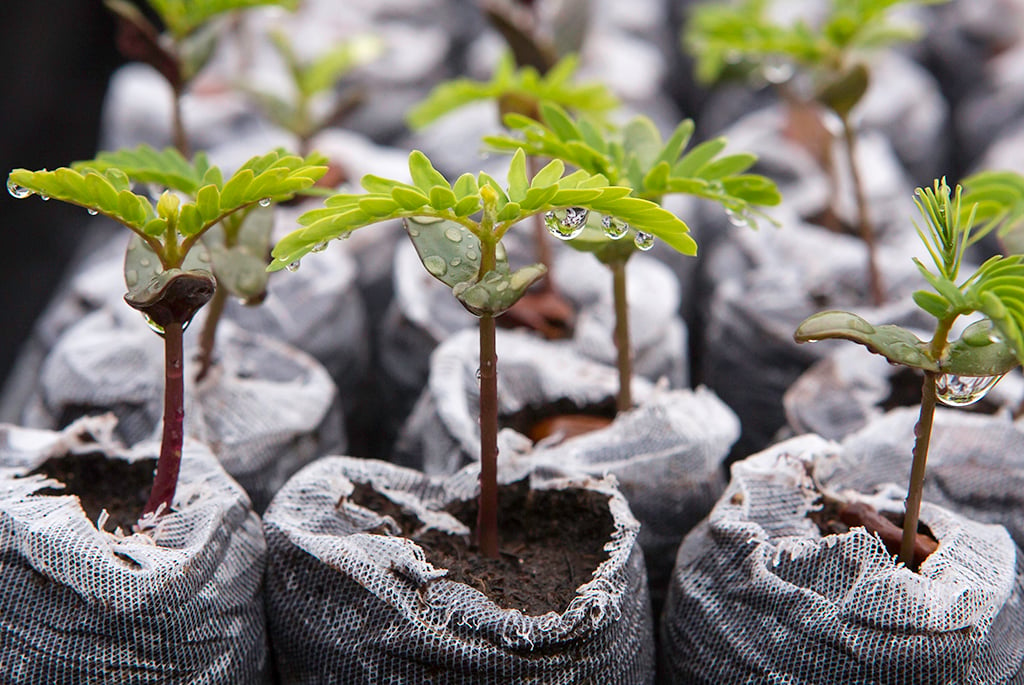 The smell of freshly baked cinnamon scones wafts from the kitchen and down the front stairway of the unassuming two-story house I wait outside at Kukaiau Ranch, a 10,200-acre working cattle operation in the tiny village of Umikoa on the northeast slopes of Mauna Kea volcano.
"Hey there!" calls a voice from the top of the steps. "Why don't you come up here and have something to eat?"
Diana Fox, her wild hair pulled back in a ponytail, waves, smiles and motions for me to come inside to sample one of her scones. She bakes them for every one of the small tour groups that visit Kukaiau Ranch to participate in the koa legacy tree program offered by Hawaiian Legacy Hardwoods (HLH).
Founded in 2008, the company is aggressively replanting koa on land once blanketed by forests full of the endemic Hawaii tree.
In six years, more than 225,000 koa have been planted on about 1,200 acres of the highland ranch—mostly by people who purchased trees as part of the legacy program. The trees are part of HLH's sustainable reforestation efforts and, interestingly enough, its timber business.
After I finish my scone, Rich Lindberg, my guide for the day, leads me to an area near the house where hundreds of three-month-old koa seedlings, still in little plastic planter boxes, are lined up on large tables, waiting to be planted in HLH's burgeoning forest.
"Pick the tree that speaks to you," Lindberg says, with a coy smile. It's not obvious in the moment, but I find out in time he really does mean it.
The koa really are special to Lindberg, who worked in corporate finance before ditching his high-paying job to work with trees. ("Trees can't screw you," he explains of his move, laughing.) He moved to Hawaii Island four years ago to work with HLH co-founders and former clients Jeffrey Dunster and Darrell Fox (the latter, Diana's husband), living in a tent for his first three months on the ranch. On the job, Lindberg changed his lifestyle, lost more than 60 pounds and found his passion.
Along with others on the HLH team, Lindberg also spent his first year at Kukaiau fencing in ranch acreage set aside for the reforestation project and planting the company's first 20,000 koa seedlings.
"The goal was to walk away and leave a forest in place," Lindberg says.
After selecting our seedlings, we jump into a shiny Kawasaki four-seat UTV (utility task vehicle) and head upslope. HLH offers two koa-planting tours of its ranch and forestlands, once the properties of King Kamehameha the Great. More than a century ago, the native acacia koa forest here was cleared to accommodate farming and ranching.
Three-quarters of the trees planted by Hawaiian Legacy Hardwoods on its ranchlands are legacy trees, meaning, they will never be cut down. The other one-fourth, however, are part of the company's for-profit arm and sold in lots of 100 as sustainably raised timber. HLH's current pre-planting rate for these orders is $9,950 per lot.
The sustainable practices of Hawaiian Legacy Hardwoods' business model—which also offers lot purchasers the option of buying carbon credits—offer an effective way to produce something of ecological benefit (a koa forest) while producing something of high value (koa timber). Koa is one of the most valued woods in the world, prized for its curly grain and striking coloration in furniture, woodcraft and veneers. Native to the Islands, koa provided early Hawaiians raw construction material for waa (canoes), spears, household implements and other items.
Co-founder Dunster, who is also HLH's CEO, believes the company has a business model for timber applicable outside Hawai'i. According to figures from the company, a single koa tree, over a 50-year lifetime, generates $31,250 worth of oxygen, provides $62,000 worth of air pollution control, recycles $37,500 worth of water and controls $31,250 worth of soil erosion. The endangered io (Hawaiian hawk), pueo (Hawaiian short-eared owl) and bright crimson apapane (Hawaiian honeycreeper) are all found in HLH's koa sanctuary. Even the akiapolaau, an endemic honeycreeper and woodpecker, which relies on koa for survival and is found only on the Big Island, is making a comeback here.
"We've basically designed a model to make the forest more valuable as a forest than cutting it down," says Dunster. "It's not just the right thing, it's the smart thing."
After touring HLH's fledging koa forests and visiting a lookout with sweeping panoramic views of Kukaiau Ranch and the Pacific Ocean, we drive to a relatively new planting area, roughly 4,200 feet above sea level, that will be our seedlings' new home.
"This is where your tree will live," Lindberg says, gazing over the grassy pasture where, in about two years, there will be a man-made lake surrounded by benches, picnic tables and 25-foot koa trees. "You'll have to come back with a bottle of wine."
And I'd be able to find my koa, too. Embedded in each tree is an electronic chip with an assigned serial number and linked to GPS coordinates. I could even view it using Google Earth.
I walk the pasture, looking for the perfect place to plant my seedling. After a few contemplative moments—something this place is perfect for—I settle on a spot I conclude will offer a great view of the future lake. Lindberg digs out a hole and helps me place the seedling into it, carefully, thoughtfully. It almost seems like we're birthing a sacred tree. And perhaps we are.
After a homemade lunch back at the ranch house and hugs with the staff, I leave Kukaiau and the koa tree I planted. As I wonder how impactful my little seedling will be to the return of the forest here, I spot an io flying overhead.
I take that as a good sign and smile.
Hawaiian Legacy Hardwoods
For more information, visit hawaiianlegacytours.com or call (877) 707-8733. The Grand Tour, about 3.5 hours, costs $210 for adults, including one King Koa legacy tree for planting, and $90 for children ages 5-18. Additional trees are available for planting at $90 each.