Four Seasons Hualalai on Hawaii's Big Island offering $1,000 resort credit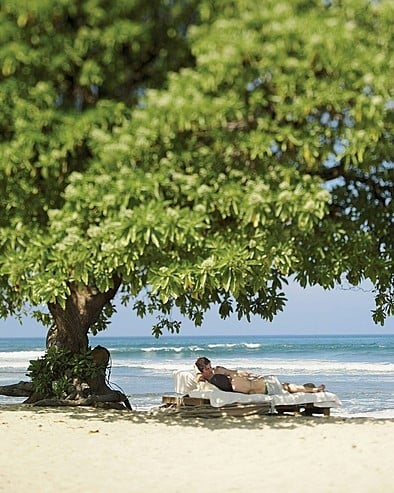 What's the first smart move in a down economy for a luxe Big Island of Hawaii resort after completing 15 months of renovations at a cost of $40 million? If you're the Four Seasons Resort Hualalai, it's enticing folks into experiencing your newly revitalized property with a $1,000 resort credit.
Make a reservation for a minimum four-night stay between Aug. 15 and Sept. 30, 2009, and you'll get a $1,000 credit towards just about anything you can do at the Four Seasons Resort Hualalai. The list of stuff you can apply your credit to is certainly tempting—spa treatments, ocean activities, golf, dining, room service, and as the resort's Web site boasts, "Anything you can charge to your room."
Can't finish off the entire $1,000 worth of credit on the above extras? The credit will be applied to your account anyway when you check out.
A deal this good usually has a catch, and here's the catch for this one: There's only a select list of room categories the deal applies to—all of 'em ocean-view rooms, which go for anywhere between $775 and $2,850 a night. The Four Seasons Hualalai's lower-priced garden view rooms—as low as $595 per night—are not eligible for the credit deal.
Still, it's a pretty good deal for a vacation at a resort that has consistently placed among the top-ranked hotel properties in the world since its 1996 opening.
Those brand new Four Seasons Resort Hualalai renovations mentioned above? They include:
• 20 new one- and two-bedroom suites, all newly-furnished, with larger lanais and 180-degree views of the ocean.
• An expanded 28,000 square foot Hualalai Spa—more than double the size of the original spa—offering treatments in both an open-air tropical garden setting, or temperature-controlled indoor setting.
• An expanded oceanfront pool deck.
• A redesigned inside-and-out Beach Tree restaurant, bar and lounge with more ocean views and a menu by new Chef de Cuisine Nick Mastrascusa inspired by fresh, locally-procured ingredients with Italian, Californian and tropical influences.
For more information on the Four Seasons Resort Hualalai $1,000 Resort Credit Deal, or to reserve a room, click here, or call (888) 340-5662.