Free admission to 11 Hawaii museums on Sept. 27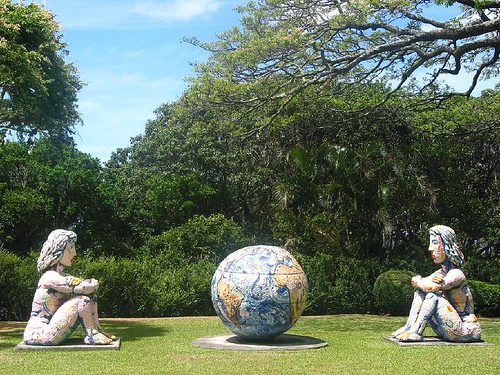 If you're a museum junkie, make your Saturday plans now.
Will it be a morning immersed in Hawaiian history and culture at Bishop Museum, or an afternoon at the Hawaii State Art Museum perusing the works of the Islands' best artists?
How about both … free of charge? And perhaps another museum, if you can squeeze in the time.
Eleven Hawaii museums are offering free admission on Saturday as part of Smithsonian Magazine's fourth annual Museum Day. Participating on Oahu are Bishop Museum, Hawaii Maritime Center, Hawaii State Art Museum, The Contemporary Museum, Manoa Heritage Center, Mission Houses Museum, Pacific Aviation Museum, Queen Emma Summer Palace, Tropic Lightning Museum and University of Hawaii Art Gallery. On Hawaii's Big Island, the Imiloa Astronomy Center of Hawaii will be open all day, free of charge.
More than 892 museums and institutions nationwide are participating in the one-day-only event, which annually celebrates their collective value as centers of historical, artistic and cultural education.
Anybody can go. You'll just need a Museum Day Admission Card to get in.
Pick up a copy of the September 2008 issue of Smithsonian Magazine and you'll find a card within the pages. Otherwise, click here to download an admission card for free. Each card admits two people to as many museums as they can fit into the day.
More museums may be added to the list before Saturday. Bookmark this page and we'll keep you up to date.
Me? I'm checking out The Puppet Show exhibition at The Contemporary Museum, with its promise of "imagery of puppets in sculpture, film, video, time-based media, animation, and photography."
Marionettes are just that cool.