Friends of Hawaii Volcanoes National Park offers "plants of hula" field seminar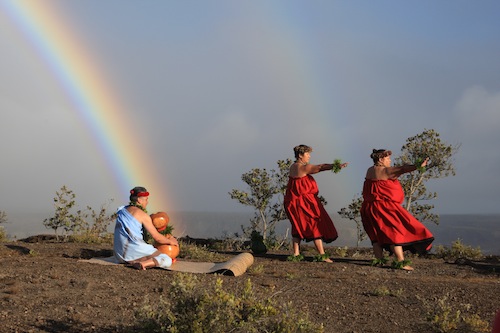 The nonprofit Friends of Hawaii Volcanoes National Park is offering a field seminar this weekend that focuses on cultural and scientific exploration tied to plants used in hula.
A kumu hula (hula teacher/master) and a botanist will team up to lead Plants of Hula: Na Mea Kanu o Ka Hula, 9 a.m. to 3 p.m. in Hawaii Volcanoes National Park.
Kumu hula Ab Kawainohoikalai Valencia will share beliefs about hula plants as kino lau, manifestations of Hawaiian deities in plant form. In a news release issued by the Friends of Hawaii Volcanoes, Valencia said: "There are plants for the hula altar, the kuahu, which include maile, ieie, ilima, lehua, and halapepe. Plus, there are adornments—mele hula plants that are worn by the dancers—which include maile, ilima, and lehua, plus palapalai, aalii, pukiawe, and olapa."
Valencia established Halau Hula Kalehuakiekieikaiu in Honolulu in 1991, and currently maintains his halau (school) in Honolulu as well as in the community of Volcano, near the national park.
Participants meet at the Kilauea Visitor Center. The seminar will begin with a welcoming oli (chant), followed by a short walk to the kahua hula—the hula platform that overlooks Halemaumau Crater, home to the volcano goddess Pele.
Next, the group will drive to Kilauea Overlook to discuss cultural protocols used when picking plants—and to walk among native species in their natural environment, with botanist Tim Tunison sharing scientific information and insights.
Participants will also visit Tunison's property in Volcano Village, where he's restoring the land to its native ecosystem. There'll they'll get a hands-on lesson in native plant propagation and some plant seedlings to grow at home.
Tunison, a longtime botanist at Hawaii Volcanoes National Park, worked for the National Park Service for more than 30 years. Since his retirement in 2006, he has taught field botany, native plant propagation, and forest restoration.
For more information about "Plants of Hula" and registration for other Hawaii Volcanoes Institute programs, click here.