Gabby Pahinui Waimanalo Kanikapila spotlights top Hawaii musicians, hula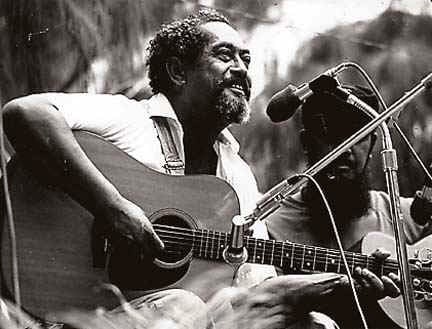 The fifth annual Gabby Pahinui Waimanalo Kanikapila, which will feature more than 150 of Hawaii's best musicians and hula dancers, is slated for this weekend on Oahu's windward side.
The free event celebrates and aims to perpetuate Hawaii's musical identity, honor Pahinui's contributions, and acknowledge the musical heritage of the Waimanalo community.
The kanikapila (kani ka pila is Hawaiian for "let's play music) will be held 9 a.m. to 6 p.m. Sat., Aug. 11 at Waimanalo Beach Park. In addition to performances, the event also offers cultural demonstrations and displays, educational and informational booths, lomi lomi massage, food booths (dining proceeds will go to support athletics and community groups) and craft vendors. At 1 p.m. on Sun., Aug. 12, a slack key and ukulele workshop will be held at the Waimanalo Beach Park Pavilion. The pavilion was dedicated to Pahinui (1921-1980) name by Mayor Frank F. Fasi (1920-2010), who served six terms as Honolulu's mayor. The park is located near the Waimanalo Hawaiian Homestead community where Gabby lived with his family.
The Gabby Pahinui Waimanalo Kanikapila is is supported through T-shirt sales. T-shirts are available for purchase at the event or in advance online. For more information about the performance schedule and T-shirts (design, pictured left), click here.
In May, Pahinui's Hula Medley (1947), performed on slack-key guitar, was among 25 sound recordings selected for induction into the National Recording Registry of the Library of Congress where they will be preserved as "cultural, artistic and/or historical treasures for generations to come."
The Library of Congress recognized Pahinui's recording of Hula Medley as one of the first modern recordings of Hawaiian slack-key guitar. Pahinui, who has also been inducted into the Hawaiian Music Hall of Fame, played a prominent role in popularizing traditional Hawaiian music during the Hawaiian Renaissance — a revival of long-suppressed ad neglected cultural identity expressed in language, music, hula and voyaging canoes, which got under way in the 1970s.
According to the kanikapila event's organizers, weekends at Pahinui's family home in Waimanalo were filled with jam sessions with Pahinui, known among slack key musicians as "The Master." Among the musical guests: Leland "Atta" Isaacs, Sonny Chillingworth, and Ray Kane, along with David "Feet" Rogers, Joe Marshall, Aunty Jenoa Keawe, Jessie Kalima, Palani Vaughan, and Peter Moon.
With a welcoming pot of beef stew and rice always on the stove, Pahinui's home was the perfect setting for a rejuvenation of Hawaii's musical traditions. As Pahinui's fame grew, attendance at the weekend jam sessions mushroomed — sometimes involving more than 100 musicians and fans, with sessions starting early Friday mornings and wrapping up Monday mornings.
During the early 1980s, kanikapila sessions were again founded at "Pop's" Gabby Pahinui's namesake Waimanalo Park Pavilion to feature and perpetuate Gabby's contribution and his Hawaiian style kiho'alu-slack key music.
According to a news release issued by event organizers: "It has long been the dream of the Pahinui Ohana to acknowledge Waimanalo as a focal point of kiho'alu and Hawaiian music by re-establishing these musical gatherings and their ability to perpetuate, and preserve the uniqueness of Hawaii's musical identity. And most importantly to recognize Gabby's contribution at the pavilion dedicated in honor of him and everything he stood for."
For more information about the fifth annual Gabby Pahinui Waimanalo Kanikapila, click here.