Georgianna DeCosta
The redemption path that makes a difference.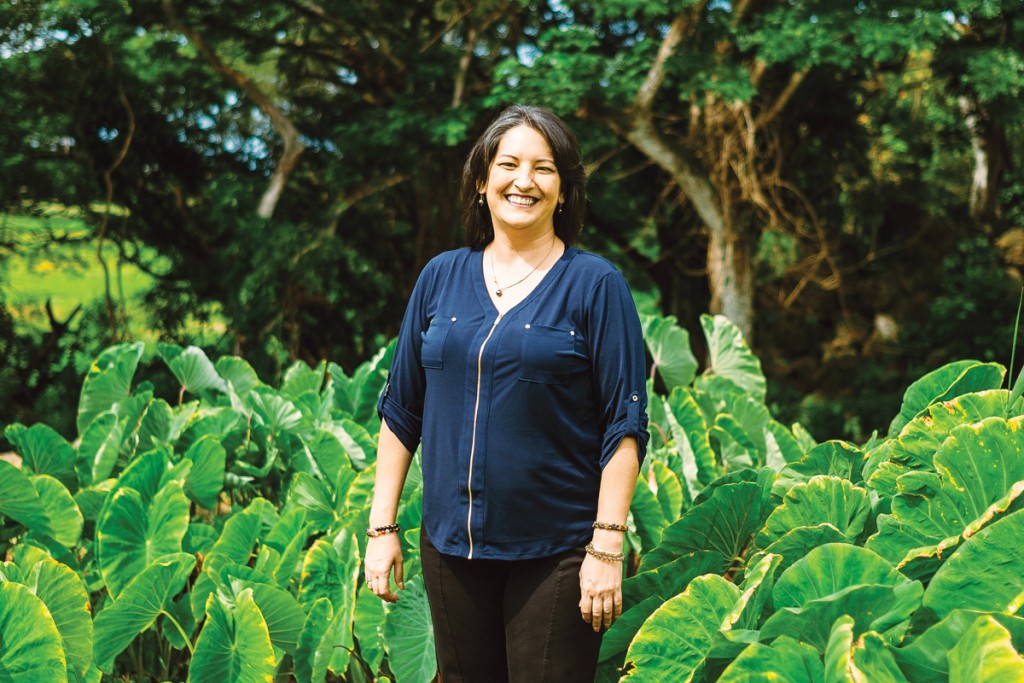 Caring for our communities requires everyone to pitch in and give back. It's what we do. And it takes all of us. 
In the profiles that follow, we zoom in on neighbors making a difference every day. We meet a family that's been giving back for generations because it's in their DNA and a man who created a legacy for generations to come. We see rock bottom and celebrate second chances, and we discover the dedication that propels people to preserve and protect our precious aina.
* * *
Georgianna DeCosta understands personally the importance of philanthropy, the lives that can be saved when the community steps up, takes notice and steps in. She knows that the young people she's worked with over her career only share snippets of their stories at first — that their real world and real challenges are simply too great, too overwhelming.
DeCosta knows their story because she's lived it. Today, she's the Castle Foundation program officer for Windward Oahu, managing projects that better public education across the region, offer options to families that most need them and bring resources and expertise to small nonprofits as they reach deep within the community to offer help. But two decades ago, DeCosta spent her days feeding her crystal meth and heroin addiction, living on the street and evading the cops who arrested her repeatedly.
DeCosta comes from a "good family," with a single mother who saw to it that her daughter attended private schools, practiced hula and engaged in the community. "I remember being out there sign waving, even as a little kid," she says. She dabbled in drugs when she was 12, but went all-in around 17, mixing meth and heroin — one to boost her up, the other to mellow her out. Boyfriends and babies soon followed, and this once-promising private school hula dancer found herself living in her boyfriend's van, getting high and stepping outside occasionally to change a diaper. In a moment of clarity, she found a payphone and called her mother — the same woman whose checks she'd forged, electronics she'd stolen and wallet she'd raided — and asked her to come get the babies. Mom came immediately.
That world came crashing down when a SWAT team stormed through the doors of a Kahala cottage she shared with her new dealer-boyfriend, throwing them to the floor, guns drawn. Pregnant and scared, DeCosta tried to connect with the arresting officer, who knew her uncle. Yeah, he knew her uncle, he told her — and then clamped the handcuffs tight.
"I'm still grateful to Judge Mike Town," she says of the judge who sent her to Oahu Community Correctional Center. "He kept my butt in jail for seven months [beginning] when I was five months pregnant. Some of the biggest, baddest women in prison sang lullabies to my pregnant belly." She found hope, detoxed in prison, gave birth as an inmate and was eventually released to nine months of rehab before she and her family could begin the healing and reunification process.
DeCosta discovered the power of philanthropy when she eventually landed an entry position with the Hawaii Community Foundation. "I'd be chomping at the bit, listening to them talking about these big concepts and I just wanted to say, 'Please sit down and talk to me. Let me tell you what it's like,'" she says. From HCF, she became executive director of the Hawaii Meth Project, going school to school across the state like a traveling salesman, her PowerPoint and graphics at the ready.
"I remember going to the Deaf and Blind School in Waikiki," she says, "and wondered how I would get through to them." She tried a video, but the students were bored. One of the students asked why she was so qualified to have these discussions with them. "They were calling me out!" she says. She turned off the video and pulled up a chair to talk story.  They asked if meth really made her skin look like the pictures, and why it damages teeth. "I told them yes it did, and that I've paid a lot to get my teeth back." One student talked about how his family grows weed, and why shouldn't he — why was he better than them? DeCosta talked about making choices. "If your family members were all plumbers, and you decided to be an electrician, would that be wrong?" she asked. No, that would be OK, he conceded. "Well then, this is a choice, too," she told him. Afterward, that same student asked DeCosta if he could volunteer with her, to help spread her message.
Now firmly on the other side of the street, deep in the world of philanthropy and trying to bring hope to a world she knows so well, DeCosta found her calling. "My work is to give voice to those who struggle — whether substance abuse, teen pregnancy, suicide or mental health concerns," she says. "I'm the champion for the underdog."
DeCosta recalls first meeting Terry George, now CEO of the Castle Foundation, years ago. "I thought at the time 'I want to be him when I grow up!'" she says. For her, the work Castle was doing on the Windward side, where she grew up, was her dream job. Today, she's living that dream, doing that work and reporting to George.
"If I can use my example to make people in my community stronger and better, then I've done what was meant for me," she says. "Not many people survive what I went through." She recalls those early days at HCF, listening as all the bosses sat at the table, building programs, making a difference. "Now I'm at that table, but the weight is heavy. I've got to make something good out of what I've been through. That's my kuleana."