Get a Box of Treats Inspired by Hawaiʻi Delivered to Your Home
These sweet and savory treats from local artisans that will satisfy all of your cravings.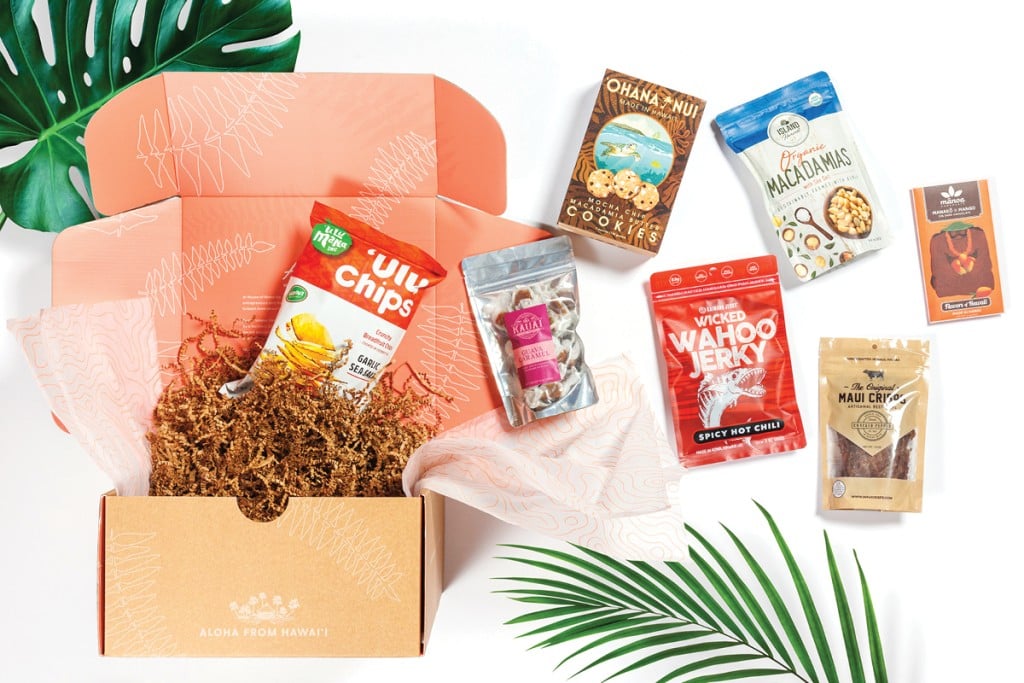 If you're searching for the newest products or just seeking a reminder of the Islands, HAWAIʻI Magazine has once again teamed up with Mana Up Hawaiʻi to curate a selection of the tastiest treats by rising entrepreneurs and businesses— and it's all in one box. The set makes an unforgettable gift or the perfect treat for yourself. From wild-caught fish jerky to mango chocolate, this Sweet and Savory box will certainly satisfy any craving.
This exclusive set ($95) includes some of our favorite snacks from local companies. Keep scrolling to learn more about the products and businesses behind the tasty treats in our Sweet and Savory box.
Wicked Wahoo Jerky from Kaimana Jerky
This wicked good treat by Kaimana Jerky is made with wild-caught wahoo. And it's just as nutritious as it is tasty. The jerky contains an impressive amount of minerals, making it a great source of potassium, zinc and iron. Also, the low calorie snack is seasoned with organic ingredients. You can't beat the delicious combination of sweet, hot and umami flavor in Kaimana Jerky's spicy chili wahoo. The jerky is proudly made in Hawaiʻi with no artificial preservatives or nitrates.
Manak
ō
Mango from Mānoa Chocolate
Historical accounts suggest mangoes first arrived in the Hawaiian Islands before 1825. Today, the fruit thrives with over 500 varieties across the Islands! For locals and visitors, mango season is a highlight of summer, providing a refreshing sweetness to the Hawaiʻi heat. The fruit is widely consumed, either fresh, dried (coated in li-hing powder is a local favorite), pickled or added into chutney and sauces. Mānoa Chocolate incorporates the fruit into its Manakō Mango chocolate bar for a burst of flavor that instantly evokes summer time in Hawaiʻi. And Shar Tuiasoa of Punky Aloha Studio is the talented local artist behind the cover illustration.
ʻUlu Chips from ʻ
Ulu Mana Inc.
Hand seasoned with sea salt, garlic and toasted onion, ʻUlu Mana's Garlic Sea Salt ʻUlu Chips have just the right amount of savory crunch to have you craving more. It's no wonder its the company's best seller!
ʻUlu Chips are created in Honolulu with locally grown ʻulu (breadfruit). The starchy fruit was brought to the Islands by Polynesian voyagers hundreds of years ago and has been a staple in the Hawaiian diet ever since. These Hawaiian ʻulu chips are a unique and delicious snack made from thinly sliced breadfruit which are crisped to perfection in organic coconut oil. Vegan, paleo and gluten free, the chips fit any diet and are a local favorite!
Guava Caramel from Kauaʻi Sweet Shoppe
This is Kauaʻi Sweet Shoppe's sweetest caramel yet and perfect for fruit lovers! You'll find sweet guava juice mixed into the shop's original caramel which is then wrapped into the perfect candy. Close your eyes, take a bite and let the guava caramels transport you to the beaches of Hawaiʻi.
Fun Fact: Guava was one of Kauaʻi Sweet Shoppe's first caramels to ever hit its shelves!
Mocha Chip Macadamia Butter Cookies from ʻOhana Nui

Chocolate chunks and coffee from the Kona coast come together with toasted macadamia nuts and macadamia butter to create this delicious classic cookie. Candied ginger adds a lovely hint of spice and chew. These boxes from ʻOhana Nui contain about 22 cookies.
Organic Macadamia Nuts from Island Harvest
Whoever said tasty and healthy doesn't exist together, never snacked on macadamia nuts. Organic macadamia nuts are a delicious and nutritious snack for anyone looking to energize their day. Macadamias contain the highest percentage of monounsaturated fats (the good kind of fat) of any nut, making them perfect for any keto or paleo diet!
Island Harvest's macadamias are grown using organic farming methods on the slopes of Kohala on Hawaiʻi Island. The island's rich soil and dedicated farmers bring you these one-of-a-kind sea salt macadamia nuts with aloha!
Artisanal Beef Chips from Maui Crisps
Maui Crisps makes its jerky with the tastiest ingredients on the island of Maui. Crafted in small batches, Maui Crisps strives to produce only the highest quality pipikaula, Hawaiian-style beef jerky. Once a staple for the 19th century paniolo (cowboys), the name pipikaula translates to "beef rope," and it's as popular today as it was back on the open range.
Maui Crisps snacks are a mix of old and new: traditional family recipes merged with lighter, crunchier chips. The result: original jerky unlike any other on the market. Ultra thin slices of high quality beef are marinated in the tastiest family sauces and dried to crispy perfection on the slopes of Haleakalā. Enjoy!