Get Certified Organic Coffee from This Big Island Farm Delivered to Your Doorstep
Hala Tree Coffee on Hawaiʻi Island grows, processes and roasts its coffee right on the farm.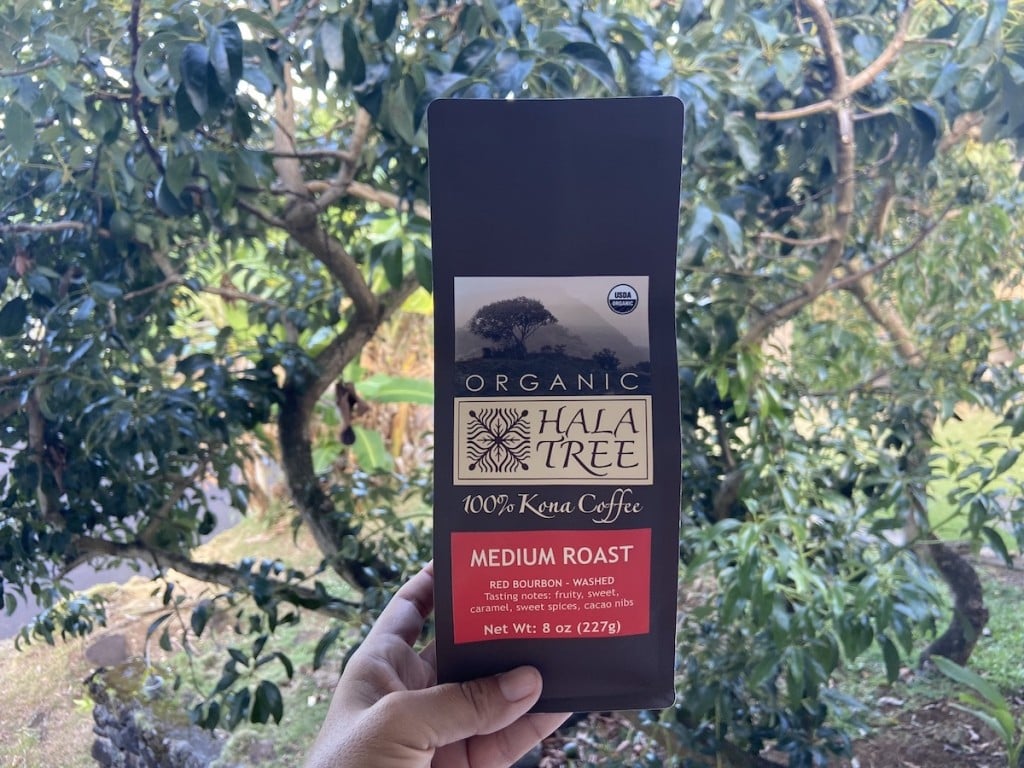 The story of Hala Tree Coffee started with a vacation to Hawaiʻi Island.
In 2012, Jean and Danielle Orlowski jumped on a plane to the Big Island for a weeklong—and much-needed—vacation. Jean, who worked for a futures and option broker for about 20 years on Wall Street, was burnt out. The couple immediately fell in love with the island—and with Kona coffee.
They decided to ditch their hectic lives—Danielle was an interior designer—and buy a old 6-acre coffee farm in Captain Cook, about 20 miles south of Kailua-Kona. The property had been neglected for years and only about 2 acres of land had coffee trees, some 80 years old. "At first glance, this little coffee farm didn't have much going for it," Jean writes on his website.
The Orlowskis named their farm Hala Tree Coffee after the hala, an indigenous plant to Hawaiʻi that grows on the farm.
It took about about three years for the Orlowskis to get the USDA organic certification, the couple wrote to me: "Being certified organic can definitely be challenging, time-consuming and comes with unique challenges," including controlling weeds and invasive species.
The couple then purchased another 20 acres to increase production and planted coffee trees from seeds. They built a large processing plant and experimented with new and different coffee processing methods. (Currently, the farm is one of the few that uses all three methods used to process coffee: washed, natural and honey.)
Today, there are about two dozen certified organic coffee farms in Hawaiʻi, but Hala Tree—which has won multiple awards and considered among the Top 10 best coffees in the state—is easily one of the largest. Across its 40 acres grows mostly Typica and Heritage Kona coffee trees, but there are also Red Bourbon, Geisha and SL 28, some of its newer crops. The couple recently planted Maragogype (aka Elephant Beans), a rare varietal of coffee first discovered in Brazil in 1870 that produces extremely large beans, with plans to add Pacamara next year. (Pacamara have large beans like the Maragogipe but produces a deeper, more complex cup.)
"We only plant best cupping coffees," they wrote.
View this post on Instagram
The spread of COVID-19 this year has had an impact on the farm. Right now, the farm only sells its coffees online. It still runs farm tours but by appointment only and in small groups only. "We lost about 80% of our income," the couple wrote.
View this post on Instagram
For now, though, Hala Tree ships its coffees and elixirs—great for cocktails and topping ice cream and cinnamon rolls—anywhere in the world, with free shipping for orders over $48. Its Holiday Blend will be available soon, too.
82-5966 Māmalahoa Highway, Captain Cook, Hawaiʻi Island, (808) 238-5005, halatreecoffee.com