Get Crafty in a Hands-On Coconut Weaving Workshop in Hawaiʻi
The art of weaving coconut leaves dates back thousands of years and can be found across the Pacific.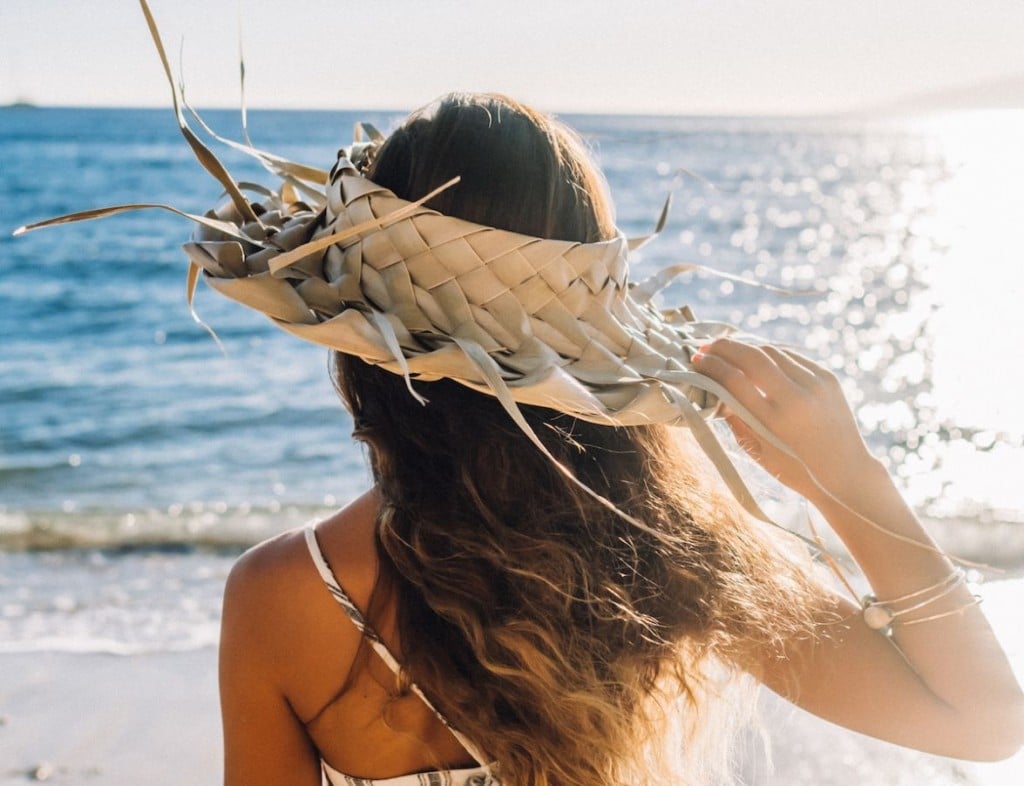 It's a warm afternoon as I sit on the lawn at Kilohana Plantation in Līhuʻe on Kauaʻi. I'm covered by shade from a tent and yet a slight sweat breaks across my brow as I put all my concentration into my task at hand—weaving half of a fresh coconut frond into an open-top pāpale (the Hawaiian word for hat).
My sister-in-law and I are taking a workshop from Kahlani Badeaux of Hāwane Creations, who was also selling finished pāpale at the plantation's holiday pop-up event. Those golden brown pāpale hung off the tent's frame, stirring each time a breeze blew.
Marques Hanalei Marzan, cultural advisor at Bishop Museum and a fiber artist, says coconut weaving has been practiced in the Pacific for thousands of years: "It actually is something that was passed down from generation to generation as travelers settled the different parts of the Pacific because the materials were available," he says. "And the coconut was one of the canoe plants that was taken when settling in new places."
In ancient Hawai'i, weaving had a practical purpose. Eugene "Onio" Punzal, a cultural weaving practitioner at the Kauaʻi Museum, says early Hawaiians weaved coconut palms into baskets for food. The coconut leaf, he says, was a good medium to use because its leaves were thick, so they were quicker to weave than lau hala, or leaves of the pandanus tree. However, items woven from lau hala were more durable, he says.
Badeaux first shows us how to thin a palm stalk with a knife. We want to make it flexible enough to bend into a circle and become the base of the hat. After fitting it around our heads, we tie the stalk with raffia and begin weaving the brim. My leaflets all faced left, so that's the direction I would weave in. I silently repeat to myself under, over, under, over as I guide the tip of a leaf into what's slowly becoming a recognizable woven pattern.
The pāpale was meant to have a small brim with four rows of weaves. The pattern is pretty simple to do once you get the hang of the weaving motion, but I inevitably run into trouble and end up with extra rows in some places. This is definitely an activity that you need a teacher for—someone who can identify where you went wrong in the process and help you fix it.
Badeaux, who grew up mostly in Washington state, first learned to coconut weave two years ago when she was living on O'ahu. She was making a lei at the beach when a local named Max approached her and said he wanted to learn; in exchange, he taught her how to coconut weave. Today, she makes and sells coconut pāpale and haku (braiding) lei under Hāwane Creations. She launched the business in June after being laid off from her bartending job in Kōloa.
As we work on our pāpale, Badeaux cautions that no two woven creations will be exactly the same because each leaf is different. For example, my leaf was pulled from the top of the palm tree, so some of its leaflets were thinner than others. This means that my pāpale's crown won't be completely uniform, so Badeaux helps me adjust my weaves to fill in the sparse areas.
"You have to be mindful of what you're working with and really respect, kind of, the limitations that each leaf has," she says.
Demand is high for weaving workshops. Many have been paused during the pandemic, but Punzal, Badeaux and other organizations, like the Royal Hawaiian Center on O'ahu, hope to hold some in the future. And HakuLeilani on Maui offers online coconut weaving courses that will teach you how to prepare your leaves and weave a bowl or open-top hat. (You can even enroll an in online class here.)
Punzal, who was born and raised in Kapa'a, learned coconut weaving as a child by watching beach boys entwine leaves. He began teaching weaving 30 years ago while working in hospitality and says he has taught thousands of people since—most of them visitors. "It's somewhat of a unique gift and I love giving it away," he says.
Nonetheless, he tells me coconut weaving is a fading art because there's no practical use for coconuts when we have Tupperware and other ready-made containers. So, he seeks out other weavers who he can pass his knowledge onto.
"The thing is I don't want it to fade when I die," he says. "I want to teach as many people as I can and just perpetuate this art of weaving."
Badeaux shares a similar view. She started making coconut pāpale as a way to perpetuate Hawaiian culture, though she recognizes there's a fine line in how to do it in a way that's respectful to those who came before her.
"And to do it in a way that you learn the history, you learn the love of it," she adds, "rather than stripping all of that away and just having an article, just having this possession you made that doesn't really have any other significance other than 'It's a cool hat I wear' or 'It's a cool backpack.' But it's an art."
Under the shade, I slow down as I finish the crown and turn over my pāpale to trim the tips of my leaflets and tuck them in place. I've made a wearable hat, which is pretty neat, but I've also gained a greater appreciation for the coconut palm and the art of weaving.