Get Eye-to-Eye with Sharks on This Cage-Free Oʻahu Diving Adventure
Going on a cage-free shark dive with One Ocean Diving is an unforgettable experience.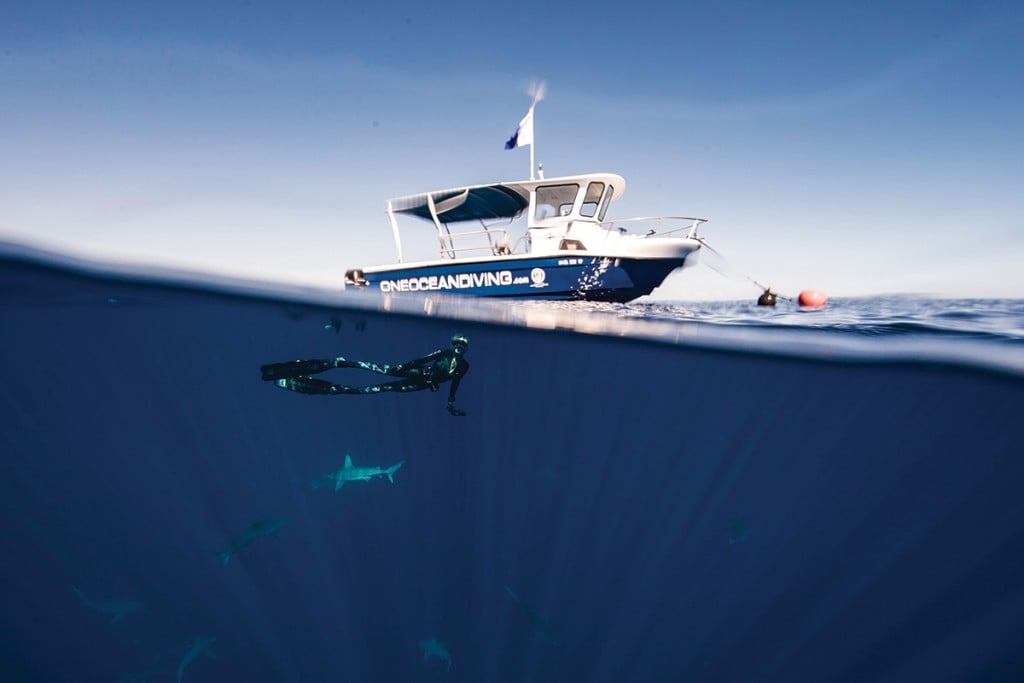 If you see a shark approaching you, be sure to make eye contact with it."
As someone who's never once seen a shark in person, this is troubling advice.
I have to look at the shark? In the eyes?
I have trouble doing that when I'm talking to strangers.
My head is racing. I can't even begin to imagine what it's like maintaining eye contact with an underwater apex predator—and sans cage.
But that's what Taylor Cunningham, a safety diver with One Ocean Diving, tells us as we leave Hale'iwa Harbor on the nonprofit tour company's 27-foot-long catamaran.
It's 7 a.m. and the ocean is calm. I'm not, though. I'm equal parts scared and excited. Our tour group of six sits inside a covered catamaran as it makes its way to a spot 3 miles off the coast, where Galapagos and sandbar sharks often gather.
One Ocean Diving, which started in 2014, is the first and only cageless shark research and diving program in Hawai'i. The two-hour tour takes you out to a natural aggregation site where you get into the ocean with a safety diver and interact with sharks. And unlike other shark tours on the North Shore, there's no barrier between you and these apex predators. Instead, One Ocean Diving's team of shark researchers and conservationists aim to educate tourgoers on what to look for and how to act when swimming with a dozen, or more, sharks.
Aside from running these cage-free tours, One Ocean Diving operates as a collaborative pelagic research, conservation and educational organization. The educational focus of the company becomes apparent as Cunningham tells us about the plight of sharks.
"It's estimated that 100 million sharks are killed [globally] by humans annually," says Cunningham, who cites shark-finning as well as inadvertent kills—when sharks are caught up in fishing nets intended for other types of fish—as the two primary contributors to shark death. "It doesn't help that in certain cultures, shark-fin soup is still considered a delicacy." And although she's likely repeated this speech hundreds of times to visitors like us, I can hear the sincerity and unwavering optimism in her voice when telling our group about One Ocean Diving's conservation efforts. Her passion for saving sharks is contagious.
Of course, being respectful toward sharks is not a foreign concept in the Hawaiian Islands. They are featured prominently in Hawaiian myths and are considered 'aumakua (ancestral guardian spirits) for Native Hawaiian families. And it's no wonder that they have been integrated so heavily into the Islands' culture. There are over 40 species of sharks that call the waters around Hawai'i home. And while many dwell primarily in deeper seas, there are nearshore species, too, including Galapagos sharks, blacktip reef sharks, sandbar sharks and tiger sharks, which are what we're expecting to see on this tour.
After a 15-minute ride from the harbor, we arrive at the shark aggregation site. Cunningham deftly navigates the swaying boat and dons her full-body wetsuit, sliding a snorkeling mask over her sun-bleached hair. She's going in first to check out the sharks and make sure they're not displaying any aggressive behaviors. "This is the scariest part, trust me," she says. I hear a gasp from the Australian couple next to me and, looking over the side of the boat, I spot a 6-foot shark lurking near the surface. For some reason, I'm kind of shocked to see a shark, even though I'm on a shark-diving tour. And it's everything I had imagined. Large dorsal fin, that iconic tail, unflinching eyes. However, as I'm staring down at the shark, I'm not filled with dread. There's something reassuring about seeing a shark before it sees you. Of course, the hard part comes next. Now I have to actually get in the water with it, willingly.
Putting on a brave face with the provided snorkel mask, I follow Cunningham down the catamaran's ladder into the seemingly bottomless blue ocean. There's a bit of a rip current, so we're advised to grab one of the ropes hanging off the catamaran. I submerge and check out my surroundings. We're so far out at sea and the water's so deep, we can't see the ocean floor—just a bunch of Galapagos and sandbar sharks swimming in circles around our vessel. As I watch these sharks move between the early morning sunbeams that are just now beginning to illuminate the ocean, I'm at peace. They're not the marine monsters I was imagining. They're just out here living their best lives.
Then I see Roxy.
Emerging from the depths, Roxy, a 14-foot tiger shark, is intimidating by nature—and it doesn't help that she has a broken jaw. With her mouth gaping open, she swims directly at me. I can feel my heart beating through my chest. I lock eyes with Roxy, which Cunningham said would let the sharks know that I'm also a dominant predator, but her course is not changing. She's about 8 feet away from me before she takes a hard right and my panic starts to slowly subside.
After half an hour of snorkeling, we climb back on board. Normally, each person in our group would have had the chance to swim down, closer to the sharks, however a rip current is present at the dive site and Cunningham advised us to stay firmly planted to our ropes. It's little warnings like this that make me glad to have Cunningham with us. Although my attention was mostly on the sharks, whenever I glanced up to look at her, I could see that she was closely monitoring our group as well as the pelagic group below us, making sure no one was acting in a way that could be deemed dangerous. No wonder One Ocean Diving has a 100% safety record after thousands of dives.
Shuttling us back to Hale'iwa Harbor, Cunningham, who graduated from the University of Tampa with a degree in marine science biology, explains to us how our tour was also, in part, a research dive for One Ocean Diving. By coming out to observe the sharks, she was able to record the number of sharks at the site—turns out there were 13—their behavioral patterns, the species of sharks that appeared, the water temperature and other data points that will contribute to a five-year study aimed at giving shark researchers a clearer idea of how weather and environmental factors like tides and currents affect shark behavior. Stepping off the boat, I realize I've learned a lot about sharks. I'm still scared of them—I'm not sure anything will change that—but watching them move so beautifully in their natural habitat, surrounded by nothing but sun rays and the sea is a memory that will stay with me forever.
One Ocean Diving
Tours leave Hale'iwa Harbor daily, every hour from 7 a.m. to 3 p.m. with a maximum group size of six. Cost is $150 per person, $60 for ride-alongs.
66-105 Hale'iwa Road, Hale'iwa, O'ahu, (808) 649-0018, freedivewithsharks.com.