Get Fresh Malasadas From Hawaiʻi Delivered To Your Doorstep
Pipeline Bakeshop & Creamery on Oʻahu now delivers malasadas, cake bombs and cookies to anywhere in the U.S.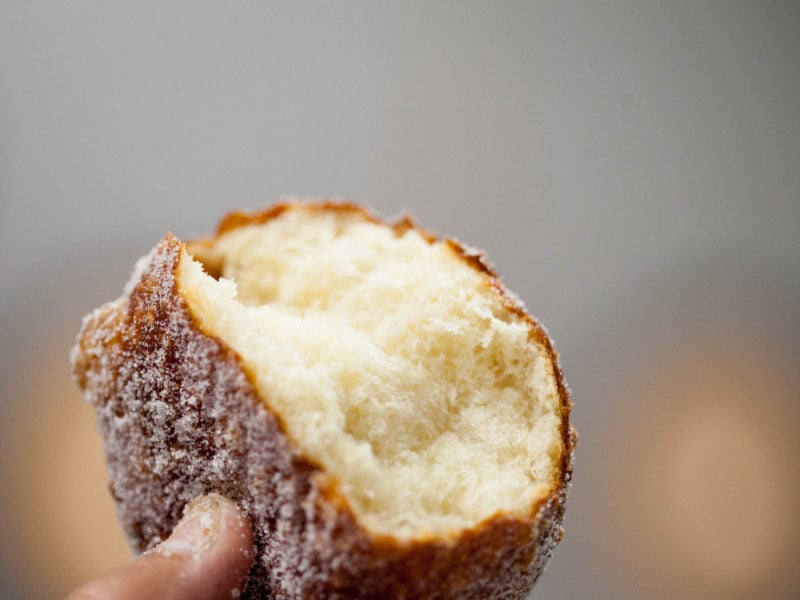 This is part of our "Shop With Aloha" series.
If you're searching supermarkets and online stores for flour and yeast to fulfill your #quarantinelife carb habit, stop.
We've got a way easier—and tastier—way to satisfy your isolation cravings: Order fresh malasadas from Hawaiʻi.
Pipeline Bakeshop & Creamery in Kaimukī on Oʻahu launched its online store in December 2019, selling its scratch-made malasadas, cake bombs (mini bundt cakes) and giant cookies to customers across the U.S. for the Christmas season. But with the spread of COVID-19 shutting down eateries and halting travel, this bakery has seen orders on the rise from folks across the U.S. craving the sugary, doughy Portuguese doughnuts. (Leonard's Bakery on Oʻahu also sells its malasadas online.)
Just this week the bakery mailed baked goods to 22 states, from California to New York. "It's crazy," says owner Gayla Young.
Right now, because of COVID-19, the bakery is open five days a week and takes orders online with curbside pick-up. Only one customer at a time—with a face mask—is allowed into the bakery.
So far, the pandemic hasn't hurt the bakery too much, Young says. She feels very fortunate.
"Lucky for us, we segued into an online portal before all this because that's where we were going anyway," she says. "So when this happened … we had everything ready. The infrastructure was there. We were able to change really quickly."
The bakery ships out orders to the Mainland two days a week—every Tuesday and Wednesday—and malasadas ($49 for a dozen, which includes overnight shipping) is the most popular.
For serious cravings, consider the Best of Pipeline Gift Box ($99), which includes six malasadas in five flavors (original, cinnamon, coffee, cocoa and li hing), four 3-inch cake bombs (lemon, strawberry-guava, chocolate-hazelnut and one studded with Fruity Pebbles) and four monster cookies in four flavors, including the bakery's popular Avery & Molly (cookies-and-cream cookie dough with brownies and marshmallows).
Pipeline Bakeshop & Creamery opened four years ago in Kaimukī, a quick drive from Waikīkī. For about a year before opening the shop, Young worked with a pastry chef in Los Angeles on perfecting her malasada recipe. They're bready but fluffy, with a crispy shell covered in a thick layer of white sugar.
The perfect quarantine indulgence.
"I know there are a lot of people who can't come to Hawaiʻi," Young says. "But now they can order their malasadas and eat them at home."
Wherever you are.
Pipeline Bakeshop & Creamery, 3632 Waiʻalae Ave., Kaimukī, Oʻahu, (808) 738-8200, pipelinebakeshop.com. To order delivery nationally, click here.