Get Lost at Lyon Arboretum in Mānoa
This 200-acre public botanical garden on Oʻahu boasts more than 7 miles of hiking trails through a tropical rainforest.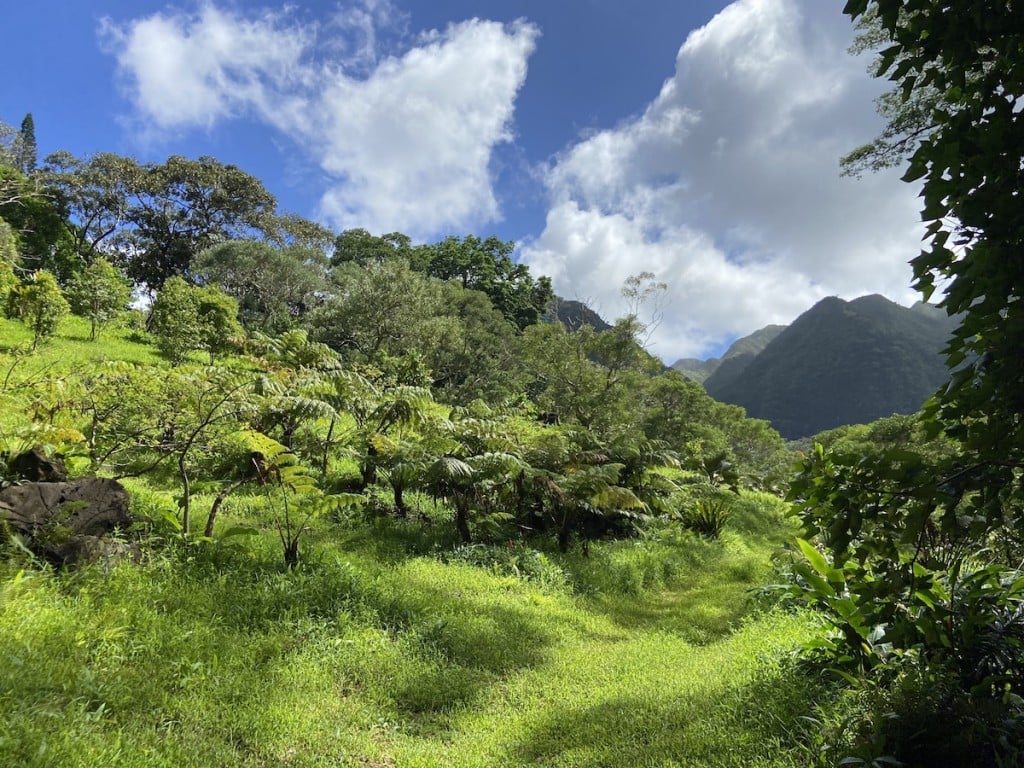 It's almost 11 a.m. and my friend and I don't have much time to find out way back to the entrance of the Harold L. Lyon Arboretum in Mānoa.
This 200-acre botanical garden, founded in 1918 and run by the University of Hawaiʻi, recently reopened to the public for two-hour visits. And we're getting really close to that time limit—and far from the parking lot.
It's not that we're lost, per se. It's actually that we need more time to explore this expansive garden, nestled under the Koʻolau Mountains in this lush valley, which gets about 165 inches of rain a year. Because of its location, the arboretum is able to cultivate an enormous diversity of plants, from bromeliads to heliconia to the largest palm collection found in any botanical garden. Its world-class collection features more than 6,000 tropical and sub-tropical plant species, including 1,400 plant species native to the Hawaiian Islands.
Despite nearly two hours of meandering along trails—some wide and flat, others hidden and confusing—I feel like I've seen only a fraction of what this botanical garden has to offer. We stumble upon a loʻi (irrigated terrace) with kalo (taro) and other canoe plants—plants that were originally brought to Hawaiʻi by ancient Polynesians and include bananas, sugar cane and breadfruit. On our walk we see hala (screwpine or Pandanus tectorius), loulu palms and native koa trees. In the Economic Section—which contains plants and trees that are economically important—we see acai palms, cassava, durian and the lipstick plant.
What we don't see is what makes Lyon Arboretum such an important place: The Hawaiian Rare Plant Program, which is comprised of a micropropagation laboratory, seed conservation laboratory and rare plant greenhouse. Since 1992, this program has focused on the rescue and recovery of Hawaiʻi's most critically endangered native plants.
But it's OK. There's plenty else to see—and clearly, two hours isn't enough.
We reach ʻAihualama Falls, which, due to the lack of rain recently, was a little more than a trickle. Still, it's a beautiful place, lush and serene, and we snapped a few photos before heading back.
Though it took us nearly two hours to get to the falls—we made a lot of side trips on lesser-maintained trails and paths that I don't think were trails in the first place—we arrive back at the parking lot, with a few minutes to spare. We look at our maps: There's so much to still explore. We skipped the fern valley and missed Inspiration Point, which offers a stunning view of Mānoa Valley.
Oh, well, I guess we'll have to come back. Twist our arms.
To visit, you need to register online here. There are two visiting times: 9 to 11 a.m. and 1 to 3 p.m. Admission is free, but donations are encouraged. Face masks are required. Wear covered shoes, rain gear, sun protection and insect repellent. The gift shop and restrooms are closed. 3860 Mānoa Road, Honolulu, (808) 988-0456, manoa.hawaii.edu/lyon.