Get Mead Using Local Honey at O'ahu's Only Meadery
Mānoa Honey & Mead in Wahiawā makes a Hawaiʻi-style mead that's light and refreshing.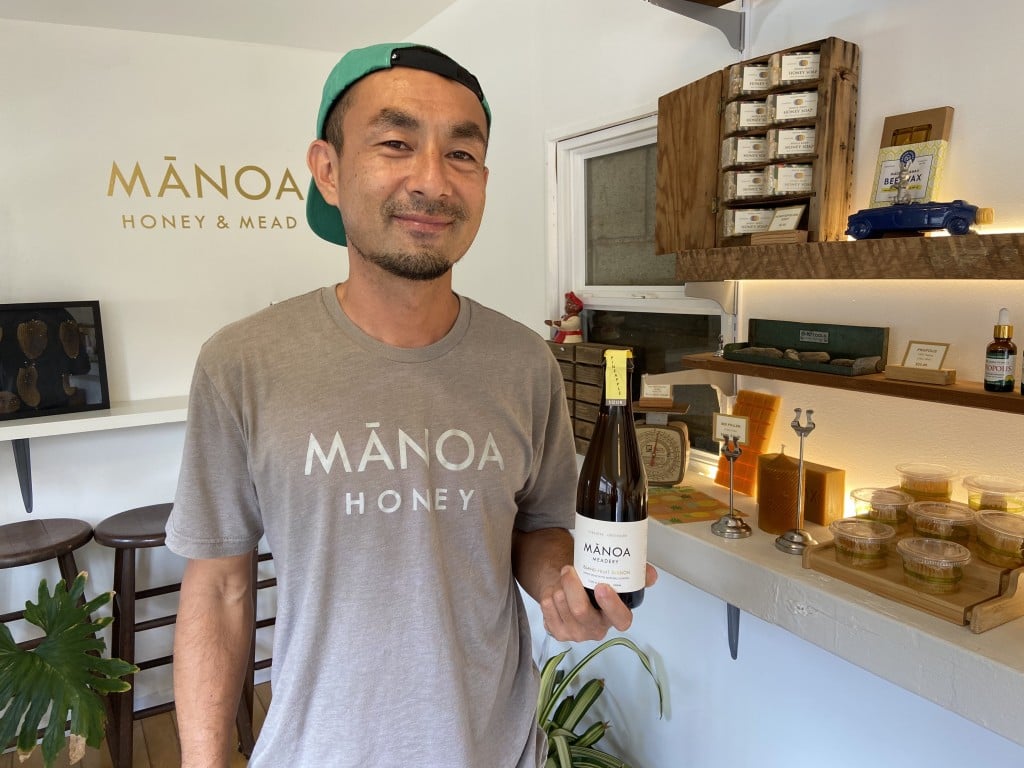 There aren't many honey companies in the U.S. making mead from its own honey.
And there are only two Hawaiʻi meaderies.
That makes Mānoa Honey & Mead in Wahiawā on Oʻahu, which started off as a honey business and now makes mead, very unique.
Yuki Uzuhashi, a beekeeper from Japan, took over Mānoa Honey in 2014. He didn't have any plans at the time of making mead, a drink not often associated with warm climates like Hawaiʻi.
But when COVID-19 hit, he switched gears and launched a line of mead that was easy to drink, refreshing, fruity and lightly carbonated. And it was the perfect pandemic libation.
Recently, he started shipping bottles of his mead to the U.S. Mainland.
"I wanted to make something crisp and breezy," Uzuhashi says.
He uses honey from his nine apiaries scattered all over Oʻahu, adding local fruits such as lilikoʻi (passion fruit) and java plum during the fermentation stage to give it a bright flavor.
Simply put, mead is honey wine. Honey and water is fermented by yeast and often flavored with fruits, herbs and spices. It's one of the oldest alcoholic beverages in the world. Traditional mead tends to be heavy and syrupy and higher in alcoholic content than wine and beer. Mānoa Honey's mead is light—something you could drink at the beach or a backyard barbecue.
Uzuhashi also opened a small retail space near his production facility in Wahiawā in Central Oʻahu. Here, you can buy bottles of mead, jars of raw honey, natural honeycomb, fresh bee pollen and honey soap. The company also partnered with locally owned Kō Hana rum to make barrel-aged honey.
His meads, though, are his most popular items right now—and they're selling out faster than he can make them.
930 Palm Place, Wahiawā, Oʻahu, (808) 927-0501, manoahoney.com