Getting to Know Kauai, One Tree at a Time
Nonprofit group Smart Trees Pacific is mapping trees around Hawaii, resulting in a growing appreciation for these island canopies.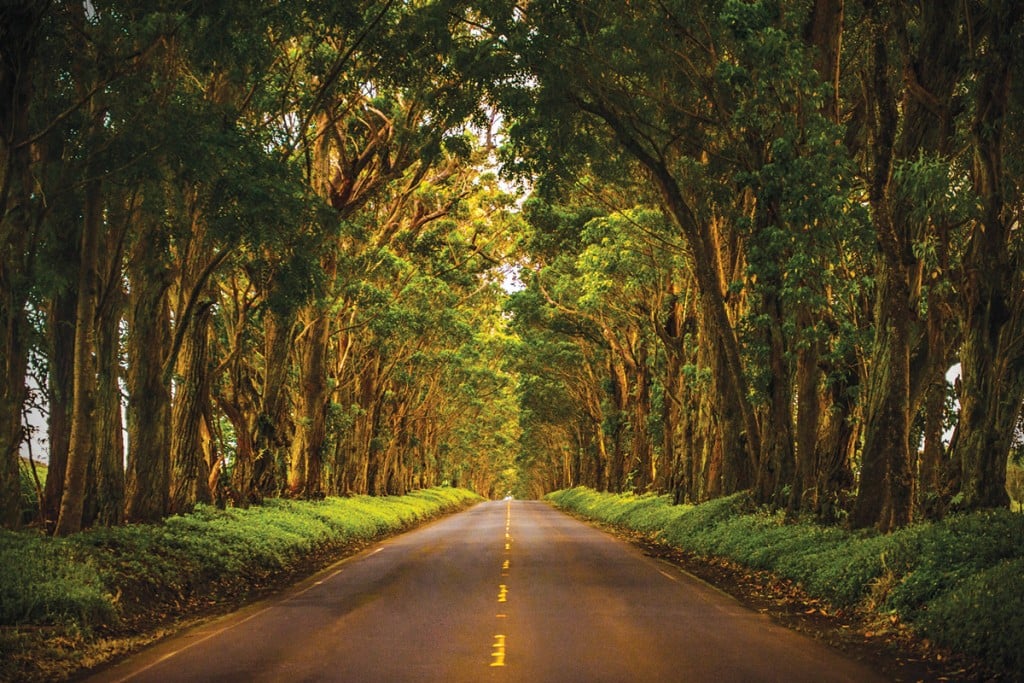 There I was, standing in front of the Historic County Building in downtown Lihue one afternoon last November, wrapping a tape measure around the thick trunk of an old kukui when I realized it was official: I am a tree hugger.
That's not a big surprise. I grew up in the Midwest climbing trees. This time, though, I was participating in a citizen science project on behalf of Smart Trees Pacific, a nonprofit that's mapping trees around Hawaii in an effort to raise awareness and support for trees in the community.
Ever since that day, I find myself paying more attention to the canopies overhead providing shade on a hot day and the geometric shapes and colors of leaves, and I'm discovering "tree watching" is as good a way to explore the island as that time-honored tradition of bird-watching.
In a way, trees tell the story of Hawaii. There are native trees—those that arrived without the aid of humans. There are Polynesian-introduced trees—those that came with the early voyagers who settled Hawaii and are entwined in Hawaiian culture. Then, there are the more recent introductions.
One of Kauai's popular visitor destinations happens to feature a common introduced tree—more specifically, a mile-stretch of swamp mahogany (Eucalyptus robustus) planted along both sides of Maluhia Road and commonly known as Tree Tunnel. Native to Australia, the trees grow taller than 100 feet, and their broad lance-shaped leaves and spreading dense canopy form the dramatic entrance to the south shore of the island. They were planted by Walter McBryde, founder of the Kauai Pineapple Co., in 1911, during an era of reforestation across the Islands.
McBryde is also the namesake for a garden in Lawai where, according to Michael DeMotta with the National Tropical Botanical Garden, a few big Polyscias racemosa (previously Munroidendron racemosum) grow. Big for this tree, whose Hawaiian name is unknown, is 25 feet tall. "But they are very rare in the wild," DeMotta says. They're also endemic to Kauai, meaning the species grows here and nowhere else in the world. Their leaves stretch 12 inches long and are made up of oval leaflets, each 3 inches long. But what's really striking are this deciduous tree's blossoms—like a slender string of grapes with small, pale yellow flowers by the hundreds that attract a variety of bird species to feast on its nourishing nectar.
Diane Ragone is the director of the Breadfruit Institute. She's made a career of studying breadfruit, known as ulu in Hawaii and once a staple in the Hawaiian diet. I planted one in my yard a few years ago and seven young fruit now hang from its branches. One popular variety found in home gardens throughout the state is puou (Artocarpus altilis). "The tree is more compact than most varieties and it produces abundantly," Ragone says. "A delicious fruit with cream to pale yellow flesh—one of my favorite varieties to eat." Two puou grow at NTBG's visitor center in Poipu. On the north shore at Kilauea School, another ulu grows. This one is noted as an "exceptional tree," one of a couple of dozen prized trees around the island legally protected for their historic or cultural value.
Polynesian voyagers brought ulu to Hawaii, but it was another tree, hala (Pandanus tectorius), that provided the sails for their voyaging canoes. "On the strength of these trees, my ancestors sailed to these Islands," Sabra Kauka, Hawaiian cultural practitioner and teacher, tells me. She was talking about how the long swordlike leaves of hala were cut into strips and woven into sails—as well as mats, baskets, hats and flooring. More than just leaves, these trees provided Hawaiians with many uses. Flowers were also used to add fragrance to kapa (bark cloth) and eaten as an aphrodisiac. The fruit pulp provided food for birds and the seed served as food for Hawaiians during times of famine.
The drive leading into Kilauea Point National Wildlife Refuge is lined with hala. Park Ranger Jennifer Waipa, who grew up on Hawaii Island, says, "When visitors ask about the hala, I like to share that it was a big part of the local economy after World War 2. My grandfather supported his family by gathering, weaving and selling hala and hala products."
One of the most sacred trees to Hawaii is ohia (Metrosideros polymorpha). It's celebrated in Hawaiian songs, dances, chants and legends. The ohia is one of the first colonizers on new lava flows. Many varieties exist, including one unique to Kauai. Its blossoms resemble fireworks and provide sustenance to native birds and insects. Once found throughout all reaches of the island in all environments, dry and wet, today, after large agriculture activities and development, it's relegated to higher elevation forests. One interesting characteristic of older trees is their ability to "walk" across the forest floor. When ohia reach a certain size, they seem to sprout legs that prop up the tree in a horizontal position. It looks like the tree is growing its own scaffolding. Ohia grow throughout Kokee State Park; however, an easily accessible "walker" can be found at the top of the sidewalk at Kalalau Lookout.
Unfortunately, a fungal disease is killing ohia. It was first confirmed on Hawaii Island in 2014, and in 2018 was detected on Kauai. Once symptoms appear, trees die within a few weeks to months. Coined "rapid ohia death," scientists are scrambling to learn as much as they can to save Hawaii forests' keystone tree species.
I find it appropriate that the tree that got me started on this path of arboreal learning—the kukui (Aleurites moluccana)—is commonly known as the candlenut tree. As the name implies, its nut was used as a source of light in days of old. And even though today electricity allows me to see in the dark, the tree, recognized as the state tree of Hawaii, is still shedding light—albeit the proverbial kind.
Help Prevent the Spread of Rapid Ohia Death (ROD)
• Avoid injuring ohia. Wounds serve as entry points for the fungus and increase the odds that the tree will become infected and die from ROD. Avoid clipping twigs and stepping on tree roots.
• Clean shoes, clothes and backpacks before and after entering the forest. Brush all soil off boots and gear, then spray with 70 percent rubbing alcohol. Wash clothes with hot water and soap.
• Wash your vehicle with a high-pressure hose if you've been off-roading or have picked up mud from driving. Clean all soil off tires—including on mountain bikes and motorcycles—and vehicle undercarriage.
• Don't move ohia wood or ohia parts, including adjacent soil. The disease can be spread to new areas by moving plants, plant parts and wood from infected areas to noninfected areas.