Gifts of Learning from Across the Ocean
Through books, Kauai native Mayrose Munar learned to dream and later, find success in her Silicon Valley career.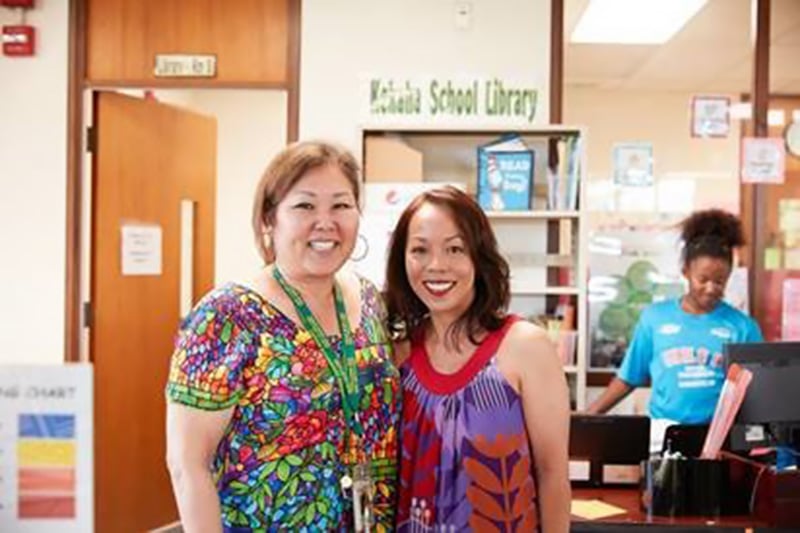 Mayrose Munar was a "marginalized youth" who explored the world from the library of her elementary school. Through books, the Kauai native learned to dream and later, find success in Silicon Valley tech companies like Uber.
But on a recent trip back home, Mayrose was heartbroken to see the school library closed, its collection of books whittled down to just a few shelves.
"I remember where the books that I loved were located," she says. "But a lot of them were damaged by hurricane and floods, and the library was almost empty."
Mayrose and Amber Hansen-Harris, a friend and resident of Silicon Valley, saw an opportunity to connect their communities by building up the reading proficiency of children on Kauai. Their grassroots campaign kicked off with a lemonade-and-book-donation stand, advertised through personal networks while their children sold lemonade and baked goods.
"Within two hours, we collected 283 books and raised $200. The support we received on our first day was astounding," says Mayrose.
The campaign grew, and before she knew it, family and friends had stepped in, boxing up over 5,000 books – more than enough to replenish the old school library, as well as create permanent "Aloha" library kiosks across Kauai.
Today, Mayrose is lending her support to reading programs, through grants to local schools and nonprofits. She recently opened the "Help and a Hug" Donor-Advised Fund at the Hawaii Community Foundation (HCF) so her grant-making could be an easy, streamlined process.
"We are thrilled to welcome Mayrose to the family of generous givers who make an impact on Kauai," says Darcie Yukimura, Director of Community Philanthropy at HCF. "Mayrose saw a need in the Kauai community and rallied people who are many miles away to give access to more books that will provide beautiful stories, learning and inspiration for our keiki. We can't wait to see how she continues her giving through the Help and a Hug Fund at HCF.