Go on a Rejuvenating Journey at this Big Island Resort
Reset on Hawai'I Island at the Fairmont Orchid.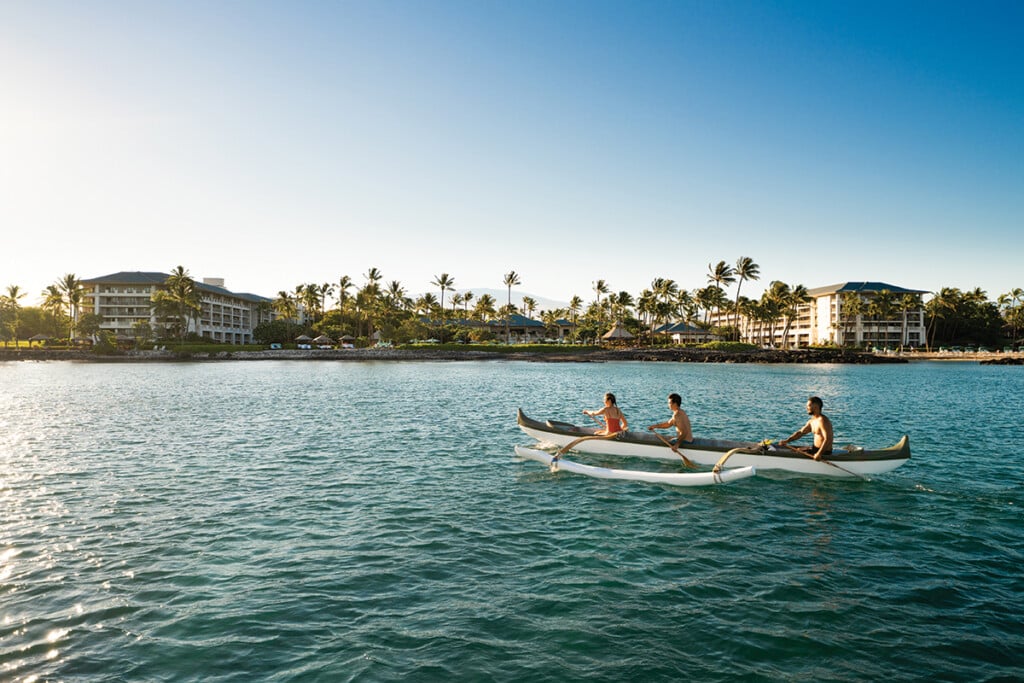 Outside my car window, all I see are lava fields—an archetypal characteristic of the landscape in Kailua-Kona on Hawai'i Island.
Ancient Hawaiians classified the distinct types of lava here as 'ā'ā, denoting rough and jagged rocks, and pāhoehoe for lava that's smooth and billowy.
The expanses of lava rock are a sign of the Big Island's adolescence. It's the youngest island in the Hawaiian archipelago, and with four active volcanoes—Mauna Loa is the largest active one on the planet—the island is still developing, still growing. As I leave Kailua-Kona headed north, I'm mesmerized by this otherworldly landscape.
But after 45 minutes of driving, the view outside my window gradually changes from barren lava fields to verdant green pastures. I gaze out over the stretches of land and the grazing cows and roll down my window to breathe in the crisp invigorating air. My friend and I have ventured into paniolo (cowboy) country.
Our first stop is the Waimea Midweek Farmers Market. Every Wednesday at the historic Parker Ranch, farmers and artisans fill Pukalani Stables with booths to sell the season's freshest fruits and vegetables along with locally made specialty products. As I wander through the market, I snack on a bag of crispy sweet potato chips made with potatoes grown a few miles from here. For lunch, I stop by the Honey Hut for hearty avocado toast. My plate comes with two slices of thick sourdough loaded with avocado, 'ulu (breadfruit), sprouts and edible flowers. It's the most well-garnished, satisfying avocado toast I've had in a while. And instead of the sluggish feeling I often experience after lunch, I'm feeling well-nourished and energized.
Before my friend and I leave the farmers market, there's one booth we have to visit: the aura photographer.
We each take a turn sitting in a dark booth set up in a back corner of the farmers market. In the booth, we place our hands on a hand plate and stare at a camera that captures the electromagnetic energy radiating from our bodies.
After our photos develop, we sit hunched over a small table carefully listening to Steve, the jovial interpreter of these aura photos. In my portrait, I'm emitting shades of blue and pink, indicating I'm a strong listener, communicative and that I value loyalty. On the flipside of the portrait is another image of a body lined with chakras, represented by bright blobs. Steve tells me my solar plexus and throat chakras are highly active. He says this shouldn't come as a surprise; these are signs of self-assurance. And he's right: I'm not surprised. However, he points to a red dot at the bottom of the image, which is the smallest of my seven chakras. Apparently, my root chakra is extremely weak. Speaking with a sense of urgency, Steve is adamant that I take better care of myself. He adds that by caring for myself, I can better support my friends and family. And that's enough to motivate me.
Fortunately, I came to the Big Island to find a sense of renewal and creative inspiration for my work and personal life. And the Fairmont Orchid provides a place to do just that.
Nestled along the Kohala Coast, I discover myriad ways Fairmont Orchid guests can embrace the revitalizing spirit of the island. At the "spa without walls," I restore my body with a lomilomi massage. Under an oceanfront cabana, I'm transfixed by the gentle waves washing ashore as the massage therapist applies pressure in wavelike motions with his hands, forearms and elbows to release muscle tension and rebalance my body.
In the evening, I watch the sun set over Pauoa Bay while dining at Brown's Beach House. Our dishes are inspired by what's harvested on the island, drawing on the pure flavors of the ingredients gathered from land and sea. I nourish myself with a bowl of coconut rice porridge topped with a flakey and golden Kona kampachi as two performers serenade diners.
Early in the morning, I rise with the sun to practice yoga on the beachside lawn. From my mat, I take in the panoramic views of the calm sea and spot Haleakalā in the distance. Sunny, our yoga instructor, tells the class that however we feel about yoga, it certainly strengthens the body. And if you allow it, she says, yoga also expands the mind. As we move through sun salutations to warrior one, Sunny reminds us to laugh and take chances. I stand in a balancing tree pose, and Sunny says it's all right to fall—and sometimes it's necessary—because it's an opportunity to reset and recenter.
A Big Island getaway opened my eyes to the constant changes in the world and subsequently, the possibilities. Like this island that is still forming, our auras and motivations evolve with time. Sometimes, it just takes some falling and recentering to recognize that, and a stranger to remind you.
For more information on availability and bookings, visit fairmont.com/orchid-hawaii.