Go on an Ahupuaʻa Adventure on Oʻahu's North Shore
Walk through botanical gardens and swim beneath a 45-foot waterfall at Waimea Valley on O'ahu.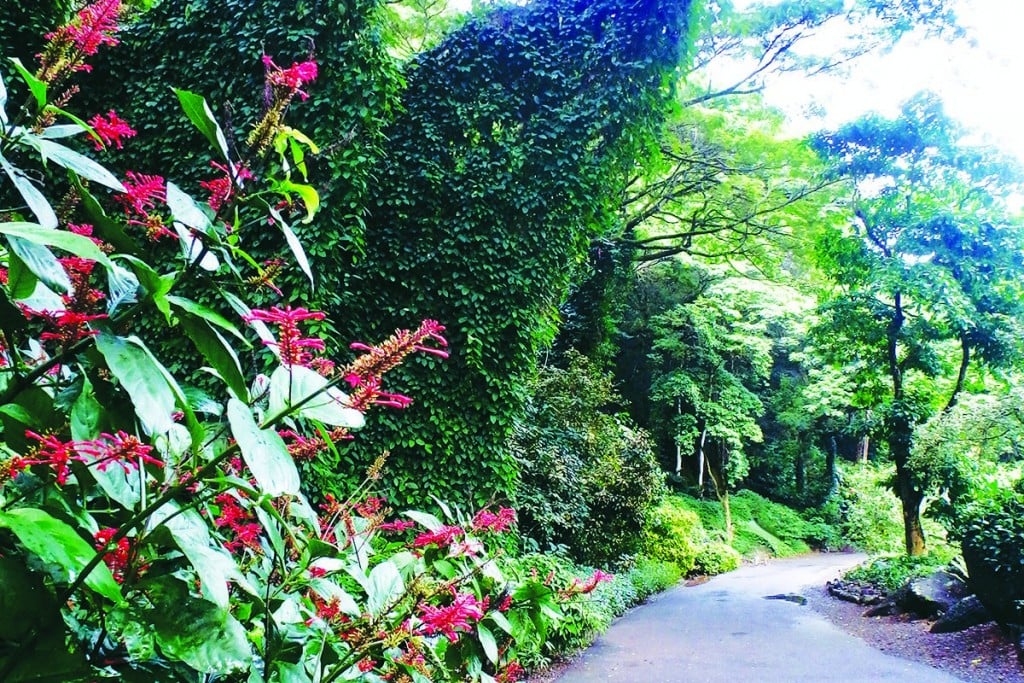 It had been a week of staying indoors and no amount of Netflix or Magna-Tiles was staving off cabin fever.
So I grabbed my 3-year-old son, packed enough snacks to feed an entire soccer team, and made the hourlong drive to Waimea Valley on O'ahu's North Shore.
I grew up going on school field trips to the lush 1,875-acre ahupua'a, an ancient land division that extends from the uplands to the ocean. We would learn about the various native and exotic plants growing here, play kōnane (an ancient Hawaiian game resembling checkers) and watch highly skilled divers jump off cliffs alongside a 45-foot waterfall into a pool below.
Not much has changed at Waimea Valley, which has been managed by the nonprofit Hi'ipaka LLC since 2008. You can still stroll through the park's dozens of gardens and swim beneath the waterfall. (The dive shows stopped in the '90s.) But the group has made significant changes, adding new gardens, cultural sites, programs and activities. The group also created a conservation department to monitor and restore the native ecosystems within the ahupua'a. When it took over, the average daily visitor count was about 200; in 2019, it was over 1,000, with summer months often bringing in 2,000 visitors a day.
"The mission has been for our staff and managers to act as stewards to the valley, striving in our daily responsibilities to Waimea and its host culture, to celebrate and share a vibrant and living Hawaiian culture with the world," says Kimberly Anguiano, marketing and events manager at Waimea Valley.
We arrived just as the park opened at 9 a.m. There were only a handful of cars in the parking lot, with parents unfolding strollers and corralling stir-crazy kids like mine in desperate need of a morning outdoors.
Following the map, we walked through the park along the main pathway for about a mile, through groves of bamboo and past heirloom varieties of kalo (taro). The park boasts more than 40 themed gardens and is home to more than 5,000 documented types of tropical and subtropical plants, including native Hawaiian plants and globally endangered species.
But this park is not just about plants. Along the walk, you'll come across numerous cultural sites, including a heiau (shrine) dedicated to the fishing god Ku'ula, a reconstructed kauhale (many homes) for high-ranking chiefs or priests and agricultural terraces where taro
once grew.
The main attraction, though, is—and has always been—the waterfall. Plummeting 45 feet into a 30-foot-deep pond, the falls are a welcome respite on a hot day. Starting in the early 2000s, the park reopened the pond to swimming. There's a lifeguard on duty, who decides in the morning if swimming will be allowed based on weather conditions, and all swimmers have to wear life vests, which are available for rent. The falls are reliant on rain, so if there's no rain, there's no waterfall.
That's how it was the day we went, but that was fine. We hadn't planned on swimming anyway, and we were perfectly happy to sit on the rocks and eat the Spam musubi we purchased at the snack shop nearby.
On the way back, the park was noticeably busier. Families enjoyed the expansive Upper Meadow, picnicking under the shady monkeypod trees or playing on the grassy field.
My son, who had been cooped up for days in the house, needed this. Here, he could run the paths, pick up sticks, look for ladybugs—all the things kids should be doing. He never once asked for the iPad or complained about the heat. He was just happy to be here, in this beautiful place. And so were we.
Open 9 a.m. to 4 p.m. Thursday through Sunday, 59-864 Kamehameha Highway, Hale'iwa, (808) 638-7766, waimeavalley.net.