Got big waves? Holding period to start for Hawaii's Eddie Aikau surfing contest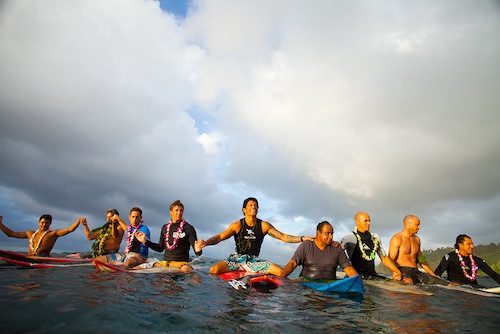 The holding period for the 28th Quiksilver in Memory of Eddie Aikau surfing contest — the world's longest-running big-wave invitational — begins on Sat., Dec. 1.
The event's opening ceremony is set for 3 p.m. on Thurs., Nov. 28 in Waimea Bay on Oahu's North Shore. During the annual ceremony, top-notch surfers and members of the Aikau ohana will get into the water and paddle surfboards to gentle waters where they'll form a circle. They'll then hold hands and pay tribute to the late Eddie Aikau, a noted big-wave surfer and Waimea Bay lifeguard.
In 1976, Aikau was a crew member aboard the Hokulea, the Hawaiian double-hulled, long-distance voyaging canoe, when it capsized in stormy weather about 12 miles south of Molokai. With no rescue expected, Aikau volunteered to paddle a surfboard toward Lanai, about 10 miles away, for help. Hours later, the crew was rescued. Despite an extensive search, 31-year-old Aikau was never seen again.
The holding period for the legendary one-day competition ends on Feb. 28, 2013. Why a three-month span? Because, as organizers say, "the bay calls the day." The contest requires a steady flow of waves measuring 20 feet or higher. Since the launch of the competition, nearly three decades ago, it has been staged a total of eight times, with the most recent "Eddie" held on Dec. 8, 2009.
Among the 2012-13 contest's 28 invitees are legends Kelly Slater, Bruce Irons, and Noah Johnson. First-time invitees chosen through a peer poll include John John Florence (Oahu), Alex Gray (California), and Ian Walsh (Maui).
If the bay calls the day during the 2012-13 holding period, thousands of spectators will flock to the North Shore to catch the competition. Wanna go? Your best bet to avoid traffic tie-ups is to arrive early. Otherwise, you may end up in a long line of vehicles slowly making their way to the Haleiwa area and beyond. Bring binoculars and enjoy the waves.
For more information about the Quiksilver in Memory of Eddie Aikau surfing contest, click here.