Great Waikoloa Ukulele Festival slated for this weekend on Big Island's Kohala Coast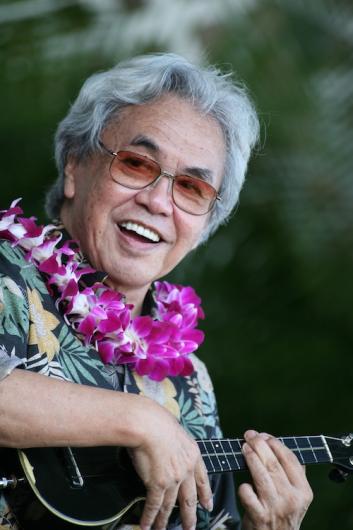 The Big Island's Waikoloa Beach Resort on the Kohala Coast will hold the 13th annual Great Waikoloa Ukulele Festival this Saturday (March 2) at Queens' MarketPlace.
The celebration will get under way with a free ukulele workshop (10 a.m. to 11:15 a.m.) given by Roy Sakuma as well as a lineup of nonstop musical entertainment, from noon to 7 p.m.
Sakuma and wife Kathy organize a series of annual ukulele events in the Islands that now includes an estimated 20,000 participants. The couple created their first fest in 1971, and established the nonprofit Ukulele Festival Hawaii in 2004.
Among the featured musicians: world-famous Herb Ohta, Sr. (pictured, right). Ukulele Hall of Fame Museum states that no one has done more to explore and expand ukulele music during the second half of the 20th century than Ohta, also known as Ohta-San. In addition to his hall-of-fame induction in 2006, Ohta has won four Na Hoku Hanohano Awards (Hawaii music industry's equivalent to the Grammys).
Ohta is slated to perform at 4 p.m. and at 6 p.m. with jazz guitarist Nando Suan. Another Na Hoku winner, Sean Naauao, will perform at 5 p.m. And Sakuma will hit the stage with his "Super Keiki" performers, Nelly Toyama-Baduria (Suan's protégée) and Daniel Baduria. To see the full schedule of events, click here.
The event will also feature demonstrations of ukulele-making, crafting of tradition Hawaiian gourd bowls, and lei-making. For more information about the Great Waikoloa Ukulele Festival, click here or call (808) 886-8822.