Growing Future Leaders in Agriculture
The Agricultural Leadership Program graduates its 15th class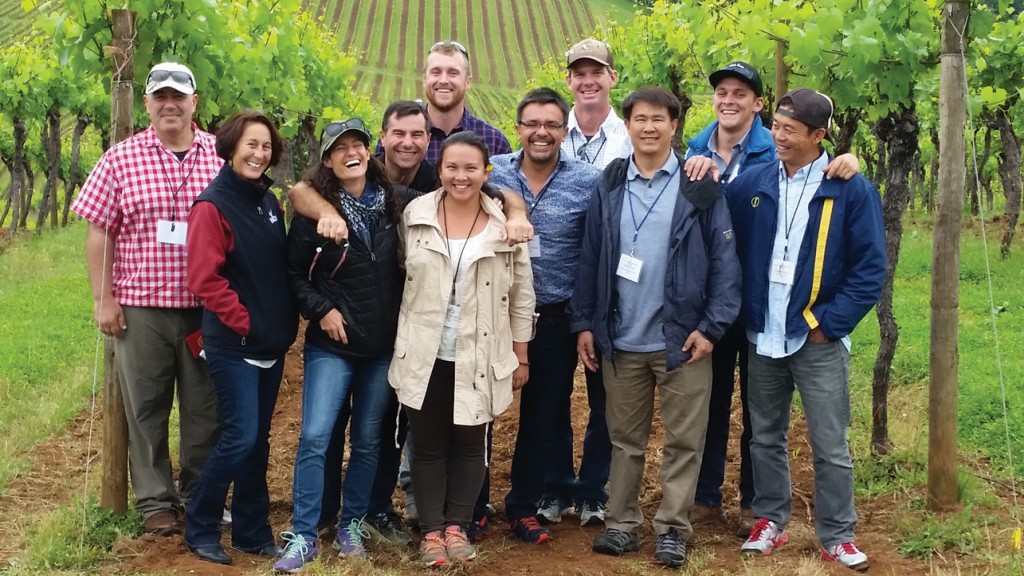 For Jacob Tavares, the livestock project manager at Hawaiian Commercial and Sugar (HC&S), it was the perfect time to be in the Agricultural Leadership Program (ALP), a 16 month training program that brings together leaders in the Hawaii agricultural and natural resources management community. HC&S's closure was announced in January, while Tavares was in the ALP, and he says being there during that time helped him immensely. "From meeting farmers, exchanging information and bouncing ideas off people who have different perspectives on agriculture, the experience was incredibly valuable," says Tavares. All of it informs him as he helps HC&S transition into a more diversified agricultural farm.
Tavares began the intensive training program in April with nine other participants, which included Joey Char, land asset manager of Kamehameha Schools, Taylor Kellerman, director of diversified agriculture at Kualoa Ranch, and Fung Yang, owner of Small Kine Farm. Over 16 months, they visited farms, ranches, aquaculture and ag-forestry businesses, nurseries, watershed protection areas and cultural projects in Hawaii. They flew to Washington D.C. to meet with Senator Mazie Hirono, Senator Brian Schatz and Congresswoman Tulsi Gabbard, and travelled to Oregon to visit wineries and the largest dairy farm in the U.S. There were also multiple classroom seminars that discussed morals and ethics, negotiation skills and mediation tactics.
"I visited different agricultural operations during the program, and saw what's worked, what hasn't, and also what's ahead. ALP gave me a whole outlook on Hawaii agriculture and what it could become," says Tavares. This is knowledge he's able to apply as he helps HC&S transition into a diversified agricultural farm. "I also was able to network and connect with other people in the industry—I can pick up the phone and call someone if I have questions."
On a more abstract level, the program helped him understand the sugar plantation's shutdown in the larger scale of Hawaii's agriculture industry, and see the issues that face Hawaii agriculture, such as lack of natural resources, lack of human resources ("young people our age aren't interested in agriculture anymore," says Tavares, who is 26), and public awareness and cultural sensitivity.
David Penn, wildlife access and acquisitions coordinator for the DLNR, is also a recent graduate. He says ALP helped him see how farmers and natural resource managers can work together, despite coming from different, occasionally conflicting backgrounds. "We got to talk to each other in a context where business isn't involved, and learn from each other," says Penn. "Now when we do work together in the future, we're coming from a better place."
ALP was launched in 1982 by Jane Yamashiro, who felt Hawaii needed a bigger vision for agriculture. Yamashiro, a Big Island native, was in Alaska working with the Kellogg Foundation, and she saw other successful leadership programs in rural areas and wanted the same in Hawai'i when she returned in 1980. "Hawaii has a very small, diversified agriculture, where many enterprises have conflicting issues for water or land, and I saw that we had to rise above them and see how we could work together," says Yamashiro.
With funding from the Kellogg Foundation, the Honolulu City and County and Hawaii Farm Bureau, Yamashiro formed a non-profit and organized the first ALP cohort in 1982. Lesley Hill, owner of Wailea Agricultural Group on the Big Island, was in that first group. She's also responsible for starting the Hawaii Fruit Growers Foundation. She says, "The program gave me collaboration and discussion skills that I'd use extensively over and over in my career. I learned the importance of being open enough to understand the other side, and how to reach an agreement."
ALP program director Pauline Sato says, "Our whole vision is to strengthen the field of agriculture. We need people to be in leadership positions to speak for their industry and come up with solutions so we can ultimately help Hawaii become self sufficient."