Growing Hawaii oysters on a luxury golf course
How the Island's fledgling oyster industry is using innovation to produce the bivalves locally.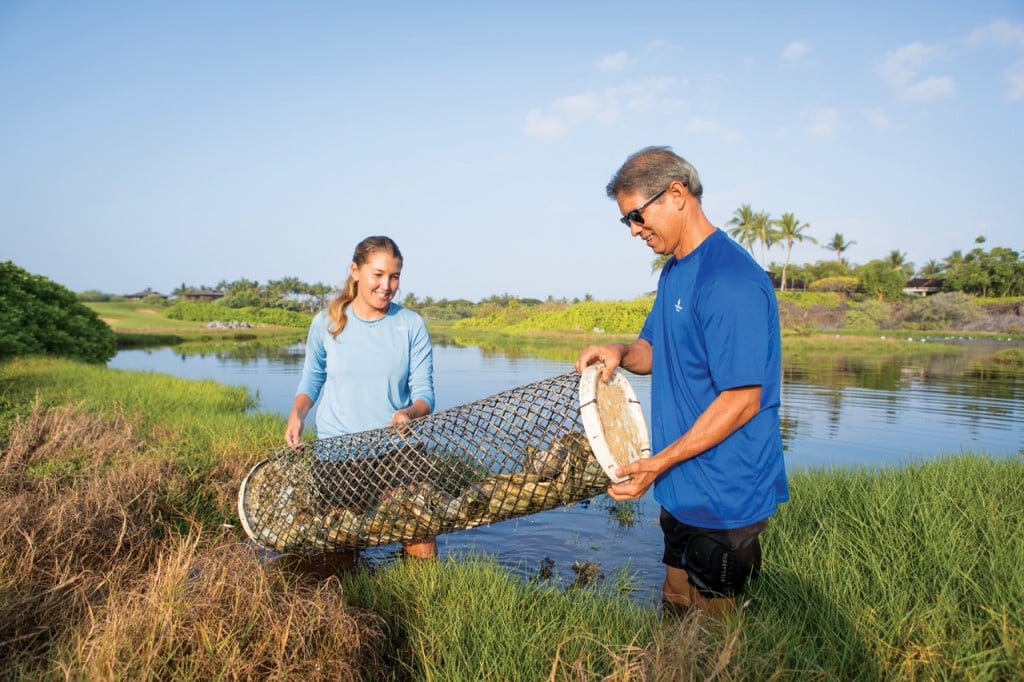 David Chai, an aquaculturalist at the exclusive Hualalai Resort on Hawaii Island, zips around the expansive 865-acre property in a golf cart—fitting, as his prized crop is raised in a golf course water feature. "We've had oysters in here since 2003, but they were more for a purpose," he said. "We tried to raise fish here and oysters were actually the key to controlling the abundance and density of algae [that would choke out the fish] because they are so efficient at filtering." It wasn't until years later, in 2015, when the pond had reached a happy balance of fish, algae, and oysters, and proper permitting was in place, that Chai began harvesting the tasty bivalves exclusively for the resorts' restaurants, where they remain a popular menu item.
It may seem strange—getting your slurp-worthy appetizer from a Hawaii golf course pond—but these are no ordinary oysters, and this is no ordinary pond. Fully-lined and surrounded by drainage channels that funnel runoff away from its waters, all of the ponds' water and nutrient inputs are carefully controlled. There are none of the parasites or predators that can occur in ocean-based oyster farms, and Chai says not only do his oysters grow with lower mortality rates than in traditional, ocean-based oyster farms, but they can also be easily harvested, twice-weekly and year-round by staff in waders. As for the water temperature? "Pacific oysters do fine in warm water," says Chai. "In fact, they grow faster. We can get a harvestable oyster in six months, whereas on the Mainland, it takes over a year."
In this small-scale operation, producing between 400 to 1,000 oysters per week, even the oysters themselves are controlled and can be customized: Chai and his team spin the cylindrical cages where the oysters grow each week to avoid algae growth and sharp edges on shells; when rounded by the cage rotation, oysters' shells grow into deeper, more desirable cups. Before serving, oysters are bathed in filtered water with just the right level of saltiness. "An oyster is only as salty as its last drink," says Chai, "and we can tweak those levels based on input from the guests and the chef."
Chai's pond is just one of two commercial sources in the state raising oysters for consumption—all other oysters have to be flown in. Both buy infertile spat (oyster babies) from Taylor Shellfish Farm's operations in Kona and raise them to harvestable size.
Kualoa Ranch on Oahu, the other main operation offering oysters to the public, started their research and development phase in 2008, and brought their oysters to the market in early 2014. As one of the first companies to sell the Hawaii-farmed shellfish in the state after an almost-30-year industry hiatus (thanks to an economic downturn and Hurricane Iniki), Kualoa faced several hurdles. "The state lab had to be recertified before we could get permits," says Kuuipo McCarty, who runs Kualoa's oyster efforts. "There were political challenges, a big learning curve for all involved, and environmental challenges, too." Kualoa's oysters grow in Molii, a 125-acre traditional Hawaiian fishpond created between 800 to 1,000 years ago, that still has tidal influx from the ocean—very different from Hualalai's smaller closed system. "We've been learning as we go along," says McCarty. "Even though it's hard work, it's our greatest pleasure to produce such a delicious, clean and great product. It's a lot of labor and effort and love." Kualoa sells between 10,000 to 12,000 oysters a month both directly to consumers via the company's own market and through a third-party distributor that sends its product to restaurants like Alan Wong's, Moku Kitchen, and Mahina & Sun's.
If the demand for Hawaii-raised oysters both outfits have seen is any indication, theirs may only be the beginning of a burgeoning industry. According to Amanda Lowry, who helps to permit and certify shellfish operations for the Hawaii Department of Health, Kauai Shellfish, one of the oldest continually operating shellfish operations in the state and known for growing clams, is also almost ready to go to market with their own brand of Hawaii-raised oysters. And, a fishpond on Molokai has also reportedly begun taking the necessary steps to join in on the trend.
"Hawaii imports 300,000 oysters a month to fulfill our restaurants' needs and demand," says McCarty. "Most would rather serve something Hawaiian grown, and we can provide that—we offer that extra value of grown at home." David Chai would agree: "To be able to produce our own product in a clean environment is a win for everyone."