Haleiwa Arts Festival's Summer ArtFest slated for this weekend on Oahu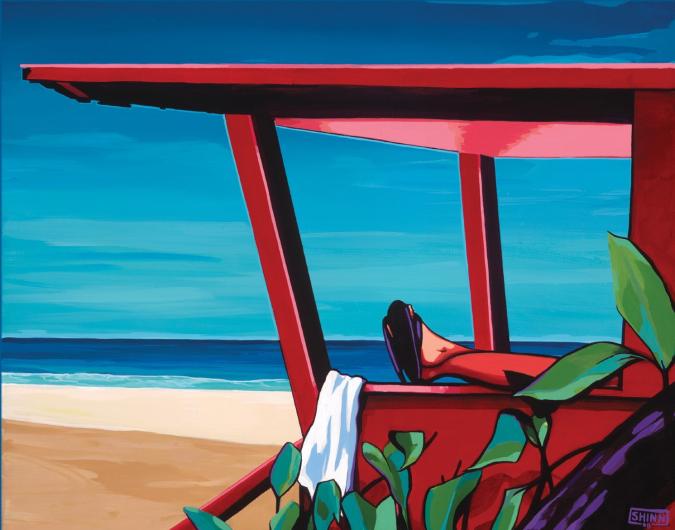 On summer weekends, when the waves edging Oahu's North Shore are gentle, roads in the Haleiwa area are dotted with vehicles headed to beaches and snorkeling coves, hiking trails and shave ice shops.
This weekend, the Haleiwa Arts Festival's 14th annual Summer ArtFest presents yet another reason for Oahu visitors and urban dwellers to spend a day or two in the leafy countryside.
The free event, set for 10 a.m. to 6 p.m. on Sat., July 16 and 10 a.m. to 5 p.m. on Sun. July 17 in the Haleiwa Beach Park in Historic Haleiwa Town, features juried visual artists, live music and dancing performances, cultural/historical tours, student art, art demonstrations and children's art activities. Plus, several North Shore businesses and galleries will be offering special attractions during this "Celebrate the Arts in Haleiwa" weekend, according to ArtFest organizers.
At the beach park, some 140 juried visual artists will display original works and limited editions of paintings, ceramic pieces, photographs, fabric artwork, jewelry and glass artwork as well as other media. Art will be available for viewing and purchase directly from the artists.
A painting titled On Duty, (pictured, right) by part-time North Shore resident Christie Shinn is featured on the event's T-shirt. Shinn's portfolio of corporate clients includes recent work for Vans Triple Crown of Surfing and the Quicksilver Hawaiian Islands Vintage Surf Auction.

The festival's musical performances will spotlight hula and Hawaiian music, bluegrass and blues, rockabilly and rock music, Celtic pipes and drums, musical theater and taste of opera, courtesy of the Hawaii Opera Theatre ensemble. For the ArtFest's complete performing arts schedule, click here.
Food, beverages and, of course, North Shore shave ice will be available at the ArtFest site. For more details about the Arts Festival event, click here.