Hammocks with a conscience: How this Maui company gives back to family artisans with every sell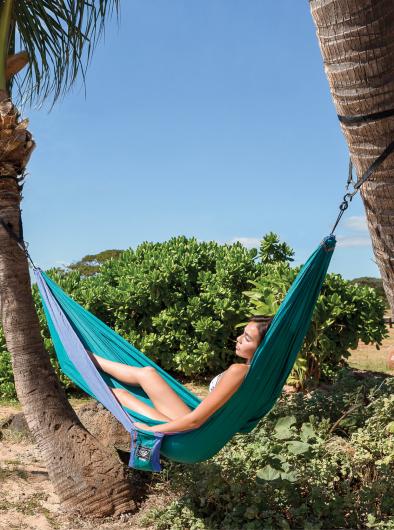 They've become Maui's go-to resource for those who want to comfortably lie out in style suspended above the ground.
Based in Lahaina, with a second location that opened last year in Haiku, Hangloose Hammocks Hawaii's shops carry a dozen varieties of hammocks with a rainbow selection of color.
"Portability, ease of use, I've had customers call them 'turn-and-key' hammocks because of how simple they are to set up," Hangloose owner Bob Jones says, counting off the reasons you see them swaying around more and more across the Islands.
From chairs to sitting hammocks to spreader bars to something custom, Jones helps customers find the vibe they're looking for with his vast knowledge on the surprisingly extensive subject of hammocking. The most popular is the Parachute line (pictured above), one of the store's lightest products, weighing just a pound-and-a-half because of its breathable material. Hangloose has also introduced a new Aumakua line, five different hammocks based on the traditional Hawaiian belief in ancestral animal protectors, which can only be purchased in-store.
What makes Hangloose especially unique is that its mission extends beyond personal comfort. The company sources all its products through NGOs and family artisans in five different countries throughout its 10-year history. Through their tight-knit relationships and direct negotiations with families in locales like Ecuador, Thailand, Mexico and Indonesia they're able to provide fair trade employment to over 250 families through the sales of its products. That way, when you're swaying into a Hawaiian sunset, you can rest easy knowing you're supporting other families across that horizon.