Hanapepe's Friday Art Night is the small-town street festival you were looking for
The delightfully low-key weekly art night showcases Kauai-inspired artwork, music, eats, gifts and more.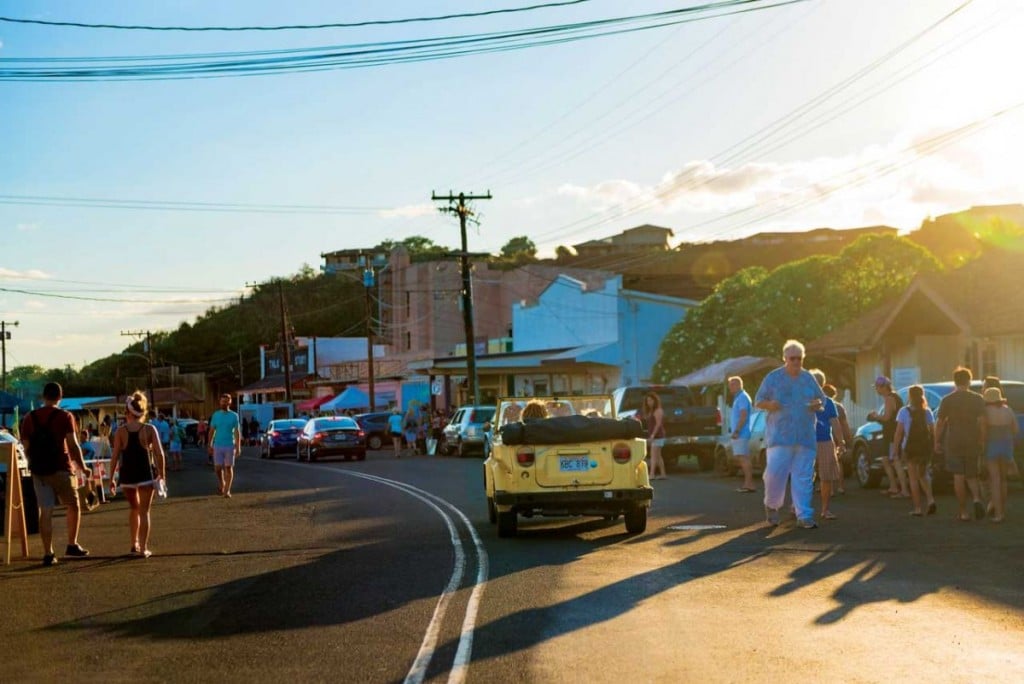 As the sun slips behind the gentle green hills edging Kauai's quiet southwest side and nightfall is in the offing, festive lights flicker to life in the windows of art galleries, eateries and shops along the main drag of Hanapepe town.
On this late summer Friday evening, a mix of visitors and area resident are strolling the small country town's Hanapepe Road, browsing in rooms filled with Hawaii-inspired paintings, ceramics and other art; following the wafting scents of hulihuli chicken and ribs—slathered in from-scratch marinade—to a revved-up restaurant grill; and breezing in and out of inviting storefronts, a few decked out with makeshift stages for musicians.
Friday night became known as "art night" here about 20 years ago, when a half-dozen painters and other artists setting up gallery and studio spaces in Hanapepe's rustic buildings—some of these, pre-World War II facades—wanted to showcase the diverse range of their artwork, says Joanna Carolan, owner of Banana Patch Studio, a ceramic studio and art gallery in town.
"Being artists, no one could ever agree how many hours of the day, or which days of the week their shops would be open, but everyone could agree to be open Friday night," says Carolan, herself a watercolorist. She adds with a laugh, "It's a quirky town that way."
Over the years, the weekly event, which usually begins at about 5 p.m. and wraps up by 9 p.m., has grown to include 16 participating galleries as well as a roster of cafés, restaurants and other shops. Among the retailers open late for the night are Carolan's other business, Aloha Spice Co., which features aromatic Hawaii blends and rubs in small batches, and Talk Story Bookstore, which houses more than 70,000 books ranging from new, used and rare titles to a strong collection of Garden Isle-focused reads.
The night has also grown in attendance, attracting up to several hundred people to the otherwise sleepy town on Fridays.
I drive into Hanapepe (population: 2,600) just before sunset and park my rental car across the street from Talk Story. Near the building, area vendors are setting up stacks of Island photography and slicing up freshly baked macadamia-nut cream pies. A trio of guitar-playing teens finishes a sound check.
As other early art night arrivals begin to fill chairs fronting the trio's performing area, one of the boys picks up a microphone.
"Welcome to Hanapepe Friday Night Festival & Art Walk!" he exclaims. "We're the Mad Hatters!"
At the prompting of another band member, he quickly remembers to thank Talk Story's owners for their hospitality and cheerfully shares a bit of sponsor trivia.
"Talk Story is the western-most independent bookstore in the United States," he says.
I linger while the Mad Hatters play a few tunes, including a sweet if rough-around-the-edges take on Simon and Garfunkel's "The Boxer." Down the road, an acoustic guitarist is strumming a bouncy Jack Johnson song in front of Storybook Theatre of Hawaii, which specializes in children's performing and media arts.
Like many other buildings here, the two-story structure, painted a brilliant red with yellow trim, is on state and national registers of historic places. Built in 1932, it was, in a former life, a Chinese restaurant that hosted banquets and taxi dancing—the latter, a practice of that era in which gentlemen purchased tickets to dance with ladies of their choosing.
While most Kauai towns founded during the sugar industry boom of the late 1800s were essentially plantation-owned, entrepreneurial immigrants from China, Japan, the Philippines and elsewhere built homes and settled in Hanapepe. Many of these residents had, in fact, either retired or defected from the rigorous sugar plantation work.
Initially, they came to Hanapepe Valley to farm taro and rice or open businesses to serve the community. Soon, pineapple field workers and longshoremen were also populating the town.
By the early 1930s, Hanapepe was thriving, with the island's first airfield built nearby and neighboring Port Allen serving as a shipping and trade hub. By the end of the decade, though, as Kaumualii Highway (Route 50) was paved to connect Lihue on Kauai's east side with the Pacific Missile Range Facility on the western shore, Hanapepe's economic profile began to fade—in large part because the new 33-mile highway skirted the town's center. A few decades later, when Lihue's airport opened, Hanapepe was replaced as the go-to center for island business.
"Everybody just sort of picked up and left," Carolan says of Hanapepe.
There was a silver lining, however. Because the highway bypassed the town, distinctive island buildings—several combining plantation-style structure with a touch of a Wild West "Dodge City" design—were left standing.
"It's now a perfect walking town because it's not on the highway. It has that wonderful sleepy, slower-paced feel," says Carolan.
With a flight back to Oahu hours away, I leave art night while it is still in full swing. Passersby are chatting and laughing, balancing plates of barbecue and swaying to ace rockabilly harmonica riffs floating in my direction from a shop's front porch.
Driving away, I'm reluctant to let go of the unhurried feeling that comes with this resilient and picturesque place. Still, there is some comfort.
The Friday night scene in Hanapepe will likely be, more or less, the same, whenever I choose to return.
Hanapepe Art Night
5 to 9 p.m., every Friday night, Hanapepe Road, Hanapepe, www.hanapepe.org