Hanauma Bay Entrance Procedures Change Amid Public Concern
You can't walk into the Oʻahu nature preserve anymore.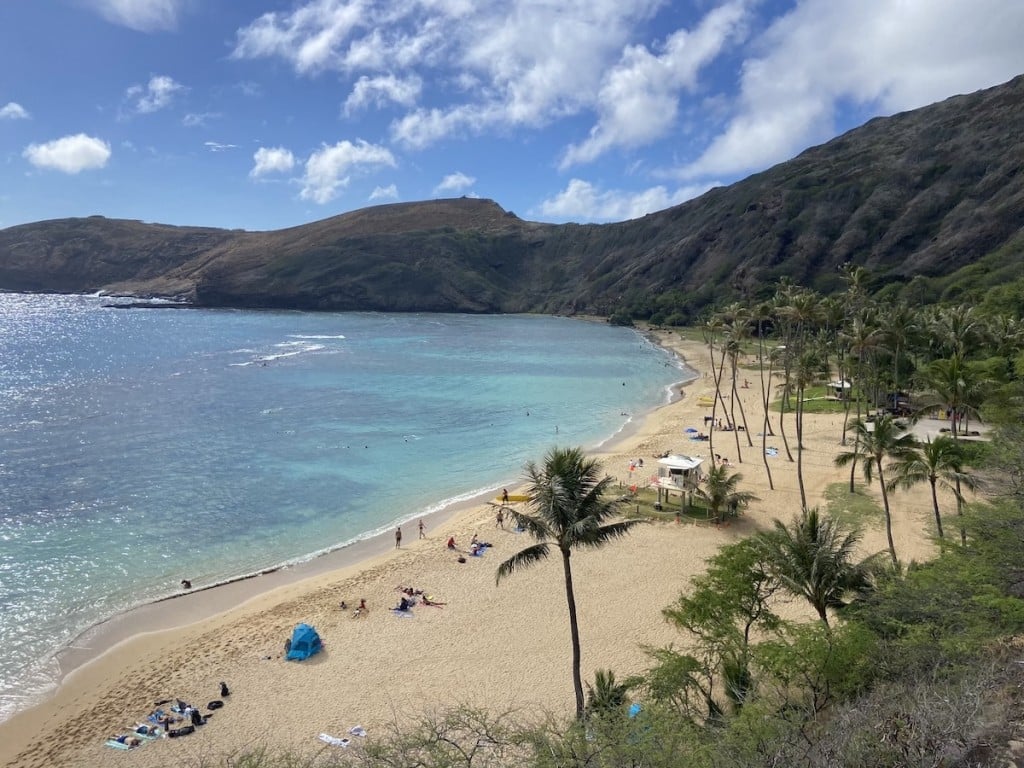 Ask anyone who's driven past Hanauna Bay on Oʻahu recently—or better, anyone who's waiting to get inside the nature preserve in East Honolulu—and they'll tell you: It's beyond crowded.
Since Hanauma Bay Nature Preserve reopened on Dec. 2, 2020, there have been long lines of cars along Kalanianaʻole Highway waiting to get into the parking lot. Hundreds of people line up at the entrance, waiting hours to get in. It's a lot.
So, starting on Jan. 9, the city has issued a new entry procedure to address safety concerns: Only vehicular traffic can enter the bay. Walk-ins are not permitted.
The city is also working on creating an online reservation system—similar to the one for Hāʻena State Park on Kauaʻi—with an anticipated launch date sometime early this year.
Here's how the new parking system will work: Upon reaching the preserve entrance off of Kalaniana'ole Highway, visitors will be directed into the bay parking area and provided tickets to determine which order they entered the nature preserve, with a pre-determined educational video show times. Visitors have the option of remaining in the parking lot and upper area of the preserve while they await their show time—or they may choose to leave the nature preserve after receiving their entry ticket. If they leave temporarily, they must return with their ticket 15 minutes before their designated show time to ensure their entry into the theater and beach.
"Even with the daily limit of 720 people, it is apparent that Hanauma Bay continues to be one of the most popular destinations for locals and malihini," said Laura H. Thielen, director-designate of the Honolulu Department of Parks and Recreation in a news release. "We have heard the concerns from the neighboring community and visitors to the nature preserve regarding some of the problems with visitors parking in the residential areas, walking along the busy Kalaniana'ole Highway, and gathering near the Hanauma Bay entrance. We hope these adjustments to the pilot reopening help to alleviate these concerns as we pursue an online reservation system and improve our management of this magnificent natural resource. Certainly, we can make further adjustments to these procedures if additional issues arise."
All face mask, physical distancing and gathering restrictions remain in effect. The daily capacity for the nature preserve remains at 720 people, and no commercial activity is currently allowed within the nature preserve.
Hanauma Bay is open from 7:45 a.m. to 4 p.m. Wednesday through Sunday.