Hang with Hee at the Kanaloa Octopus Farm
Learn about these intelligent animals with a tour at this Big Island octopus farm.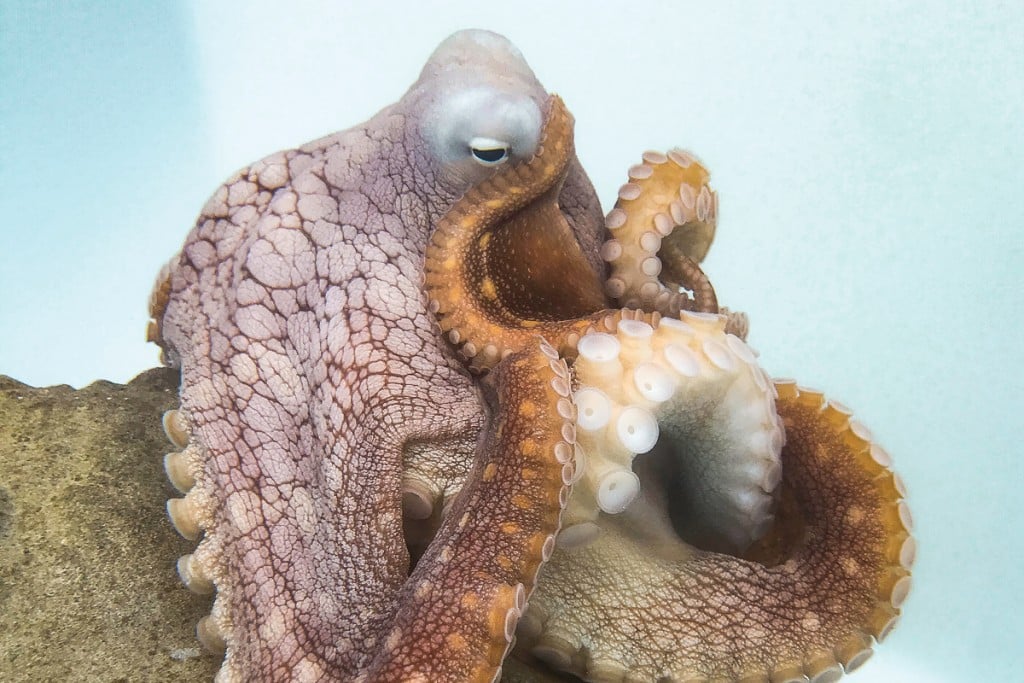 Inside each tank is an adult day octopus—called hee in Hawaiian—native to Hawaii waters and active during the daytime. At Kanaloa Octopus Farm, it's a look and touch kind of experience.
It's a sunny Friday afternoon and I'm on a tour with 20 other people. Kanaloa Octopus Farm is located at scenic Keahole Point, about 10 minutes from Kona International Airport on Hawaii Island. It's an aquaculture facility where Jake Conroy, the president and CEO of Kanaloa Octopus Farm, and a small team conduct research on breeding octopuses and larvae development. The goal of Kanaloa is to someday create a viable and sustainable on-land octopus farm. Conroy tells us this will likely take years, but the creature is a good aquaculture candidate because of its short lifespan and high reproduction cycles. He says Kanaloa Octopus Farm is the first commercial aquaculture farm for octopus not only in Hawaii, but also in the United States.
Over the course of the one-hour tour, we learn a bunch of fast facts about these intelligent, curious animals. Octopuses live only one to two years in the wild. Depending on the species, they can weigh from 6 to 22 pounds. Octopuses are carnivores and eat crabs, crayfish and mollusks. They are camouflage experts and can change colors and patterns. And sex can be a deadly activity for males—after mating, a female will try to strangle and eat her partner!
Conroy regales us with these facts as we hover over the tanks. That's the best part of the tour: While Conroy and his staff explain the mission of Kanaloa and educate participants about octopuses, everyone gets to interact with the soft, suction-y animals. Even better, there's an opportunity to feed them.
A young marine biologist and graduate of Hawaii Pacific University on Oahu, Conroy launched the aquaculture facility in fall 2015 with his own money, purchasing the water tanks, microscopes and fronting rent. His passion and enthusiasm is obvious, just listening to him talk about octopuses.
"Everything is fun and new; I've never worked with octopus before," Conroy tells me after the tour. "The more (research) we do, the more we're going to know. That's exciting."
He's already hit benchmarks. Conroy and his team figured out how to breed the octopuses without resulting in the death of the males. Currently, a female hatches 250,000 paralarvae each month on-site. It's the most critical time in an octopus's life, says Conroy, and the current focal point of research. "The biggest challenge now is getting the babies to survive in captivity," he says. They need the right type of food source, which for octopus larvae is zooplankton. The team cultivate zooplankton for the larvae to feed on and have done trials with six different types so far. On the tour, we get to see a type of zooplankton under a microscope in the farm's lab.
Today, funding for research comes exclusively from twice-daily tours ($30 per person). The tours draw a diverse crowd: families, honeymooning couples, retirees, groups of friends. Everyone has their smartphones or GoPros out, ready to capture a moving or camouflaging octopus.
Conroy and his staff have named each of the adult octopuses. There's Pearl, Piko, Samson, Squirt, Rufio and Sticky, among others. Conroy says he buys them from a couple of local fishermen who would otherwise use them as bait. "We call them our rescue animals," he says. "Their fate is a little better than what it was."
I approach Squirt's tank. At first I'm apprehensive to shake hands with Squirt, but my curiosity gets the better of me. I put my hand in and wiggle my fingers. One arm slowly reaches up. It's a firm grip, with a sticky, yet smooth touch. Like slimy velvet. Squirt is an inquisitive octopus and is now at the surface of the tank. I keep moving my hand around, before she finally lets go. I continue on to check out her friends. One is clutching a rubber ducky. Like in a fast-paced fashion show, another is changing from gray to purple. I hear a squeal and look up. Squirt is living up to her name: She just sprayed a woman with a quick jet of water.
Toward the end of the tour we get to feed the octopuses. Conroy gives us two small buckets filled with blue crab. I break off a bit before passing them on. I stick my crab leg into Squirt's tank. She's waiting at the bottom, but only for a second before she reaches up, wrapping an arm around lunch. Conroy answers any last questions, but by now, all attention is on the eight-armed animals. Before I leave for the day, I shake arms goodbye with Squirt.