Hapa-haole tunes take center stage at Oahu hula competition and music fest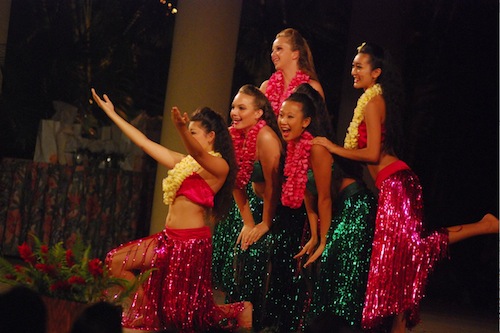 Hapa-haole was a Hawaii-born music genre that found great popularity with residents and visitors from the 1920s through the 1950s. Born at at time when songs with Hawaiian language lyrics were largely frowned upon, hapa-haole songs—with their English lyrics and, at times, outright made-up Hawaiian words—found an audience drawn to their romanticized descriptions of the scenery, nature and ethos of the Hawaiian Islands.
Accompanied by lilting tropical musical arrangements, the lyrics of many hapa-haole songs referenced the more idyllic pre-statehood aspects of Hawaii, the Hawaiian culture and life in the Islands, leaving out realities that didn't fit the genre's themes of escapism. Lyrics of some hapa-haole songs even perpetuated incorrect stereotypes about the Islands and its resident population. Still, a number of the genre's songs eventually wound up transcending the era of their largest popularity, becoming Hawaiian music classics in the decades that followed statehood.
Songs of the genre such as "Lovely Hula Hands," "Waikiki" and "My Yellow Ginger Lei" are still played live and on Hawaiian music radio, while tunes like "My Waikiki Mermaid," "My Honolulu Hula Girl" and "Yaaka Hula Hickey Dula" have been largely forgotten to time.
For the past 11 years, the Pai Foundation, an Oahu-based nonprofit aiming to preserve and perpetuate Hawaiian cultural traditions, has put on a festival celebrating the hapa-haole genre of Hawaiian music. This year's Pai Foundation Hapa Haole Hula Competition & Music Festival happens, Sun., Oct. 27 at 4 p.m. at the Hawaii Theatre in downtown Honolulu.
The festival is both a concert and a competition, with performers and competitors showcasing the music and dance of the era through hula and song. The fest's emcee is Harry B. Soria Jr. who, for 35 years, has hosted the weekly radio program, Territorial Airwaves, featuring vintage Hawaiian music dating back to the Islands' pre-statehood territorial era. (Soria plays 78, 33 1/3 and 45 RPM disc recordings on the show, which is broadcast online on his website.)
The evening's program will include live music and hula performances by Marlene Sai, Robert Cazimero, Halau Na Kamalei, the Royal Dance Company, Michael Pili Pang, Halau Hula Na Noeau, Hawaii Youth Opera Chorus, past competition winners and more.
There will be six halau (groups) competing in group and solo categories, with a total of 95 dancers, and four solo competitors.
"I know it's a throwback. But it seems like it still resonates with listeners," says fest organizer Vicky Holt Takamine, about the hapa-haole music genre. "Since the Hawaiian renaissance period of the 1970s, the loss of many of the venues that perpetuated this style of Hawaiian music in Waikiki, and the passing of some of the old-time musicians, hapa-haole has seen a decline in popularity.
"But there are a few who were involved in the Hawaiian Renaissance like Robert Cazimero, and kumu (teachers), some of whom are in the competition, who were part of that period when hapa-haole music was popular."
If you're a fan of hapa-haole music, it should be a great evening.