Have you seen the Waikiki shipwreck?
Coast Guard crews say they're close to floating the ship out of our lives.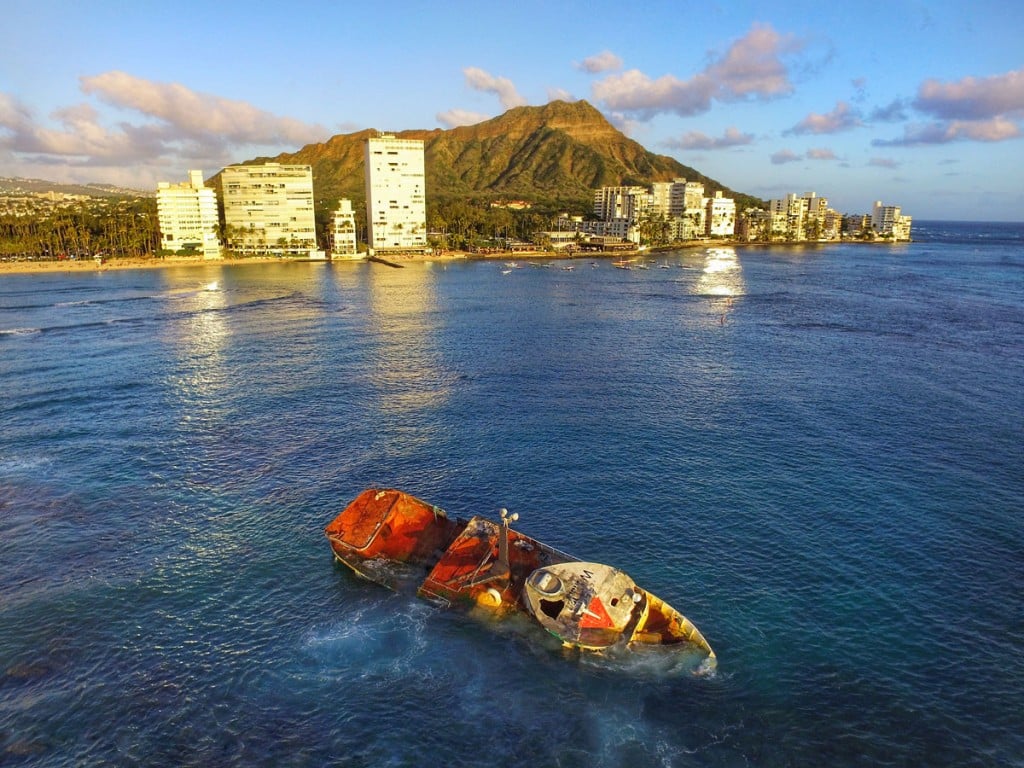 If you've strolled along Kaimana Beach in Waikiki the past two months, you've likely seen the twisted heap of metal lolling in the surf a few hundred yards offshore. On October 10, the Pacific Paradise commercial fishing vessel ran aground with 20 people onboard, spilling diesel fuel and hundreds of fishhooks into Waikiki Beach waters.
Rescue efforts of the crew moved quickly. However, the Coast Guard's efforts to remove the giant eyesore and its pollutants from one of the world's most iconic stretches of beach is taking more time than expected.
"Ideally (the ship) will be removed on Wednesday," Coast Guard Chief Petty Officer Amanda Levasseur says. "But it's contingent on wind conditions and the integrity of the hull."
According to Levasseur, Coast Guard crews have been working to patch holes within the ship's hull, some of them predating October 10, in a procedure she described as "tedious" and "complex." Though several strategies to tow the ship further offshore to be sunk have failed, salvage efforts have generally focused on increasing the ship's buoyancy so it can be dislodged from the coral reef.
Though some have raised concerns over health risks of entering the water, Lavasseur says it's safe, and that there are lots of people swimming in the waters around Kaimana Beach.
"We've set up a 500-foot safety zone around the vessel to make sure no one is climbing on it and jumping off of it," she says. "And the water is tested daily (by the Dept. of Health)."
In a perfect world, the ship will be removed this week and beachgoers will be able to gaze on an unmarred Waikiki sunset. But sometimes weeks have a way of becoming months, and a month quickly turns into two. We're hoping the former happens.